March Madness Gambling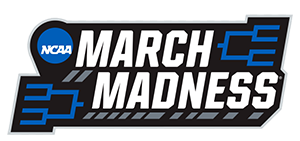 The Tournament itself generally favors the top teams in the nation, and a first or second seed has won the tournament almost every year. Kansas, a one seed in the tournament, ending up edging the North Carolina Tarheels for the March Madness title. For the 2022-2023 tournament, the defending champions odds are currently not even in the top five, which is common for college basketball and the constant loss and addition of new players. As the season begins and the tournament gets closer, the odds always change, but it is never a bad time to place future wagers on one of the most popular online gambling events in the United States.
2023 March Madness Winner Betting Odds
Gonzaga +850
Houston +900
North Carolina +1000
Kentucky +1200
Duke +1400
Kansas +1400
Arkansas +1400
UCLA +1600
Baylor +1800
Arizona +2000
Creighton +2500
Michigan +3000
Texas Tech +3000
Indiana +3500
Tennessee +3500
Texas +3500
Villanova +4000
Alabama +4000
Illinois +4000
Auburn +4500
Purdue +5000
Where To Bet On College Basketball
When it comes to betting on college basketball, most players have a few options inside the United States, although some are limited. Regulations on sports gambling vary between states. Some states have fully online sports gambling, some states have sports betting at casinos, and some states have no sports betting at all - at least, nothing state run. Across America, online sportsbooks are accessible to everyone - as long as they're located offshore. These sportsbooks are able to offer all sorts of wagers - usually better options than one can find at even the best regulated sportsbooks. This is, of course, subject to change - many states have been working hard to catch up to the offshore books, and several of them have offered complete online sports gambling. However, there are significant disadvantages to the state books.
Many state sportsbooks restrict the kinds of wagers you can place on collegiate athletics. Some restrict the ability to wager on in-state college teams, some restrict the ability to wager on games that take place in the state, even if no state team is involved. Still more limit the ability to place live wagers on games, and some even restrict the ability of bettors to place prop bets on college basketball players. The major upside of the offshore books is that they do not have any of those restrictions - not a one.
Special College Basketball Bonuses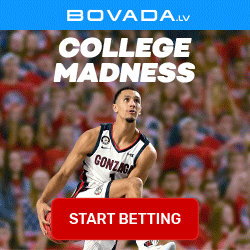 Bovada is an excellent online sportsbook, and one of the cream of the crop when it comes to gambling on college basketball and March Madness. Bovada offers all sorts of gambling odds on March Madness, from futures odds to individual game odds to fun props and parlays that you can build when you use their parlay building tool. Bovada also offers special college basketball betting bonuses, especially when March Madness comes around. These bonuses can double your money when wagering on college basketball. Speaking of bonuses, Bovada has well-regarded ones, although they do come with playthrough requirements, and many are tied to cryptocurrency. Their website is well designed and easy to navigate, although their categories can be a bit obtuse at first glance. Using the dropdown menus near the top of the page can make it much easier to navigate an otherwise problem-free website.
Outstanding CBB Odds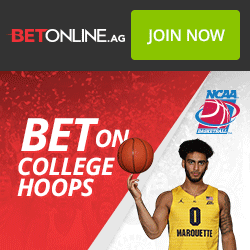 BetOnline's online sportsbook offerings are pretty good. They have a lot of different ways to wager on March Madness, and they accept a lot of different deposit methods so you can find an easy way to get your money into and out of the sportsbook. BetOnline offers March Madness bonuses, college basketball prop betting, and live odds on college basketball games, so you can bet to your heart's content on better odds than you'll find at a state based sportsbook. BetOnline is also available on mobile devices, although they do not have a dedicated app, so you don't have to download anything, you just have to visit their website on your mobile browser. BetOnline is a very solid sportsbook, and a worthy competitor to Bovada atop the offshore sportsbook world.
Great Props And Odds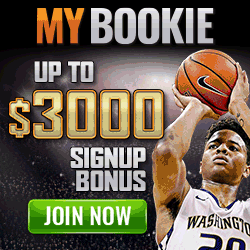 MyBookie is a great sportsbook for anyone looking to wager on college basketball, especially March Madness. You can find all sorts of intriguing March Madness props on MyBookie when the time comes. MyBookie specializes in prop betting, an option that is not offered at many in-state sportsbooks, making it a premier college basketball gambling destination. MyBookie's sportsbook is available on mobile devices as well, and their live betting options are solidly combinable with the mobile gambling experience. Their website is straightforward in terms of navigation, and their sidebar menus should make it easy to find whatever bet you're looking for. Overall, they're a great sportsbook to have in your back pocket when you want to bet on college basketball.
College Basketball Mobile Betting Apps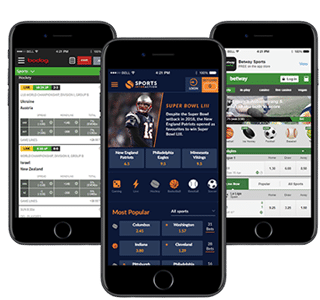 Mobile gambling apps are available for college basketball bettors, although it will depend on what state you're in. The online sportsbooks located offshore do not operate via apps, only the sportsbooks that are state-regulated do. This means that many bettors will be using offshore sportsbooks via their mobile browser instead of state-regulated apps, for various reasons. If you don't want to download something, or simply do not have a state-regulated option in your state, you can easily turn to the online sportsbooks for solid wagering opportunities.
College Basketball Live Betting
Live betting is a great way to get involved in college basketball wagering, as it allows you to leverage your knowledge of the sport to try to beat the books in real time. Live betting is generally split up into two subsections: live moneylines and play-by-play betting. Live lines change as the game goes on, with the team that is winning becoming more and more favored. This lets you hedge against your pregame bets, or double down on good plays. Play-by-play betting involves wagering on aspects of the next play, like who will make the next shot, as the game is happening. Both styles of betting are huge in college basketball, and really reward fans who understand the game, and how it swings back and forth. Only the online sportsbooks offer play-by-play betting, so if you're interested in this, you'll want to find an online sportsbook that suits your needs. Normal live betting has been restricted in several states, so if you're in one of those states, you'll need to use an offshore book in order to access it. As always, gamble at your own risk.
College Basketball Gambling FAQ