Gold Medal Gambling
The top prize at the Olympics is the gold medal, and bettors across the world wager on who will win the gold medal in various events. People also enjoy wagering on what country will win the most gold medals, and the most total gold medals. Norway was the favorite to win the most gold medals in Beijing in 2022 at -400, and got the job done by claiming the title. In the 2024 Paris Olympics, Olympics online gambling sites will have odds on the most gold medals as well.
Where To Bet On The Olympics
Olympics gambling occurs all over the world, although our focus on this website is on the United States specifically. Thus, the Olympics online gambling sites that we recommend will be tailored to a customer in the United States. These are the sports betting sites that we here at USAOnlineGambling most highly recommend for the purposes of Olympic betting, for a variety of reasons. One note: if you plan on gambling extensively during the Olympics, it can be a very good idea to use a bonus when you sign up. These bonuses come with extra money at the cost of having to gamble it before you can withdraw it. If you plan to gamble a lot during the Olympics, this drawback is mitigated, as you were already going to place plenty of wagers. Thus, the long length of the Olympics makes it a perfect time to use an online sportsbook's best bonuses.
Olympics Mobile Betting Apps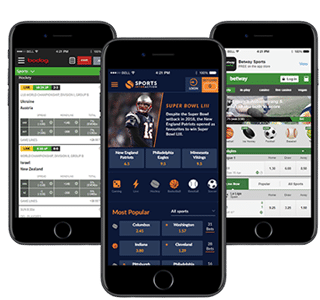 Given that the Olympics are taking place in Paris, there is going to be a significant time difference between when the events happen and when most American bettors are near a computer. This means that mobile betting can be a great way for you to place your last-minute bets at Olympics online gambling sites. Let's say you're going to bed, and you just realized that you have a great wager to make on an event that will air while you're sleeping. No problem! All you have to do is visit your online Olympic sportsbook of choice in your mobile phone's browser, and you will be served with a mobile version of the website. This mobile website will retain the full functionality of the online sportsbook's desktop version, but will be optimized for the use of your phone, whether that be iPhone or Android. You'll be able to place all the wagers you need, with no problems whatsoever. Make sure to take advantage of mobile betting on the 2024 Olympics when you can!
Events At The 2024 Summer Olympics
The modern-ear Olympics have been around since 1896, giving the Olympic Committee plenty of time to add and drop sports for viewers to gamble on online. Online gambling may not have been available during the 1920 Olympics which featured Tug of War, but several other sports have remained. Each sport at the 2024 Summer Olympics can be found below, as can the year that it began in the Olympics. Some sports have been part of the Olympics on and off again, with the most recent restart listed as its inception.
Athletics-1896
Fencing-1896
Gymnastics-1896
Swimming-1896
Track & Field-1896
Rowing-1900
Sailing-1900
Shooting-1900
Water Polo-1900
Weightlifting-1900
Wrestling-1900
Boxing-1904
Field Hockey-1908
Equestrian-1912
Pentathlon-1912
Basketball-1936
Canoeing-1936
Handball-1936
Archery-1968
Tennis-1984
Cycling-1986
Table Tennis-1988
Badminton-1992
Volleyball-1996
Taekwando-2000
Triathlon-2000
Golf-2016
Rugby-2016
Karate-2020
Skateboarding-2020
Sport Climbing-2020
Surfing-2020
Breaking-2024
Olympics Live Betting
Some Olympic events happen too fast for live betting to be a major factor. The 100-meter sprint, for example, is over in seconds, and live betting doesn't seem like it would be a big boost to anyone wagering on the event. However, there are plenty of events that are conducive to live Olympic betting at Olympics online gambling sites. For example, there's basketball, volleyball and field hockey. While some Summer Olympic events do not require live betting, plenty of them do, and the ones that do can see some serious advantages conferred on those who take advantage of live lines. Live betting can help you to hedge or to make a more informed wager during the game than the one you made before the game began. It's definitely an aspect of Olympics betting that is worth considering, and you should make sure to try it out if you aren't familiar with it for the 2024 Paris Summer Olympics.
Biggest Upsets In Recent Summer Olympic History
Argentina over the United States in the 2004 Summer Olympics-Men's Basketball
Great Britain over the United States in the 2004 Summer Olympics- Men's 4X100m relay
United States Women's gymnastic team in the 1996 Summer Olympics-Women's Gymnastics
Rulon Gardner (USA) over Aleksandr Karelin in the 2000 Summer Olympics-Men's Wrestling
Japan over the United States in the 2008 Summer Olympics-Softball