Illinois Online Gambling Sites
Illinois gambling sites in 2023 offer legal online casinos, sportsbooks, and horse betting for all players from the Prairie State. Online gambling sites in IL allow players to pick and choose from their selection of gaming options, much like all the toppings that Illinois residents get to choose from when putting together an order of their famed deep-dish pizzas. All of these types of online gambling in Illinois are legal through many of the best USA online gambling sites that operate in the state. For more on the best online casinos, poker sites, and sportsbooks in Illinois, continue below.
Largest Gambling CitiesChicago, Springfield
Number Of Land Based Casinos10
Gambling Revenue$1.4 Billion
State Licensed Sports BettingYes
Mobile Betting OptionsSports Betting
Best Illinois Gambling Sites
The first thing you need to do when you're looking up a USA online gambling site in Illinois is that it must be a licensed gambling provider. Gambling can be state-licensed, or licensed outside of the United States, but please make sure that the places you choose to gamble at are regulated and licensed. The next thing you need to do is trust reputation – sites have good reputations for a reason, and they have bad reputations for a reason. It's very easy to just look at some reviews of gambling websites before spending money there – a second opinion can be valuable in this business. When we recommend a website to you here, we are doing so as people – the person writing this has used these websites.
Best Online Poker Sites That Accept US Players
How We Pick The Best Illinois Gambling Sites
We do our research amongst the well-advertised site and lesser known ones.
We look for licensing and regulatory approval from governing bodies.
We look to see that the gambling site offers excellent bonuses and rebates.
We ensure that gamblers have many options to deposit and withdrawal their money.
We scan through the terms and conditions and house rules to ensure fair play.
Is It Legal To Use Bovada In Illinois?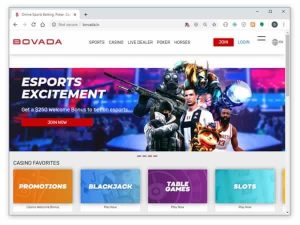 Bovada is one of the biggest Illinois online gambling websites on the internet, and there are a lot of questions surrounding them as far as many normal people go. One of the big questions that we get all the time is whether or not it is fully legal to use Bovada in many US states. Here's how that situation breaks down. Basically, a lot of states criminalize the creation and operation of online gambling parlors, but those state laws apply to their states. Bovada isn't located inside those states, and is out of the reach of those laws. These states tend not to criminalize the act of using a website like Bovada, which means that players are free to use it as long as the state does not have a specific rule against it.
Mobile Gambling In Illinois
Illinois mobile gambling comes to the state via online gambling websites, for the most part. Many of these mobile gambling sites do not have apps, however. They way they work is they designed their website to show up on mobile differently, and feel like an app when you use it. In this way, they cut out the middleman – no downloads necessary. All you have to do is go to the online gambling website of your choice while using your mobile device's internet browser.
Mobile Sports Betting Apps
Mobile sports betting apps are live in Illinois, with each of the state sanctioned online sportsbooks offering a proprietary app for customers within the borders of IL. In addition to these apps, many of the online gambling websites, all of which include sportsbooks as part of their experience, have mobile-based websites, where you visit their Illinois online sportsbook on a mobile device and then you are served an app-like experience with all the functionality of a full website but on your phone.
Mobile Casinos Apps
Just like the previous two sections, there are no mobile casino apps available in the state of Illinois. However, also like the previous two sections, there are still excellent options for Illinois gamblers who want the casino experience on their phone. All of the online gambling websites have adapted to the modern age by making their websites work well on mobile browsers as well as on normal computers.
Real Money Online Gambling Sites In Illinois
The best real money gambling websites that serve Illinois customers are located outside of the country – and this allows them to offer wide ranges of gambling options, unrestricted by the rules of the United States.
You can deposit at these real money gambling sites with many of the ways you are familiar with in regular living – credit cards, visa gift cards, money orders, and more – as well as some that you might not be familiar with, like cryptocurrency. You can receive withdrawals via similar, though not exactly the same, methods. Overall, real money gambling in Illinois is easy to get started with, and once you get started, it's even easier to continue.
Free Online Gambling In Illinois
Maybe you don't want to risk money, though? It's not crazy to play some casino games for free to learn how to play, especially with games like poker and blackjack where there's a decent amount of thinking to be done, and things to learn. The major online gambling websites tend to offer the ability to play for free on some games as well, simply to get familiar with it. The idea here is that you can play for free to hone your skills before moving on to real money gambling, but you can just play for free if that's what you want. Learn more about free online gambling here.
Is Online Gambling Legal In Illinois
Online gambling is legal in Illinois as long as you know what you are doing. If you want to play casino-style games, bet on sports, play slot machines online, or play poker, you have to use one of the online gambling websites that are accessible by Illinois residents. Certain types of online gambling, such as sports betting, have been legalized, but are not publicly available yet. These websites are generally located in different countries, usually Costa Rica or Canada, which means that you can access them with no repercussions, and they can offer betting of various types without the interference of the US government. There is a law called UIGEA, which prevents financial institutions from knowingly processing gambling-related transactions, but that affects financial institutions, not people.
Online Gambling Laws In Illinois
Online gambling laws in Illinois have an interesting history. The basic gist of the online gambling laws in Illinois is that they criminalized running a gambling establishment in the state, which is why most of our recommendations here are for offshore gambling websites, who are not subject to the laws of the United States. The laws do not, however, criminalize the act of gambling – and that is the legal status that the online gambling websites use to allow people to utilize them, in that they are technically not contravening the law. Certain types of online gambling have been state sanctioned, but are not available to the public yet.
Legal Gambling Age In Illinois
One very important thing to do is to make sure you are above the legal age to gamble in your state. In all of the 50 American states, there are age requirements to gamble. In Illinois, they vary depending on what type of gambling you are doing. Learn more about
Legal Gambling Ages
here.
Lottery:

18

Parimutuel:

18

Casinos:

21

Bingo:

18

Online Poker:

18

DFS:

21

Sports Betting:

21
Where Are Illinois Gambling Sites Regulated
Illinois sports betting launched in 2021, and now it serves as a major driver of government revenue growth in the state. Right now, the best option for Illinois gambling websites tends to be the offshore ones, which are regulated in their respective locations. For example, many online sportsbooks are regulated in Costa Rica, which has reduced restrictions on sports betting, and many poker websites are regulated in Canada, which has looser limitations on poker.
This means that these places are subject to the rules and regulations of their home countries, and not the USA. However, don't mistake that for a lack of regulation – they must comply with all regulations in their country in order to be a licensed gaming provider.
Who Can Play At Illinois Online Gambling Sites
When it comes to online gambling websites, these websites are available to most of the United States, actually, not just people in Illinois. If you are physically located in Illinois, you should be able to use these websites.  When it comes to the Illinois specific websites that launched in 2021, those are for Illinois residents only.
Taxes On Gambling Winnings In Illinois
The big thing you need to know is that gambling revenue is counted as income for the purposes of taxation, and is subject to taxation by the government. It is worth logging your winnings and losses and perhaps retaining an accountant to avoid getting into trouble with the government.
Gambling Revenue In Illinois
Illinois sees online gambling revenue from both the lottery and sports betting. The lottery revenue goes towards helping schools, although there is some debate as to the effectiveness of this strategy, compared to simply raising taxes. There are plenty of planned expansions to gambling in Illinois coming in the future, although they tend to be focused on specific locations such as sports stadiums rather than more methods of online gambling. In 2021, the state brought in more than a billion dollars via newly regulated gambling markets - they crossed the billion dollar mark in October.
Future Of Illinois Online Gambling
Online gambling in Illinois could expand in 2023, with House Bill 2239 and Senate Bill 1656 both looking to potentially expand the scope of legal online gambling to now include online casinos. Both pieces of legislation for online casinos have not seen action in Illinois since March, which could signal the end of any hopes for state-regulated online casinos in 2023 or even 2024. Once an online gambling law is passed, it often takes at least a year for that specific online gambling branch to be up and running in a state. There are many award-winning international offshore casinos and poker sites that accept Illinois residents and offer an all-encompassing gambling experience, which means players do not miss out due to this extended legislative process.