Iowa Online Gambling Sites
Welcome to the best place to find Iowa online gambling sites and information about legal online gambling in Iowa. The state of Iowa has had casino gambling since 1989, although most gambling in the state was conducted on riverboats until recently. Iowa also became one of the first states in the country to regulate sports betting in 2019. The steady development of gambling in Iowa is hugely encouraging for players, although state-level options are still extremely limited.
USAOnlineGambling will cover a variety of topics regarding legal gambling in Iowa, including the state's retail and online gambling laws, the best Iowa online gambling sites to play on, gambling taxes in the state, and the outlook of Iowa gambling. While no page can cover everything there is to know about something as nebulous as online gambling in an entire state, this page aims to act as an information repository to help Iowa gamblers make intelligent, informed decisions.
Iowa Online gambling is limited in some respects, but open in others. Online sports betting is allowed, but online casino gambling is restricted under Iowa law. As a result, gamblers instead bet with online casinos based in other countries, meaning that Iowa is losing out on money unnecessarily. Iowa's loss is the smart bettor's gain, as these Iowa online gambling sites offer great features, impressive bonuses, and enticing payouts.
Largest Gambling CitiesDavenport, Des Moines
Number Of Land Based Casinos22
Gambling Revenue$614 Million
State Licensed Sports BettingYes
Mobile Betting OptionsSports Betting, Daily Fantasy
Best Iowa Gambling Sites
There are dozens of different gambling sites available to Iowa players, all of which claim to be the undisputed best. Obviously, it isn't possible that all these sites can actually be the best. At  USAOnlineGambling, we thoroughly review all these different sites and grade them on a variety of different criteria. Through this process, we eliminate those sites that are so far below baseline quality standards that they don't even merit consideration from players.
After these mediocre gambling sites have been removed from the pool, players are left with a selection of great options, and subjectivity comes into play. Every gambler has their own priorities and preferences, so it isn't possible to make universal recommendations for gambling sites. Instead, we provide information on key differentiating factors for sites—gaming types offered, deposit bonuses, user interface, deposit and withdrawal options, etc.—and allow our readers to use that information to come to their own conclusions.
How We Pick The Best Iowa Gambling Sites
Even though online casino gambling isn't legal in Iowa, there are still numerous of online casinos available to Iowa players because websites based in other countries are not subject to the same restrictions of Iowa law. There are pros and cons to the depth of gambling options. On the one hand, it is great to have so many different competitors to choose from as a consumer. On the other, oversaturation can become a problem when every site claims to be the best. At USA Online Gambling, we cut through this marketing noise to find the actual best USA gambling sites.
Every website has its own unique benefits and flaws, so it is important to do research before committing to playing with a site. Some sites invest more in one area of their portfolio than in others, and players should adjust their playing habits based on their own preferences. For example, players who only care to bet on sports should use gambling sites that heavily emphasize their sportsbook, while players who only want to play online poker should use sites that focus on that.
Every gambling site we recommend offers payout rates near the top of the industry for all its games.
Sites must have full-time customer service through multiple lines of communication.
Every Iowa gambling site must have top-notch data security to protect its players.
Sites must meet or exceed industry standards for quality and variety in every type of betting they feature.
Banking must be fast, easy, and player friendly.
Is It Legal To Use Bovada In Iowa?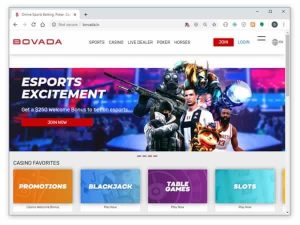 Bovada is one of the biggest online sportsbooks and casinos, and a lot of Iowa Hawkeyes bettors like to ask us questions about the legality of using it. Here's how it breaks down, so that you don't have to worry about placing a bet on the Hawkeyes. Basically, Bovada provides a service that would not be allowed if they were located inside of the state. Many states prohibit the establishment of gambling enterprises, but Bovada is not located inside their jurisdiction. On the opposite side of this coin, these same states tend not to prohibit the use of said enterprises, only their creation and operation. This is the basic idea behind Bovada - they are located outside of the range of punishment from the states, and the people that use them do not get punished at all.
Iowa Online Slots
Slots are the most accessible and also the most popular form of gambling in the United States. Ranging in cost from one cent per play all the way up to a hundred dollars, there are options for all levels of comfort and financial means. Online slots function exactly like retail casino slots, except that online slots cost almost nothing to host, so online casinos can offer hundreds or thousands of different slot machines on one page. Websites like Slots.lv and Ignition do an excellent job taking advantage of this advanced technological capability. When you play online slots, you know that your favorite machines won't just be replaced by a newer model one day to save space.
Benefits of Iowa Online Slots:
Older models don't get completely phased out
Adjust your bet level in each individual game
Play hundreds of different slots from one central location
Cumulative jackpots or straight-up play available
Use crypto to instantly collect winnings
Mobile Gambling In Iowa
Mobile gambling is legal in Iowa, although there aren't necessarily apps available for download for all forms of gambling. Still, every form of gambling can be accessed via a smartphone or tablet in one manner or another, with international gambling sites even offering mobile access to online casino games that aren't licensed in the state of Iowa. Although these international sites can't offer downloadable apps, they do have optimized mobile gambling sites that can be accessed from anywhere, meaning that as long as you have a strong data or wi-fi connection, you are only a few taps away from being able to bet real money.
Mobile Sports Betting Apps
There are five licensed sports betting apps in Iowa: DraftKings, PointsBet, and casino-specific apps for the Hard Rock Sioux City, Q, and Elite Casino sportsbooks. For players who want better odds and a wider variety of betting options, global sportsbooks are accessible via mobile devices as well. They are not allowed to offer downloadable apps in American app stores, but they all offer fully optimized mobile sites with access to their entire array of betting options. These sites are designed to emulate a specialized mobile app and function similarly to an app down to the interface designed specifically for touch screens.
Mobile Casinos Apps
There are no state-licensed mobile casino apps in Iowa. Free play casino apps are available, but they lack the essential risk-reward element that makes online gambling so endlessly entertaining. Like with sports betting, international gambling sites offer mobile betting options through optimized mobile sites. Any game that you can imagine playing in a retail casino is available through one or more of these mobile-accessible online casinos. Using an international gambling site on a mobile device offers all the same advantages as it does on a desktop: top-notch betting options and payout rates, world-class security, and unparalleled freedom that can't be matched by smaller brick-and-mortar casinos.
Real Money Online Gambling Sites In Iowa
If you are in Iowa, you can wager, win and lose real money gambling online. For the few in-state online gambling options available in Iowa, transactions work as you would expect any online transaction to debit/credit cards or e-wallet services with withdrawal options ranging from a mailed check to an e-wallet transfer. International online casinos are slightly more complicated. They still accept credit/debit cards for deposits but can't do so for withdrawals because of federal banking laws. Instead, the easiest way to handle banking for online gambling is through cryptocurrency like Bitcoin, which offers big rewards, fast processing times, and expansive support from the websites themselves.
Free Online Gambling In Iowa
There are a handful of free online gambling options for Iowa players, although many are severely lacking in quality. Free online poker apps like Zynga and Appeak have cultivated large, well-engaged communities of players, as have several free apps that simulate other casino games. Unfortunately, without anything at risk, the dynamics of these games are way off. The best free play online gambling options are instead either DFS games, which involve a greater degree of strategy than most forms of gambling, or free versions of real money online casino games that allow players to familiarize themselves with a website's systems and practice for when they use real money.
Is Online Gambling Legal In Iowa?
The only forms of online gambling that are state regulated in Iowa are sports betting and daily fantasy. Sports betting was regulated in May 2019 with the passage of Senate File 617, which authorizes both retail and online sportsbooks. DFS games were also included as a component of SF 617. Each casino is licensed to host two different online sportsbooks, which maximizes player choice. Other forms of online gambling are unfortunately illegal in Iowa. Gambling law is covered in Chapter 99 of the Iowa State Code. Online gambling is not mentioned explicitly as being illegal, but without authorization from state officials, it is effectively illegal.
Thankfully, players can still participate in other forms of online gambling legally. Although there is a state prohibition on online casino gaming, the only websites subject to state law are those physically located within Iowa. Operators based in other countries are regulated by their country of origin and are thus freely playable by Iowa residents. These international gambling websites are a fantastic alternative option for players who either want better betting options or who just don't want to make a long commute whenever they feel like making a small wager.
Online Gambling Laws In Iowa
Riverboat casino gambling began in Iowa in the 1800s, but was slowly phased out after the dawn of the 20th century as gambling was made illegal throughout the state. The 1980s brought the slow reintroduction of legal gambling, beginning with pari-mutuel wagering in 1983 and ending with making riverboat casinos functional again in 1989. After several years of disappointing returns from these riverboat casinos, Iowa regulated full casino operations in 1994. The first domino of legal online gambling fell in 2019 with the regulation of retail and online sports betting. So far, this industry has been extremely lucrative for the state of Iowa, and legislators could look to legal online gambling as a way of expanding the gambling industry and increase tax revenues in the coming years.
Legal Gambling Age In Iowa
The
minimum gambling age
in Iowa is 21 years old for all
states with legal online gambling
. International gambling sites are available to anyone who is at least 18 years old, however. Anyone can register an account with one of these sites, but in order to cash out winnings, players must present the site with proof of residency or a valid, government-issued ID. Failure to do so will result in forfeiture of winnings.
Lottery:

21

Parimutuel:

21

Casinos:

21

Bingo:

21

Online Poker:

18

DFS:

21

Sports Betting:

21
Where Are Iowa Gambling Sites Regulated?
Iowa's in-state sportsbooks are regulated by the Iowa Racing and Gaming Commission, as well as state and federal law. International gambling sites are subject to much looser regulations because they are regulated by their country of origin rather than by the country their players are located in. That shouldn't be taken to mean that online gambling sites exist in a state of anarchy. International regulatory bodies and industry standards ensure that payout rates remain player-friendly and that data security is heavily prioritized. This provides players with an optimal risk of security and freedom.
Who Can Play At Iowa Online Gambling Sites?
Iowa gambling websites are not restricted to players from Iowa. Iowa's casino-run sportsbooks are geo-locked to Iowa borders, but players from other states can access all the same international gambling sites as those in Iowa. The only restriction is that 18-year-old age requirement and the necessity of valid government-issued ID. With these websites, players from other states have access to all the same features as those in Iowa.
Taxes On Gambling Winnings In Iowa
Gambling tax in Iowa: 25% (federal) + 5% (state)
Gambling winnings in Iowa are taxed at a total rate of 30%, with 25% being a universal federal tax on gambling winnings and 5% being specifically withheld by the state. These taxes apply whether winnings were earned through an in-state or international gambling platform. Gambling losses are deductible up to the same value as a player's winnings. Players are highly advised to accurately report gambling winnings on their taxes, as failure to do so constitutes felony tax evasion and is prosecutable under the law.
Gambling Revenue In Iowa
During the 2019 fiscal year, Iowa casinos totaled $516.3 million in casino gaming revenue, while Iowa sportsbooks have earned $23.3 million in revenue since launching in August 2019. Actual gambling handle from all Iowa bettors is likely much higher because of the popularity of international online gambling, but these hundreds of millions of dollars have still been massively beneficial to the state. Iowa's casinos paid over $101 million in taxes during the 2019 fiscal year, most of which went toward the state's general fund and endowment fund, while smaller portions went to cities and counties.
Future Of Iowa Online Gambling
Although full online casino gambling still appears to be far off on the horizon for Iowa, the fact that the state has so readily adopted online sports betting must be viewed as encouraging for the future. Only a few other states currently do offer online casino gambling, and the majority of states haven't even regulated sports betting yet, putting Iowa well ahead of the curve. With an economic crisis looming, there will be incentive for a state like Iowa to expand its revenue-generating opportunities, and legalizing online casino gambling would be a good way for the government to make up for the decreasing tax revenues caused by the COVID-19 pandemic.