Colorado Online Gambling Sites In 2023
Colorado online gambling sites are a hot topic of conversation in Colorado. Online sports betting was approved by voters in 2019, and launched in 2020, meaning there are state based alternatives to the big international sports betting websites. Horse racing can be done both online and at racetracks. Colorado is also home to the Colorado Lottery which can only be played through the purchasing of tickets at licensed lottery retailers. As for casino gaming options outside of going to local venues, offshore internet casinos are legal for residents in the Centennial State to use for all of their internet gaming needs.
Not only are there Colorado online casino gaming options but there are state sanctioned Daily Fantasy Sports (DFS) outlets as well as online sportsbooks for fans of these games to wager on. Whether or not the state has its own Colorado online gambling sites is irrelevant as fans of any kind of gambling for money can be done on the internet with the offshore operators that are available to residents of Colorado. Readers of our USAOnlineGambling network will have access to all of the information needed in order to become knowledgeable about Colorado online gambling sites.  From local to offshore sites, all that needs to be known about online gambling in Colorado can be found here.
Largest Gambling CitiesDenver, Colorado Springs
Number Of Land Based Casinos42
Gambling Revenue$842 Million
State Licensed Sports BettingYes
Mobile Betting OptionsSports Betting
Best Colorado Gambling Sites
The best Colorado gambling sites are all located offshore. No casinos in the state allow for internet applications at the moment. However, residents have the ability to use multiple offshore online casinos. These casinos are licensed and regulated to do business with residents of the Centennial State. The games available at the best USA gambling sites will include slots, poker, and various table games.
The greatest gambling sites for the people of Colorado will not only have multiple games and years of being in business, but they will also have a lot of funding methods for members to be able to choose from. This will help when it comes to deposits and payouts. Two of the biggest benefits to the best online gambling sites in Colorado are that they feature mobile access for complete convenience to their members as well as numerous promotions and bonuses that one will not find at brick and mortar establishments.
Best Online Poker Sites That Accept US Players
How We Pick The Best Colorado Gambling Sites
Whether or not a site is licensed and regulated to do business.
The variety of games that they offer members.
Having easy payment methods that suit your needs.
Being a member of a gambling site that has mobile access is everything.
A site that has a handful of ways to get a hold of them if you have a problem.
Is It Legal To Use Bovada In Colorado?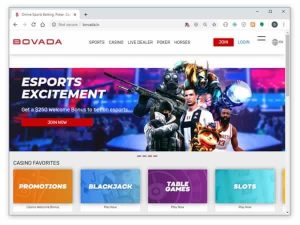 Bovada is one of the most popular and influential online casinos. People across America use Bovada for things like sports betting, playing poker and other types of online gambling. But, is it legal to use Bovada in Colorado? As far as users are concerned, the answer is yes. There is nothing prohibiting the use of online sportsbooks and casinos like Bovada, as long as the user is above the legal gambling age in the state. So, if you want to place a bet on the Rockies or the Avalanche, you're good to go. However, the website would likely not be allowed to operate were it located in Colorado, which is a big part of why Bovada and other websites like it tend to be headquartered outside the United States, and accessible via the internet.
Mobile Gambling In Colorado
Mobile gambling in Colorado is available for horse racing, Daily Fantasy Sports (DFS), and sportsbooks. Outside of that, casino gaming is available with the use of offshore internet casino websites. These mobile gambling sites for Americans do not offer downloadable applications for mobile phones but are all sites that are accessible through mobile devices. Members can log into their accounts with the use of their cell phones. Everything that is available on a desktop casino website can be done on a mobile device from gambling to changing account information and making deposits and withdrawals. This allows internet casinos to be extremely convenient as they can be accessed at any time of day from wherever you are with the use of a cell phone.
Mobile Sports Betting Apps
Mobile sports betting applications in Colorado are available for both state and offshore applications. Colorado online sportsbooks are up and running. In addition to those, the offshore sports betting sites are legal to use and can be used with mobile devices. While these sites do not have actual apps for download, they can be accessed on cell phones with the use of the internet. These sportsbooks allow their desktop versions to be fully used on a member's mobile device. This is not only convenient but now it allows sports bettors to have their sportsbooks on hand 24/7 to place bets whenever they'd like from wherever they are.
Mobile Casinos Apps
Offshore internet casinos in Colorado can be used on mobile devices with the use of the online casino's mobile interface. Desktop websites are condensed down to fit into the palm of your hand. They have everything that the computer version offers made for the convenience of a cell phone. All casino action from games to account information can be accessed through a users' mobile device. And a bonus to not being an actual app means more storage space on your cell phone for all those selfies of you out and about while still being able to gamble.
Real Money Online Gambling Sites In Colorado
Real money online gambling sites in Colorado are offshore gambling websites. They offer their members a wide variety of games like slots, baccarat, and plenty of table games. With all of these offerings comes multiples methods for funding your gambling account in order to play for real money. Every site takes debit and credit cards and cryptocurrency like Bitcoin. Outside of these methods, different gambling businesses will take different forms of payment depending on which site you decide to join.
The most popular methods used at real money online gambling sites are the most common and widely accepted ones which are Bitcoin or other cryptocurrencies and debit and credit cards. After putting money into your account, you can begin gambling right away for the chance to profit in a major way. Unless you're just terrible at the game you chose to wager on, in which case you'll lose and deplete your online account of the money you recently deposited. However, if you win, you can request an easy payout with one of these methods. Whether it's making deposits or withdrawals, doing so with online casinos for Colorado residents is a very simple process.
Free Online Gambling In Colorado
Many free online gaming options exist for Colorado gamblers. These free options can either be a section within a paid internet casino site or an altogether free gambling website. Gambling for free means a player has all the thrills of playing casino games without any of the risk of putting down real money. Using fake money allows players to practice their game, have fun, and play for high stakes which is something they may never be able to do when playing with real money. It's a fun experience for anyone that loves casino games without the fear of losing anything.
Is Online Gambling Legal In Colorado?
Colorado is one of the lucky states that have legal online gambling. Online casino gambling is legal in the state of Colorado. Residents have access to online horse race betting, sports betting, and Daily Fantasy Sports which are state sanctioned. For all other casino gambling like roulette, poker, slots, and table games, gamblers in Colorado can play on offshore casino sites that are legal. The Centennial State is full of people that have been members of websites such as these for years. Offshore internet casino operators are located in areas like Curacao, Canada, Costa Rica, and the UK. They are all licensed and regulated to operate in their home countries.
This makes them legitimate businesses that are eligible to accept gamblers from the United States for legal gaming purposes. The only issue that may arise from using these sites comes from an old federal gaming law known as the UIGEA which could decline your credit or debit card when trying to fund your account. This is not a big deal, just a big annoyance and does not always occur. If it happened often, then members wouldn't use the debit or credit card methods for their online gambling accounts but they do. Other than this minor issue, using legal state online gambling sites in Colorado is a terrific experience and all of the best websites to join can be found on our network.
Online Gambling Laws In Colorado
Online gambling laws in Colorado are simple. There are laws for state based DFS, horse betting, and sportsbooks. There are no laws set in stone for casino gambling on the internet. This means that online gambling for residents in the Centennial State can be done through offshore online casino websites. These sites are open for gamblers in Colorado to join and participate in. They are licensed, legal, and regulated to be used. Their licenses and regulations come from their home countries where their operations are based. This makes them a legal form of online gambling for all players in Colorado interested in participating in internet gaming.
Legal Gambling Age In Colorado
The legal gambling age in Colorado depends on what game residents are looking to put money on. Just like the voting age is 18 but the drinking age is 21, different games have different age requirements. It's almost an even split between the ages of 18 or 21 being the two legal ages set for various games of chance or skill. Offshore online casinos and sportsbooks have a required age of 18 to obtain membership, however, it's best to abide by the legal gambling ages for the activities set by the Centennial State before playing. Below you will find the ages players must be by law in order to gamble legally in Colorado.
Lottery: 18
Parimutuel: 18
Casinos: 21
Bingo: 18
Online Poker: 18
DFS: 21
Sports Betting: 21
Where Are Colorado Gambling Sites Regulated?
Online gambling websites for the state of Colorado are licensed and regulated in the countries that they are based out of. These countries more often than not are Costa Rica, Curacao, Canada, and the UK. By U.S. law they may provide their services to residents in the Centennial State as well as nationwide and even on a global scale if that's a tidbit of information that interests you. The reason they can do business worldwide is because they are legitimate operators that have to adhere to strict rules in their countries to obtain licensure and be able to branch out and allow membership services to other places around the globe.
Rules that these gaming operators need to follow to maintain their businesses are a lot like the rules for gambling by licensed casinos in the United States. However,  it is much easier to get a license for an internet gambling business overseas than it is in the U.S. as the subject is still taboo in some parts of the nation. Once companies become licensed in their home countries they can begin to allow members from the U.S. and the lovely state of Colorado to enjoy all of the games they have to offer through their internet platforms.
Who Can Play At Colorado Online Gambling Sites?
Gamblers in the state of Colorado that meet the legal age requirement are the people that are eligible to play on online gambling sites. Most internet based offshore casinos and other gaming platforms require that their players be 18 years old or older in order to gain membership. But the state of Colorado requires those that engage in gambling to be anywhere from 18-21 to be able to legally play games. All residents that are interested in joining an online gambling site must first see what age they have to be in the Centennial State before they join. The legal ages for each type of gambling is listed on this page. While 18 is the age requirement by websites, it is always best to abide by state legal ages to avoid any future conflicts that could easily be avoided by being the proper gambling playing age in Colorado.
Taxes On Gambling Winnings In Colorado
Taxes on gambling winnings have two rates in Colorado. One is the state tax rate while the other is the federal tax rate. The state tax on all money made through gambling is set at 4.63% while the federal rate is 24% on all winnings. In total, that's a combined 28.63% that gamblers in Colorado need to pay on all earnings related to gambling each year. It is up to the residents engaging in the games to be sure to include all gaming financial profits on their tax returns. Failure to do so could result in money owed to the state of Colorado in the future that could come out to be one big chunk of a payment to the IRS.
Gambling Revenue In Colorado
The land-based casinos of Colorado make millions of dollars each year in gambling revenue for the state. Operators have to pay the Centennial State a part of all their annual earnings in the way of a tiered system which is taxed by how much each business brings in each year. These profits go to Colorado and help toward various economical funding needs like the school system. Should online casino business ever become part of the equation for the state, their revenue stream could result in even bigger numbers that would be all for the benefit of the people of Colorado and it's thriving economy due to the popularity that online gaming would bring.
Future Of Colorado Online Gambling
Colorado online gambling sites could very well be the next big thing. With retail based casinos already peppered throughout the state, DFS, a state lottery and now the addition of  sports betting and a mobile platform for it, there is no reason to think that casinos will not be offering internet access for their games one day. However, until that day comes, the residents of the Centennial State have plenty of online offshore options available to them to legally gamble on whatever game they enjoy most. You know the game, the kind you dub your game because you're so good at it, you claim to own it. All of those titles are online to "own" at your leisure.