Where To Bet On College Football
Betting on college football comes with the requirement that you find an online sportsbook that you enjoy using. We have several favorites, among them Bovada, BetOnline and MyBookie. Each has advantages, and each feels a bit different from the others, so we encourage you to check them all out and find the sportsbook you prefer. You can also use college football sportsbooks to compare odds, which lets you find the best odds on a given bet. Overall, the question of where to bet on college football is correctly answered when choosing any of the best online gambling sites in the USA.
Can You Bet On The Heisman Trophy Winner?
Absolutely, you can bet on the Heisman Trophy winner all year round as far up to a year in advance right after the winner of the Heisman is announced from the season prior. With the odds being posted so early though, they are subject to shift drastically as the regular season progresses based on how the candidates are performing.
2022-23 Heisman Trophy Odds
Caleb Williams +550
Quinn Ewers +700
Jayden Daniels +900
Carson Beck +1100
Bo Nix +1600
Jordan Travis +1700
Michael Penix Jr. +1700
Sam Hartman +1800
Drake Maye +2000
Cade Klubnik +2000
College Football Mobile Betting Apps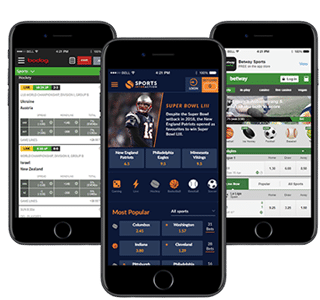 College football mobile betting apps are widely available. When it comes to the freedom of betting on college football, you are not tied down to one spot as you can bet on any college football game from anywhere when using some of the best mobile sportsbooks in the US. Each online betting site has optimized their platforms so that they are easily accessible from either your smartphone, smart tablet, or any other device that has internet access. Some of the top mobile betting devices that you could use include:
iPhone
Android
iPad
Microsoft Surface
Samsung Galaxy
Google Pixel
College Football Live Gambling
Live college football gambling is a great way to wager on college football. You can easily observe trends in the game as they happen, and you can use those trends to inform your wagers with live betting. You can also use live gambling to supplement bets placed before the game by either hedging or doubling down on your wagers. Because of this, it's a common tactic of college football bettors. You can bet live on college football games at any of the online sportsbooks we recommend, and that is part of why we recommend them - because live college football gambling is important!
States With College Football Gambling
Some states have restricted college football betting via regulations. Oregon is in a world of its own, as college sports gambling is permitted, but only on tribal casino grounds and not through mobile devices. Most state gambling restrictions for college football circle around player prop bets or betting on teams from the state with regulated sports betting. However, there are no restrictions on college football gambling at reputable online sports betting websites such as Bovada or BetOnline.
States With No College Player Prop Betting
States With No Gambling Allowed On Local Teams
States Without Local College Teams And Events Odds
College Football Betting FAQ