Maine Online Gambling Sites 2023
Legal Maine online gambling sites in 2023 are so much more accessible than you probably think. Gambling in Maine extends beyond the smoky poker rooms and backwoods casinos that many people might think of, and allows you to bet online at online casinos, sportsbooks, racebooks, and more. Each of these different gambling types tends to come with different rules and regulations, but all of them are accessible to Maine based bettors.
Throughout our USAOnlineGambling network, you can find all the information you need about the best ways to bet, all across the United States. This page specifically focuses on the great state of Maine, though if you plan on visiting Rhode Island, for example, we have a page for that as well.  This page will explain the best places to gamble in Maine, the best Maine online gambling sites, and the laws surrounding gambling at those establishments.
Largest Gambling CitiesOxford, Bangor
Number Of Land Based Casinos2
Gambling Revenue$132 Million
State Licensed Sports BettingNo
Land Based Poker RoomsOne
Mobile Betting OptionsHorse Racing
Best Maine Gambling Sites
How do we know what the best Maine online gambling sites are in 2023? The first thing we look for is licensing - you need to be using a licensed gambling website in order to obtain the maximum amount of peace of mind and security. Licensing means that they are regulated and inspected and subject to the laws and restrictions of wherever they are located, and it's the baseline requirement for a decent online gambling website.
The next big thing is reputation. As gamblers, we are used to watching the public move lines in sports betting, and we trust that the public knows what it wants when it comes to online gambling sites in Maine. We focus on making US gambling site reviews by recommending websites that have excellent reputations, both publicly and within the gambling industry. We want our readers to have the best online gambling experience possible, and that helps a lot.
Best Online Poker Sites That Accept US Players
How We Pick The Best Maine Gambling Sites
We do our research and check all the options
We make sure the online gambling website is licensed
We make sure the website offers generous bonuses
We look to make sure the website provides varied deposit and withdrawal options
We make sure the website plays fair
Is It Legal To Use Bovada In Maine?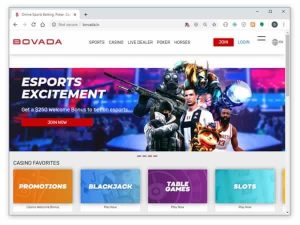 Many Maine bettors find themselves traveling to Bangor in order to play casino games, as Bangor famously has one of the few major casinos in the state. However, Bovada is an easy and safe alternative to making the trip to Bangor. How does Bovada's legal situation work? Well, the basic idea is that Bovada's location outside the US makes it hard for the authorities to get to them, and that there are no laws preventing people from using their services. This is because the laws were written to target the people running the gambling establishments, not the average joes using them. As long as you aren't running a gambling establishment, and you're over the legal age to gamble in Maine, you should be good to go when it comes to the legality of using Bovada.
Mobile Gambling In Maine
Mobile gambling options in the state of Maine tend to differ depending on which type of gambling you are doing. The big offshore casinos and sportsbooks do not have mobile apps, but instead, focus on providing their mobile services via their mobile browser based websites. Some of the horse race betting websites like Twinspires and TVG have apps, and some of the online racebooks do not, preferring to operate via browser based mobile websites. Basically, if you want to participate at mobile US gambling sites, it may come in a variety of forms.
Mobile Sports Betting Apps In Maine
Many online casinos and sportsbooks do not use mobile sports betting apps. For example, Bovada prefers to use a mobile website instead of an app. What that means is that when you visit their website on a mobile device, you will see a mobile version of that website, which will look and feel like an app, but won't need any downloads. You will be able to use these mobile websites on both iPhone and Android devices. This helps people to get used to betting on sports using mobile devices.
Mobile Casinos Apps In Maine
Mobile casino appsin Maine tend to follow the same guidelines as mobile sports betting apps - in that they mostly don't exist. Most of the big offshore casino websites are not running apps. Instead, they design their websites for usability on mobile. If you go to one of their websites on a mobile device such as an Ipad or Android Phone, you will see a mobile version of the website, that feels and looks like an app, but doesn't require any downloads. This is the preferred method of mobile casino players across the world.
Real Money Online Gambling Sites In Maine
Many people, for some reason, are curious if you can gamble real money at these Maine online gambling websites. The answer, of course, is yes. We wouldn't be writing this article if the answer was no - we love to gamble, and that means we love to put real money on the line when we do. That's the thrill of playing at real money gambling sites, the joy of the practice. All of the websites we discuss in this article accept real money and reward real money. They all have a lot of different deposit and withdrawal options so you can get your money in and out of the website easily.
Free Online Gambling In Maine
Some Maine online gambling websites will have free online gambling, but it tends to take the form of practice games. This is not meaningless - in games like poker and blackjack, it can be very important to get some reps in before you start playing for real money. Many of the online casino websites will offer this as an option, but make sure that you are selecting the free online gambling option if they have it. Practice is good, but it's no replacement for the real thing - so practice up and get ready to play for real.
Is Online Gambling Legal In Maine?
So, the basic mechanism by which online gambling is allowed for Maine residents goes like this. It is illegal to operate an online sportsbook or casino inside the state of Maine, but it is not illegal to bet at an online sportsbook or casino inside the state. What the online gambling sites do is run themselves out of places like Costa Rica or Canada, which are not subject to the rules, laws and regulations of the United States of America. In this way, the online gambling websites are not breaking the laws since they are not inside the state, and the people using them are not breaking the law since they are not prohibited from using them.
Online Gambling Laws In Maine
Maine is a relatively typical, middle of the road state as far as online gambling is concerned. They have online gambling in the form of lottery subscriptions and horse betting, but they are barely scratching the surface of it as far as potential revenue goes. If Maine were to regulate more forms of online gambling on the state level, who knows what the potential budget benefits could be?
Legal Gambling Age In Maine
In the state of Maine, each of the different types of gambling is subject to different laws depending on type. For example, there are different
legal gambling ages
in Maine to gamble on the lottery than there are to gamble at a casino. One thing to keep in mind is that if you don't know the legal age, none of them are over 21, so you should be fine as long as you are over the age of 21, no matter the type of gambling you want to partake in.
Lottery:

18

Parimutuel:

18

Casinos:

21

Bingo:

16

Online Poker:

18

DFS:

21

Sports Betting:

21
Where Are Maine Gambling Sites Regulated?
As discussed earlier, most of the online sportsbooks and casinos are regulated offshore since there are only a few states that have legal online gambling. Generally, this refers to Costa Rica, which has very few restrictions on gambling and allows a lot of leeway to the gambling websites that are operated within it. This means that they will be able to offer more bets than, for example, a state-sanctioned sportsbook, because the state-sanctioned books have restrictions on what they are allowed to offer odds on.
Who Can Play At Maine Online Gambling Sites?
Well, anyone can play at the online offshore gambling websites. That's really the whole deal. Some of them are not available in certain states, but as long as you can access them in your state, you can play on them as well. So, really, they're not so much Maine online gambling sites as they are online gambling sites that Maine residents can use.
Taxes On Gambling Winnings In Maine
Before anything else, please understand that you need to pay your taxes. Gambling revenue in Maine is taxed, just like any other income you have. It is important that you declare gambling winnings on your taxes, so that you can pay them reasonably. In addition, it is extra important to not have the IRS at your door - that's always something to avoid, and doubly so if you make your income via something as esoteric as online gambling.
Gambling Revenue In Maine
Gambling revenue in Maine is less than it could be. For now, a lot of the revenue they raise is via the lottery. Lottery revenue goes towards helping K-12 education outcomes improve, and tends to be lionized as such. It's worth considering, however, that they could do a lot more good if they had more revenue, and allowing other types of gambling, and then regulating and taxing them, could be a good idea.
Future Of Maine Online Gambling
Maine has shown tremendous growth towards the acceptance of Maine gambling sites in recent years. Governor Janet Mills signed bill LD 585 that brought state-regulated online sports betting to Maine. State-sanctioned online casinos do not appear to be a pressing matter to the state, but with internationally regulated online gambling options available to residents of Maine it may not be necessary.