Connecticut Online Gambling Sites
Connecticut online gambling sites are commonly used to place wagers, play casino games, and more. Connecticut is one of the most advanced states for online gambling in the US, with options for state-regulated and intentionally operated platforms. Between online casinos, sportsbook websites and apps, online poker, bingo, and more, Connecticut residents have plenty of online gambling opportunities throughout the entire state.
While there has always been online banking through international operators, CT has become one of the 30-plus states to regulate sports betting and one of the first states to regulate online casinos. All of these online gambling sites have many different options for secure deposits, withdrawals, and bonuses in Connecticut.
Largest Gambling CitiesHartford, Bridgeport
Number Of Land Based Casinos19
Gambling Revenue$400 Million
State Licensed Sports BettingYes
Mobile Betting OptionsPari-Mutuel betting
Best Connecticut Gambling Sites
We review a ton of different Connecticut gambling websites, and that means that we've kinda seen it all - from the good to the bad to the ugly. The first major thing we've learned when making US online gambling site reviews is licensing. Licensing comes with the approval of a country or state, and the inspections, rules and regulations that all come with that level of approval. Basically, it's a measure of trustworthiness - a state or country thinks this website is trustworthy enough, and has verified that trust enough, that it is willing to license this website.
Another good measure of how much to trust online gambling sites is the reputation it carries. Reputation is important because people know what they want in a gambling website - and they know what they don't want as well. Many of the best online gambling websites have good reputations, due to them offering good odds in a timely manner, as well as focusing on customer experiences.
Best Online Poker Sites That Accept US Players
How We Pick The Best Connecticut Gambling Sites
We do our research on every available option
We check that the website is licensed
Emphasis is placed on if the website offers excellent bonuses
We look for good deposit and withdrawal options
We read the terms and conditions so you don't have to
Is It Legal To Use Bovada In Connecticut?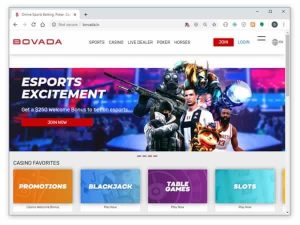 Bovada is one of the biggest online sportsbooks, and it should come as no surprise that many Connecticut residents ask us questions about whether or not it is legal to use a website that big. The quick and dirty answer is that as far as using the website, you should be good to go as long as you are above the legal gambling age. The basic reason why is that many states prohibit the providing of online gambling, but not the using of online gambling services. Basically, you couldn't run Bovada in Connecticut, but you could use it to bet on the New England Patriots, for example. This method of enforcement means that Bovada has to be located outside of the United States in order to stay running - it needs to be headquartered somewhere that the United States government cannot reach.
Online Casino Partnerships In SC
DraftKings – Mashantucket Pequot Tribe
FanDuel – Mohegan Sun
Where Can I Bet On College Sports In CT?
Online sports betting was regulated in Connecticut in October of 2021 and the state ended up restricting in-state college betting. As one of the most popular forms of online gambling in the US, there are still sites that offer college sports betting and are operated internationally. These online legal betting sites have live and future odds for the UConn Huskies and accept deposits and withdrawals through cryptocurrency transactions.
Mobile Gambling In Connecticut
The way mobile gambling in Connecticut tends to work is that there are not a lot of apps for mobile gambling so much as there are good sites for mobile gambling in the US. Basically, since a lot of the online gambling in Connecticut takes place via online websites, a lot of them don't have apps. These websites generally prefer their customers to use their mobile browsers to visit them, and optimize their website as such.
Mobile Sports Betting Apps
It should come as no surprise that there aren't really sports betting apps in the state of Connecticut. However, mobile betting is still an absolute breeze. All you have to do is navigate to the website that you want to use in a mobile browser. When you do, you'll see a version of the website that is optimized for use on mobile touchscreen devices. This is good for both parties - sportsbooks get you on their website, and users don't have to download anything.
Mobile Casinos Apps
The same logic that applies to sportsbook apps in Connecticut also applies to casino apps. Basically, there aren't any. The online casinos are fully functional on mobile devices, however, and that's always a welcome sight. All you have to do is visit their normal website on a mobile device, and you should be shown an optimized version of it that is fully functional but also easy to use on a touchscreen.
Real Money Online Gambling Sites In Connecticut
Real money online gambling sites can be found in Connecticut. For some reason, a question people have a lot is "do these sites use real money?" The answer, of course, is yes. We wouldn't be writing this page if it wasn't. All of the websites we recommend are real money gambling websites - you put in your real money, and when you win, you take out real money. In addition, all of the websites we recommend have robust deposit and withdrawal systems so that you can use a bunch of different methods to put in and take out your money.
Free Online Gambling In Connecticut
You can play online gambling games for free in Connecticut, but there are some qualifiers on that statement. First things first, when you play at free online gambling sites, you won't be receiving any rewards. This is purely practice stuff. You can play for free at many online casinos. This means that you can get practice at games of skill like poker and blackjack before actually stepping into the arena to play for real money.
Is Online Gambling Legal In Connecticut?
So, the basic way the online gambling websites work is that their location puts them outside of the reach of the laws of the United States. Many states have laws that prevent local operators from running a gambling establishment online, but they do not have laws that prevent one to use one of those establishments. By being located in different countries, the websites are able to be used by people within the United States, but are also able to be outside of the range of US laws, and the enforcement of them. This is the basic conception of how these websites are allowed to exist in states with online gambling.
Don't let that fool you into thinking they aren't regulated, though. The major online casinos are regulated in various places across the world, usually Costa Rica. They still have to obtain a gambling license from wherever they are located, and they still have to make sure that they follow all the rules and regulations that being a licensed gambling provider comes with.
Online Gambling Laws In Connecticut
Online gambling laws in Connecticut are often in flux. There are groups of lawmakers who want to make changes to them nearly every year. For example, in 2019, a group of lawmakers wanted to make online lottery play legal. This effort failed, but similar efforts are ongoing. There are still a lot of unexplored frontiers in terms of online gambling revenue in Connecticut, and the government could get in on the ground floor, so to speak.
Legal Gambling Age In Connecticut
The legal gambling age in Connecticut will vary depending on which type of gambling you are doing. Different types of gambling have different restrictions and requirements. Below, you will find a list of the types of gambling in Connecticut, and the ages at which you will be allowed to participate in them.
Lottery:

18

Parimutuel:

18

Casinos:

21

Bingo:

18

Online Poker:

18

DFS:

21

Sports Betting:

21
Where Are Connecticut Gambling Sites Regulated?
Online Connecticut gambling sites are regulated even if they are not stationed in Connecticut. They tend to be located in Costa Rica and Canada, as well as other parts of the globe. They are subject to all the rules and regulations of wherever they are located and must follow their country's guidelines. Also check to make sure your online gambling site is licensed and regulated, as this should be the first step in joining an online betting site.
Who Can Play At Connecticut Online Gambling Sites?
Well, in theory, as long as we're talking about the online websites, anyone who can access them who is over the legal gambling age can use them. This means that they can be used not just by players in Connecticut, but by players all over the globe.
Taxes On Gambling Winnings In Connecticut
This is a really important section of this webpage. If you take one thing away from this webpage, it should be that there are easily accessible gambling websites in Connecticut, but if you take two things away from this webpage, the second one should be that you need to pay your taxes. Gambling revenue is taxable income, and you have to declare it on your taxes. Please do this. Nobody wants the IRS at their door.
Gambling Revenue In Connecticut
Gambling revenue in Connecticut is so much less than it could be. The lottery brings in a lot of money to help schoolchildren, which is good. Imagine, however, that more types of gambling were regulated and destigmatized. The tax revenue from doing that could do a lot of good for the people of Connecticut. At some point, the legislature realized that they were effectively leaving money on the table, and took steps to legalize various forms of gambling in CT. These efforts are pending federal approval.
Future Of Connecticut Online Gambling
With state and internationally regulated online gambling sites available to players, Connecticut gambling sites have never had a more promising future outlook. Connecticut launched state-regulated sports betting, keno, and online lottery play in 2021, and should have much more room to grow considering the rising popularity of online gambling. It was predicted that when New York launched its state regulated online gambling Connecticut may have a corresponding drop-off in betting handle, but initial results suggest Connecticut was marginally affected and will continue to establish itself as one of the states with the most passion for gambling.