Live Dealer Gambling Sites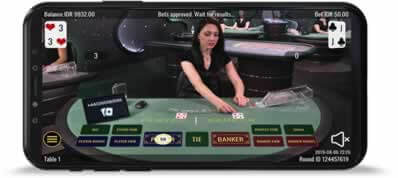 Few states in the U.S. offer online casino games at all, and even fewer receive enough traffic to function as a live dealer gambling site. For these reasons, the vast majority of live dealer options are offered by international online gambling websites like Bovada and BetOnline, which service millions of players annually. They are able to do so largely because they have more liquid assets at their disposal to hire and retain live dealers. Still, live dealer games will almost always require higher buy-ins than normal electronic ones because paying a dealer is much more expensive than processing games entirely through a computer server. Check out some of the best USA online gambling sites found below.
Top Casinos For USA Gambling
Live Dealer Online Casinos
Many major online casinos and gambling websites have adopted live dealers as a way to appeal to players who are skeptical about wagering real money on the results of a computer simulation. These concerns are unfounded, as payout rates for online casino games are closely monitored by governing bodies, but there is an undeniable appeal to a live dealer. Some of the largest live dealer gambling sites in the world include:
Live Dealer Casino Games
Players can enjoy a variety of live dealer games online at live dealer gambling sites in 2023. If you enjoy seeing a live deal for your game of choice, you are going to love learning how the following live dealer USA casino games work.
Live Dealer Blackjack: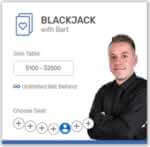 Live dealer blackjack works exactly the same as regular casino blackjack. You and a limited number of players wager against the dealer's hand, with the winning hand being whichever one gets closest to 21 without going over. Both the players and dealer start with two cards each, and the player can choose to hit (receive another card) or stand (lock in their hand total) as needed. If the player's hand goes over 21, it is an immediate bust. In live dealer poker, players are connected to a dealer through a live video feed.
Live Dealer Roulette: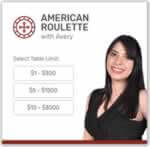 In live dealer roulette, players make their bets on a virtual board just as they would in a casino, then they watch a live video feed of a dealer spinning the roulette wheel. Payouts in roulette are based on the likelihood of the wagered outcome. In a normal online roulette game, the ball is played based on a pure randomization algorithm, but with a live dealer, the outcome is determined by physics.
Live Dealer Slots:
Online slots can offer hundreds of thousands of different slot permutations and designs at all different buy-in levels. With live dealer slots, as with other live dealer casino games, a website will use a live video feed to an actual, physical slot machine. Winning players will have the jackpot amount transferred directly into their account.
Live Dealer Baccarat:
Baccarat is similar to blackjack in that it involves a player and a dealer competing to create the best possible hand. In baccarat, hand value is based on only the second digit, rather than the total value, and thus the most valuable possible hand is a nine. The advantages of live dealer baccarat are the same as those for live dealer blackjack—transparency and improved experience.
Live Dealer Craps:
Craps is the most difficult game to emulate in a virtual setting, as it traditionally involves the player physically throwing a pair of dice. The randomization algorithm that most websites use for dice placement is very thorough, but in a game that's usually so player-driven, there is no way to accurately recreate the craps casino experience. Live dealer craps is an interesting alternative, although it is a mixed bag. The fact that a real dice roll comes into play is important to some people, but the fact that the dice will be rolled by the dealer rather than the player is less than ideal.
Live Dealer 3 Card Poker: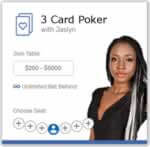 Three card poker is one of the simplest permutations of poker, with both the player and the dealer being dealt a three-card hand and the winner being whichever one has the higher value hand. As with other games, live dealer three card poker gives players peace of mind that they aren't being cheated by the randomization algorithm. Unfortunately, three card poker is one of those games that gives the house a definitive edge, so if you are going to play, make sure you know all the rules in advance.
Live Dealer Let 'Em Ride: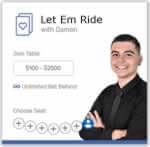 Let 'Em Ride is a variant of five-card stud, which unlike other poker games does not require a group of players. Players receive a three-card hand that is paired with two community cards. The defining feature of Let 'Em Ride is the option for the player to withdraw exactly one-third of their initial bet at two separate points—once after the hand is dealt but before the first community card is revealed, and again after the first community card is revealed but before the second. Unlike other variants of poker, payouts are based solely on the value of the player's hand rather than on one player's hand relative to another, similar to video poker.
Live Dealer Super Six: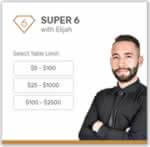 Super Six is a variant of baccarat in which the dealer draws out of a six-deck shoe. The main appeal of the super six is an available side bet called a super six, or a bet on the dealer to win the hand with a value of six. This bet pays 12:1, so while it is very unlikely to payout, the rewards on the off chance that it does can be extremely impressive.
Live Sports Betting Sites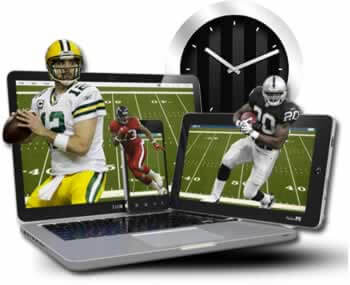 Live sports betting, also known as in-play betting, is a relatively recent phenomenon, but it has become very popular in the last year or so as a way for bettors to stay engaged with a game throughout its duration and use their ability to recognize trends to find new ways to profit. Live betting is an expensive endeavor, as truly accurate up-to-the-second odds are only possible via advanced computer algorithms and analytics, which require their own infrastructure investments. For those that can offer live betting though, it's a win-win. The book handles a higher volume of bets while the players get more opportunities to maximize their return. There are a number of different live sports betting options. Here are a few of the most important or popular:
In-Game Sports Wagering

In-game wagering with USA sports betting is a broad category that encompasses all bets made over the course of a game. In-game odds and lines adjust automatically as a game progresses, so they become a more accurate live snapshot of the game's expected results. For example, if the Kansas City Chiefs enter a game as 10-point favorites but quickly find themselves down 24-0, their live money line could swing from -300 to +1500. Then when they score 28 points to take a four-point lead heading into halftime, the live money line could swing from +1500 all the way back to -250. Hypothetically speaking.

Play-by-Play Sports Betting

These are the most difficult odds for a sportsbook to calculate, as they require extremely extensive analytics software and near-instantaneous information updates. If there was any delay in recalculating odds, fans could print free money by betting immediately after big plays before the oddsmakers had a chance to react. While most plays do not drastically change the odds of a given game, even a 2-3% swing can have a notable impact on expected payouts. One increasingly popular option for play-by-play betting, especially in fragmented sports like tennis and golf, is betting specifically on the result of the next play. This could extend to other sports as sports betting infrastructure gets more sophisticated.

Halftime Sports Wagers

For sportsbooks that don't have access to the technology needed for play-by-play live betting, halftime odds adjustments are a more feasible alternative, with the break in action giving a book the time it needs to adjust. These bets are based only on what will occur during the second half or overtime of the game and have nothing to do with the first half.

In-Game Sports Props

In-game props are the next evolution of live betting. As technology evolves and sportsbook computers improve their processing power, it will become possible for books to calculate live odds on specific prop bets, like an over/under on an individual player statistic. For example, if the pre-game over/under on Julio Jones receiving yards is 89.5 and he catches a 75-yard touchdown pass on the first snap of the game, the payout on the over could drastically decrease or the actual over/under could drastically increase.
Live Dealer Online Poker
When playing online poker in 2023, it's easy for some people to feel that they've been cheated by the card shuffling algorithm. When there's no transparency, sometimes a run of bad luck can feel like more than just a coincidence. There is no such worry when you can watch a live feed of the dealer dealing the cards, shuffling the deck, and opening a new deck when requested.
Another benefit of live dealer USA online poker is that the player-dealer interactions add to the casino atmosphere. Gambling online is great for its convenience, but sometimes it can feel impersonal. A dealer who responds verbally to you adds something intangible to your poker experience. When playing live dealer online poker in 2023, know that all have experience in the casino industry.
Live Daily Fantasy Sports Sites
Daily fantasy sports (DFS) really took off in the last few years, particularly during the DraftKings/FanDuel arms race of 2015, when seemingly every commercial break during the NFL season featured an advertisement for at least one of the two companies. As the USA Daily Fantasy Sports business has grown, it has expanded its options to include new sports and new methods of play, including some quasi-live play options, mainly second-half fantasy contests and the late player swap feature.
Second Half Fantasy Contests

Just as traditional sports betting has begun to offer fans the option to bet on second-half lines during the intermission, daily fantasy has begun to offer its own second-half contest options, where players pick lineups solely for the second half of a game. Isolating the second half of a performance can actually have a massive impact on its value. Think back to the Super Bowl LI, when the Atlanta Falcons led 21-3 at halftime only to see the New England Patriots mount a furious comeback to win 34-28 in overtime. Patriots players like Tom Brady and James White had huge second-half performances after poor first half showings, while Falcons players like Matt Ryan and Devonta Freeman had the opposite problem.

Late Lineup Swaps

This isn't really a live playing option, but some DFS sites do offer players the opportunity to make changes in their lineup right up to the start of a game. Unlike traditional sports bets, which are locked in as soon as they are placed, this gives DFS players some flexibility to adjust to late changes in circumstances. For example, if a team announces ten minutes before game time that a star player won't suit up due to some previously unknown injury, a DFS player with late swap can switch them out with any other player at the position, so long as that player's own game hasn't started.
Live Dealer Bingo
Live dealer online bingo is a niche option, as bingo is a somewhat impersonal game already. In most bingo games, the only direct interaction a player has with the "dealer" is yelling out that they've hit bingo. Again, the main appeal is transparency. Gambling websites are regulated to ensure that they don't take advantage of players, but seeing a live dealer actually pull numbers from a physical bingo cage is nice peace of mind for the irrational part of our brain that will always distrust things we can't directly observe.
Unfortunately, few websites offer live bingo right now. The market isn't yet big enough to support more than a handful of operators, and many major gambling sites are already spread thin by the overwhelming number of betting options they offer. Live bingo could grow in popularity along with other live dealer games.
Live Dealer Gambling vs. Traditional Online Gambling
If you are wondering what the differences are between live dealer gambling and what we think of as traditional online gambling, here are some of the key comparison factors.
Traditional Online Gambling
Impersonal
Options for a low buy-in
Quick and efficient
More games
More betting options
24-hour play
Fast payouts
Live Dealer Gambling
Personal involvement
Closer to the casino atmosphere
Transparency
Fewer low buy-in games
Slower
Fewer options
24-hour play
Fast payouts
Benefits Of Live Dealer Gambling
Gambling with live dealers creates the most immersive gambling experience online. This for of gambling makes players feel the same sensation as gambling at a retail casino. The communication aspect turns the games into rea competitions and online casino dealers actually engage with players, further increasing the immersion. Its one thing to play against a computer software, but when facing a real trained dealer, the gambling sensation is unmatched.
Most Immersive Way To Play
Social Interactions
Available At All Top Sportsbooks
Sensation Of Competing Against Real Players
Which States Have State-Regulated Live Dealer Options?
Since online casinos are rarely regulated stateside, only a few states are offering live dealer casino options. Players in other states tend to look internationally for such options. While only five states offer online casino live dealer options at the moment, the remaining states are served by these international casinos. In addition, online casinos are looking to expand into more states in 2023. 
| State | Launch Date |
| --- | --- |
| DE | Nov. 2013 |
| NJ | Aug. 2016 |
| PA | Oct. 2020 |
| MI | Jan. 2021 |
| WV | Jun. 2022 |
| CT | Jul. 2022 |
Frequently Asked Questions: Live-Dealer Online Gambling
What Happens If I Lose Connection?
If you lose your connection during a live dealer game, most websites will offer a grace period in which you can reestablish connection and continue play where you left off, but if you can't reestablish connection within this time limit, your next turn will be forfeited and you will not receive a refund for any money lost. While this sounds harsh, it is important to protect against players intentionally disrupting their connection when they make a bad bet.
Am I Playing With/Against Real People?
Yes, you are playing with real people. Live dealer games that involve a table full of players will allow more than one player account to connect. Other games that pit a player against a dealer, like blackjack and baccarat, will obviously pit the player against a real dealer. More important than a real person, live dealer games are played with a real deck of cards.
What Are The System Requirements? Do I Need A Webcam?
Players do not need to have a webcam to play, but they do need to have a computer that is capable of high-speed video streaming in order to keep up with the live dealer feed. Most players using an online gambling website will already have this, so live dealer games are very accessible to their core audience.
Can I Play Using My Phone?
Yes, most online gambling sites have a fully-featured mobile site with the same variety of playing options as the full desktop site. For major operators, this usually includes live dealer play. Because live dealer play is so contingent upon a live connection, however, it is recommended that players ensure that they have a secure wi-fi or data feed before playing on their phones.
Are The Results Legit?
Yes, the results are legit, and the transparent nature of live dealer games leaves no room for argument. If you watch the cards being dealt, you know that no matter what goes down, you were given a fair shot.
Do The Dealers Speak English? Other Languages?
Live dealer games are expensive to operate, so websites hire dealers that speak whichever language the majority of their player base does. For most websites, that means live dealers who speak English are going to be prioritized. But depending on the demographics of the website, you might see live dealer options for dealers who speak Spanish, Italian, German, etc.
Which Games Are Most Popular?
The most popular games are those that are most popular in casinos: blackjack, hold 'em, and roulette. But there are also more niche live dealer options for baccarat, keno, and others. Live dealer games have become very popular, but they generally require a more expensive buy-in because they are more expensive to operate.
Can I Try Live Dealer Games For Free?
Kind of. There are a handful of free options for live dealer games, but these all have a dated interface and require many players to share the same video feed because casinos can't afford to devote full live dealer resources to games that don't generate money.
Can I Play More Than One Game At A Time?
You can, although it's hard to imagine why you would want to. One of the main appeals of live dealer games is that they offer something close to the brick-and-mortar casino experience, and there are other people who would greatly enjoy that experience. Instead of playing multiple live dealer games at once, players should consider doing that with the simulated games instead.
Are Live Dealer Games Available 24 Hours?
It depends on the website, but generally speaking, yes, live dealer gambling sites are available 24 hours a day in 2023. Because online gambling sites are global enterprises, they need to have 24-hour options to accommodate players in vastly different time zones and maximize their revenue-generating opportunities. Check with your live dealer website of choice before making this assumption though.