Online Gambling In Massachusetts
Legal online gambling in Massachusetts happens outside of casinos, much to the contrary of many people's expectations. While gambling within the Massachusetts state lines you will be able to enjoy horse racing, skill games, daily fantasy sports, sports betting, live table games and more. In order to take part in USA online gambling, you must abide by the rules and regulations that they present. You will find the ins and outs of online gambling in Massachusetts throughout this page.
Online gambling is popular nationwide and is a fast-growing market, as there are plenty of online gambling sites for those who are feeling lucky. Here you will also find the safest and easiest ways to access online gambling in Massachusetts without having to doubt yourself on if it is legal. From knowing the gambling age in Massachusetts to the exact laws behind DFS, sports betting, online casinos and more, knowing the necessary information is crucial to safely betting online.
Largest Gambling CitiesBoston, Worcester
Number Of Land Based Casinos3
Gambling Revenue$273.8 Million
State Licensed Sports BettingYes
Mobile Betting OptionsYes
Best Massachusetts Gambling Sites
When choosing which online gambling site, you're going to play on, the top things to look at are if they are safe and trusted, and how the mechanics of the site work as well. This includes aspects like depositing and withdrawing money as well as some bonuses that they might offer. It helps if you are able to read customer reviews as well.  In our experience, the best online gambling sites are the ones with the best odds, and the ones that are the easiest to use.
How We Pick The Best Massachusetts Gambling Sites
We take a bunch of different things into consideration when we look at the best online gambling sites. We look at how smooth things run on the site like how easy it is to deposit and take out money and what kind of bonuses that these sites might have to offer upon signing up. Also, we look at if the site is safe and trusted enough to use and how good their customer service is.
Looking for great promotional offers to increase your bankroll from the start.
Ensure the licensing requirements set the regulatory standards.
Easy deposit methods for funding an online gambling site.
Value player's opinions of the site and their betting options.
Play the gambling sites ourselves to ensure they are of quality.
Is It Legal To Use Bovada In Massachusetts?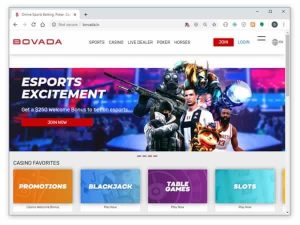 Bovada is one of the biggest online casino and sportsbook companies out there, and a lot of bettors tend to ask us if it's legal to use them in Massachusetts. This is a reasonable question, as Bovada's legal situation is actually a bit unique. Here's how it works: Bovada is located outside of the United States, and in this way dodges a lot of the laws that are related to providing online sports betting and gambling websites. Those laws are targeted at providers, for the most part, not the people using the website. In this way, it is generally fine for people to use Bovada to bet on, say, the Boston Red Sox, but it would not be fine if Bovada existed within the jurisdiction of Massachusetts.
Mobile Casino + Sports Betting Apps
There are no Massachusetts gambling apps you can download. However, you can simply open your web browser on your smartphone and access the sites through there. It's great for users who are always on the go whether they are on iPhone or Android, as they won't have to rely on getting to a computer.
Real Money Online Gambling Sites In Massachusetts
All of these online gambling sites deal with the use of real money. There should not be any doubt when using them despite Massachusetts not offering state-regulated sites. Being that they use real money, they accept many different forms of payment such as everyday credit cards to money orders and cryptocurrencies. These real money gambling sites will usually be a notification on these sites letting you know that you are about to use real money to gamble.
Free Online Gambling In Massachusetts
Other than real money gambling sites, there are options for free for those who are still learning and want to get knowledge on how to play before they bet. Similar to real money sites, you will be notified that there is no money being used before you start playing. Free online gambling is a great way for new players to learn as they go so that you don't actually lose any money while you learn. Once you learn, the games get even more interesting as you are actually playing for something at that point.
Is Online Gambling Legal In Massachusetts
Online gambling is legal in Massachusetts for horse racing and skill-based games only so if you are betting on the ponies or playing poker you are good to go without hesitation. If you plan on betting on sports or playing other casino games, you would have to go through the online sites. Do not let that discourage you as these sites are fully legal.
Online Gambling Laws In Massachusetts
Similar to before, only games of skill and horse racing are legal in the state. Other casino games are available through land-based casinos. However, there are no laws that ban online gambling either. Residents can legally use online gambling sites as there is nothing that is stopping them. Without any law in place specifically banning the use of online gambling sites, residents of Massachusetts can use these sites undoubtedly.
Legal Gambling Age In Massachusetts
In Massachusetts, whether it is online gambling or land-based gambling, players must reach the
legal gambling age
limit to be allowed to do so. At 18 years of age, players are able to play bingo, lottery and horse racing. Once you reach 21 years of age you unlock everything like casino games, poker rooms and sports betting.
Bingo:

18

Lottery:

18

Horse Racing:

18

Casino Games:

21

Poker:

21

Sports Betting:

21
Where Are Massachusetts Gambling Sites Regulated?
Since only some forms of online gambling are regulated in Massachusetts, online gambling players might get discouraged to use anything that is not licensed by the state. This should not be the case. Most of these online gambling sites are regulated in either Costa Rica or Canada. When using those sites, you should be sure to check where they are regulated before using it. There aren't any places to avoid when searching for a site, it is just for the sake of knowing that it is regulated one way or another. All of the online gambling sites that you will find here have all been regulated and are easy to use.
Who Can Play At Massachusetts Online Gambling Sites?
Yes, if you are residing in Massachusetts you can use the online sites for horse racing and skill-based games. If you are visiting the state, however, you are allowed to use them as well. As long as you are located within the Massachusetts state lines, you should feel free to use them as much as you want while you are there.
Taxes On Gambling Winnings In Massachusetts
In the state of Massachusetts, if you are the lucky winner of anything over $600, you will owe a 5% tax on your winnings. You could expect the forms from the regulated gambling sites for the gambling options in the states to keep track of your winnings and losses. The sites will not present you with this so it is important to keep track of your winnings. You must report them as there is even a section on the forms for "other income" where gambling winnings fall under.
Gambling Revenue In Massachusetts
Being that only horse racing and skill-games are the only state-taxed online gambling options in the eyes of the state, these and the Massachusetts lottery are the only sources of gambling revenue. Fund are dispsered then through coffers of the state.
What Massachusetts Gambling Revenue Funds
Local Aid

20%

Transportation Infrastructure Fund

15%

Education Fund

14%

Commonwealth Stabilization

10%

Accelerated Debt And Defeasance

10%

Gaming Economic Development Fund

9.5%

Community Mitigation Fund

6.5%

Public Health Trust Fund

5%

Local Capital Improvements Fund

4.5%

Race Horse Development Fund

2.5%

Massachusetts Cultural Council

2%

Massachusetts Tourism Fund

1%