Mississippi Online Gambling Sites 2023
Mississippi online gambling sites are available in 2023. Mississippi is home to the country's third-largest casino market: Biloxi. There are several dozen highly successful casinos scattered throughout Mississippi, with most of them focused in the state's coastal region in Biloxi. Unfortunately, online gambling has been a large legislative issue, and state regulated Mississippi gambling is largely confined to the state's several dozen casinos, who hold a lot of sway with the Mississippi Legislature. However, BetMGM launched online sports betting in 2021, which brought new revenue opportunities to the state.
Players can also gamble online via Mississippi online gambling sites based outside of the United States. These Mississippi online gambling sites have player bases numbering in the millions and offer a freer, more rewarding betting experience than even betting at a casino. They also come with unmatched convenience and accessibility. The chances of Mississippi regulating any form of online gambling in the near future are remote, so for the time being, international sites are the ideal option for players.
Largest Gambling CitiesBiloxi, Jackson
Number Of Land Based Casinos35
Gambling Revenue$927 Million
State Licensed Sports BettingNo
Mobile Betting OptionsDaily Fantasy
Best Mississippi Gambling Sites
We review dozens of different Mississippi gambling sites to ensure that our users get the best possible online gambling experience. There are a number of different important qualifiers to be eligible for a USA Online Gambling recommendation—things that are required in order to give players a high-quality gambling experience. Things like quality customer service, reliable connections and infrastructure, a great variety of betting options, smooth and secure banking, etc. We look for these qualities so that we can filter out all the sites that aren't worth anyone's time.
Once all the garbage has been filtered out, evaluating gambling sites becomes more subjective and less concrete. Every player has their own priorities and preferences, and so the ideal gambling site will differ for each player. Different sites focus on offering different things. Some, for instance, might focus on offering the most robust online poker software, while others focus on having the best sportsbook or the best promotions. At USAOnlineGambling, our goal is to provide you with the information you need to make the best decision for yourself as an individual.
Best Online Poker Sites That Accept US Players
How We Pick The Best Mississippi Gambling Sites
All our gambling sites must be consistently reliable (i.e., no crashes)
For whatever types of betting a site offers, its offerings must be well-above industry average.
All our sites must have an unimpeachable history of integrity and trustworthiness.
They must be easy to access and use with no cumbersome sign-up process.
Payout rates must be good enough for players to win consistently.
Is Using Bovada Legal In Mississippi?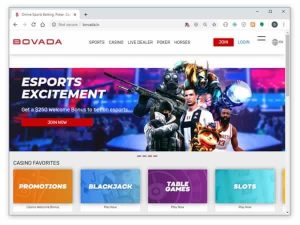 Bovada is one of the largest online gambling providers across the world, and many people ask if it is legal to use it in Mississippi. The big thing to understand about Bovada and the other websites like it is that they rely on their locations outside of the United States to protect themselves, and they rely on state law targeting providers of online gambling instead of users to protect their users. Basically, the states are concerned with regulating the market as a whole, not the behavior of people within it. So, unless the state you are in has specific rules against using online gambling websites, you are good to go.
Mobile Gambling In Mississippi
Mississippi online casinos can be accessed on mobile devices across the state. Apps like BetMGM are only available while on casino grounds and are geofenced and inaccessible while off grounds. Mobile gambling statewide can only be accessed via licensed US mobile gambling sites that are not regulated by Mississippi. Lawmakers attempted to regulate statewide mobile sports betting in 2022 with HB 184, but efforts died early on. Mississippi residents still have access to online gambling of all kinds with online gambling sites.
Mobile Sports Betting Apps
International sportsbook can't offer traditional apps on major app stores like Google Play or Apple, but they do offer optimized mobile sites with access to their full range of features. These mobile sites function much like a traditional app would. Bovada's mobile interface is probably the best for online sports betting, as it is extremely conducive to live in-play betting. Mobile sports betting is a great tool for people watching a game in a bar with their friends or at a restaurant who feel the urge to make a bet.
Mobile Casinos Apps
Mississippi mobile casino gaming is only available through international gambling websites, which are not allowed to host apps on American app stores. They do have optimized mobile sites for American players, and these apps have full functionality and operate exactly how you would expect a mobile casino app to work. Most feature a tile-based interface better suited to touch screens. Through these casino apps, players can enjoy everything from roulette to baccarat to slots, and they can do so during a long bus ride or while waiting around in a doctor's office.
Real Money Online Gambling Sites In Mississippi
It is legal to gamble and win real money online in Mississippi via internationally based gambling sites. Deposits for online gambling work much like they do at a regular casino, except deposits are required to be made through non-physical transaction methods like payment cards or cryptocurrency. Withdrawals are slightly more limited as well; a quirk of federal law restricts banks from processing payments from gambling companies, so the most convenient method of withdrawal is cryptocurrency like Bitcoin. Crypto is more secure than normal payment cards anyway, thanks to its blockchain security technology, and it can be processed much faster and cheaper. Most gambling sites also offer additional deposit bonuses for deposits made using Bitcoin, in case you needed an additional incentive.
Free Online Gambling In Mississippi
There are plenty of free play gambling options in Mississippi. The most common are free downloadable apps on major company app stores that simulate casino games using artificial intelligence and fake currency. These are a fun distraction, but the lack of tangible risk severely hurts their playability. Most of the fun of gambling is in the balance between risk and reward, and free online gambling lacks both. The best free gambling option is probably DFS tournaments, which can carry large cash prizes for winning players and involve a high degree of knowledge and engagement with real sporting events.
Is Online Gambling Legal In Mississippi?
Yes, but not through traditional in-state operators. Brick-and-mortar gambling is legal in the state, but online gambling is strictly prohibited. Regulations for online gambling in Mississippi are outlined in the Mississippi Code, Chapter 76—also known as the Gambling Control Act. Although online gambling is not mentioned specifically, state legislative and judicial officials have interpreted the law to outlaw online gambling in the past. There was some hope that state regulation of sports betting might open the door for the expansion of other areas of the gambling industry, but so far that hope has not come to pass. The state's conservative legislators seem staunchly opposed to expanding gambling beyond its current scope, so state-licensed online gambling is unlikely for at least the next several years.
Online gambling via international sites is completely legal, as these sites are under the jurisdiction of their home countries rather than the jurisdiction of Mississippi or the United States federal government. The only requirements are that players be at least 18 years old, with proof of ID on request, and that they have a reliable data or wi-fi connection. Gambling laws are looser in other countries than they are in the U.S., and these gambling sites have much larger player bases than you would find here. The result is that international gambling websites offer a better selection of games at a higher quality than Mississippi's many retail casinos.
Online Gambling Laws In Mississippi
Mississippi has had a rocky history with gambling, with laws changing over time with each era's moral sensibilities. Throughout it all, the Gulf Coast (which is where Biloxi is located) has remained the epicenter for the state's gambling interests. In the late 1980s, state lawmakers finally recognized the value of gambling and passed the Indian Gaming Act. Casinos sprung up across the state, especially in Biloxi, but online gambling has remained elusive. The most recent gambling law change came with the state level regulation of sports gambling in 2018, but even then no progress was made on the road to regulating online gambling at the state level, leaving the online casinos located outside the country the only logical providers. Online sports betting was made available in 2021, but only via BetMGM at the state level. We'll see if that will be enough to keep Mississippi's bettors away from the offshore casinos.
Legal Gambling Age In Mississippi
The legal gambling age for in-state casinos in 21 years old, and brick-and-mortar casinos in Mississippi will not admit patrons under 21 years old. This
legal gambling age
exists mainly to streamline the distribution of alcohol on premises and take maximum advantage of the financial value of a liquor license. For online gambling, most major international gambling sites accept players who are at least 18 years old.
Lottery:

21

Parimutuel:

n/a

Casinos:

21

Bingo:

18

Online Poker:

18

DFS:

21

Sports Betting:

21
Where Are Mississippi Gambling Sites Regulated?
The sites that you will find on this USAOnlineGambling network are regulated in the countries in which they are based, with that level of consumer protection and great gaming options for players the two main prerequisites we require before having our experts put together reviews for USA online gambling sites. Mississippi's online gambling laws are very strict, but the online gambling laws of these other countries are much looser. That isn't to say that international gambling sites are nothing but lawless anarchy. All major online gambling platforms are held to strict standards of reliability, and are required to meet certain payout rates for every game to maintain their license.
Who Can Play At Mississippi Online Gambling Sites?
Mississippi online gambling sites are accessible both for player in Mississippi and players from other states. These sites are open to a global player base. All you need to do to sign up, whether you are in Mississippi or Louisiana or Wyoming, signing up takes only seconds, so you can start making bets immediately. Bonuses for deposits, referrals, reloads, etc. are also universal between states.
Taxes On Gambling Winnings In Mississippi
Gambling tax rate in Mississippi: 25% (federal) + 3% (state)
Between federal and state taxes, bettors in Mississippi pay a total of 28% tax on their gambling winnings. Even if players win money with an international gambling site, they still must report that as income when filing their taxes. Players should be highly discouraged from failing to report gambling winnings on their taxes, as failing to do so could result in hefty penalties, including big fines or even jail time, depending on the severity.
Gambling Revenue In Mississippi
Gambling revenues in Mississippi are high, if not quite in the same realm as industry titans like Nevada, New Jersey and Pennsylvania. In 2019, Mississippi's casinos earned over $2.2 billion in gross gaming revenue, generating hundreds of millions in tax collections for the state. This tax money goes to the state's general fund to support education and infrastructure improvements, along with other programs for social betterment and welfare. If Mississippi online gambling sites were regulated and taxed by the state, Mississippi's yearly gaming revenue could likely top $3 billion. Unfortunately, the government has shown no interest in this potential revenue source.
Future Of Mississippi Online Gambling
Online gambling doesn't look likely in Mississippi in the near future. The state's evangelical leadership is in direct conflict with its casino industry, and the regulation of retail sports betting in 2018 seems to have been a compromise between the two sides in lieu of full-scale legal online betting. The Legislature could always change its mind and legalize Mississippi gambling sites, but that is unlikely to happen until more states around the country do the same. If this were to happen, it would go a long way toward normalizing online gambling for Mississippi's conservative leadership.