USA Horse Racing Sites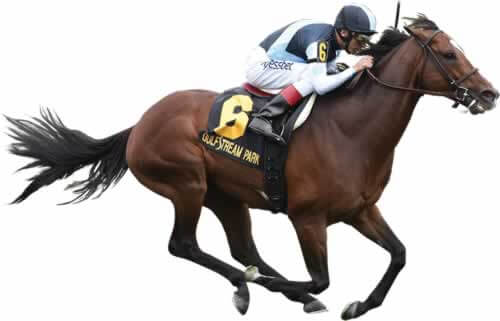 USA horse racing sites have allowed players to bet on the ponies online for decades. The history of the best USA gambling sites does not exactly date back to when horse racing began, but in their defense, the internet and electricity were not around when horse racing in the United States began (1665). The online horse betting sites on this page have a proven track record of offering odds on all graded races in the US and have payout speeds that are Triple Crown-worthy.
Best Online Horse Betting Sites For USA Players
Bovada
The Todd Pletcher of online racebooks in the US, Bovada has a multi-length lead over the other top horse racing betting sites because of its high acceptance rate of American players and the large bonuses for new players. Bovada accepts players from 45 states, with players from New Jersey, New York, Nevada, Maryland, and Delaware missing out. The horse racing sign-up bonus at Bovada is titled simply the "Welcome Bonus", with players able to earn up to $750 in bonus funds when using cryptocurrencies. The Bovada horse racing bonus is useful for everyone because it allows players to bet on horses in the sportsbook (or other sports if they like) or through their dedicated racebook section.
BetOnline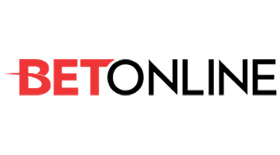 Founded the same year that Smarty Jones failed to complete the Triple Crown by just one length, BetOnline has now been a leader in the online horse racing community for nearly 20 years. What makes BetOnline stand out is its mobile racebook which is available in every state but New Jersey. The BetOnline mobile horse betting site does not require any downloads or geofencing apps, with the international racebook allowing players to travel freely while gambling. BetOnline's mobile racebook is accessible on any smartphone, tablet, or really any other device with an internet browser.
TwinSpires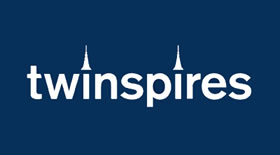 TwinSpires is well known by everyone within the horse race betting community, as it is the official betting app of the Kentucky Derby, and overall probably the most famous betting application in horse racing. If you go to TwinSpires' website, the first thing you'll notice is the deals they have, which range from free bets to bonuses to codes. When you sign up at TwinSpires, make sure to take advantage of as many of these as possible – they aren't kept a secret, they're on the front page of the website, so use them!
MyBookie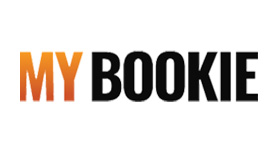 MyBookie is one of the easiest online horse racing betting sites in the United States use. Players can easily find any bets on the Triple Crown races or Breeders Cup by using the drop-down menu in the sportsbook or toggling through the MyBookie Racebook. Once the odds on the desired horse race have been found, players can then choose if they would like them in American style odds (+), fractional odds (i.e. 2-1), or in decimal style (i.e. 2.0). MyBookie offers odds on hundreds of races per year, with players able to place many types of wagers on each race.
TVG
The first thing you see when you navigate to TVG's website is odds. Everywhere. It is a paradise for a certain type of horse bettor, the kind of person who wants to see everything, immediately – a full information download. That is a good explanation of what TVG offers – it's no-frills horse betting. You want to bet on horses, you go to TVG, you can read what the experts say, place your bet, watch the race, explore other bets, and generally do anything else related to horse race betting that is doable. They are excellent at what they do, and what they do is horse race betting.
Is Horse Betting Legal In The USA?
Betting on horses in the USA is legal. Legal horse racing gambling sites are available through international racebooks in every state, with legal racebooks also coming via state-sanctioned betting sites in many states as well. The states with online gambling that allow both international and state-based horse betting are categorized below, with states that only have offshore racebooks separated below.
States With Legal Online US-Based & Offshore Racebooks
States With Legal Online Offshore Racebooks
Mobile Horse Betting Apps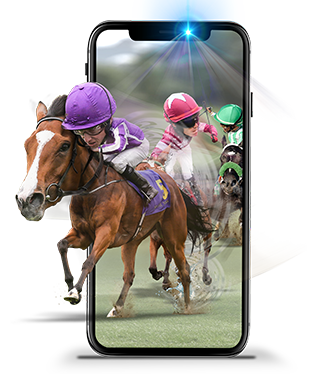 There are multiple ways to wager on the ponies on your phone or mobile device. A lot of sanctioned sportsbooks will have apps to download in order to bet on the horse races from your phone. These kinds of horse betting apps are available from places like BetAmerica, TVG, Twinspires, and Xpressbet, among others. These apps are excellent for mobile and live horse race betting, and are designed not just for ease of use, but for high quality as well. Everything you need from a horse racebook, you can find on these apps.
One other wrinkle here is that the online betting sites tend to not use apps, preferring instead to optimize their websites for browser use on mobile devices. What does that mean? Basically, when you go to a betting site on desktop/laptop, you receive the desktop version. When you go to the site on your mobile device, you receive the mobile version, which is optimized for an app-like experience and feel. All you have to do is navigate to the page as you normally would.
Horse Betting Bonuses And Promotion Codes
Many horse betting sites want to entice bettors to choose their specific sportsbook over others. One way they go about doing this is by offering signup bonuses, and bonus codes, that allow players to acquire various benefits by entering the bonus code. One thing to note is that if you are a true gambler, you can and should sign up at multiple sportsbooks and take advantage of as many of these bonuses as you can, for multiple reasons. The first reason is that it is obviously good to take as much free money as you can, and the second is that shopping lines is a beneficial thing to do.
How To Bet On Horses Online
Find a horse racing book.
Sign up and check for promotions.
Deposit money into the account.
Do your horse betting research.
Place one of many horse racing bets.
Win and withdrawal your money.
How Do Horse Betting Odds Work?
Horse betting odds represent the payout that you will receive if a specific outcome occurs. For example, let's say you bet on a horse with 5/1 odds at a horse betting site. This means that you will receive five times the amount you bet if that horse wins. Now, why does that horse have 5/1 odds? Well, that's the whole business right there. Racebooks evaluate the probability of an event occurring, weigh it against what the public seems to be thinking, and set the odds based on that.
Odds are contextual – in a wide field, 5/1 odds are very good, it reflects a possible favorite. In a narrow field, 5/1 odds are not good. Sometimes you will see these odds expressed in the form of whole number rather than fractions. For example, let's take that horse that had 5/1 odds to win. You can also write this as +500. These are normalized to a bet of $100, so if you bet $100, you will receive $500 in profit if you win the bet.
Horse Betting Wager Types
There are many different types of bets one could place at online horse betting sites. We have listed out the most common types of horse wagers placed so you can get to know these terms and bet like a pro.
Straight Bets

Straight bets are very simple, and probably the thing you are familiar with. These are bets placed on specific horses, and they are generally known as betting on a horse to Win (finish first), Place (finish first or second), or Show (finish first, second, or third).

Combination Straight Bets

You can combine the three types of straight bets in order to get different results. For example, you can bet on a horse to win/show, meaning that you can collect on either half of the bet. You can even bet on all three and if the horse wins, you collect not only the win bet but also the place and show bet.

Exacta

An exacta is when you pick the horses to finish first and second exactly. No other results will work, hence "Exacta".

Trifecta

A trifecta is similar, but you pick the horses that will finish first, second and third exactly.

Superfecta

Finally, we have the superfecta, wherein you pick the horses that will finish first, second, third and fourth. Extremely tough to do.

Daily Double

A Daily Double is essentially a parlay – you pick the winners of two consecutive horse races.

Pick X

Picks are an extension of Daily Double style wagering – you pick the winners of X consecutive horse races, parlayed together. For example, a pick 4 is picking four consecutive winners.

Box

Boxing means to cover all of the available combinations within a bet. For example, if you are betting an exacta with Horse A and Horse B, in order to box the bet, you bet it both ways Horse A first and Horse B second, and then Horse B first and Horse A second. That way, you don't end up losing out if you picked the top two horses but in the wrong order.

Key

Keying just means you're certain about one result. For example, let's say you know horse A will win but are unsure about who will place. You Key in horse A, and then add other horses in the second spot on an exacta, or the second and third spots on a trifecta.

Wheel

This is the word for taking the entire field as part of a wager.
Understanding Horse Betting Payouts
Once you've made your way to the horse betting site of your choice, placed your bet, and won, how do you actually collect your winnings? Well, the vast majority of online horse betting websites will have many different types of payout methods available. You can get sent your winnings through any of these methods. These methods will range from the typical, such as money order, check and bank transfer, to the atypical, such as Bitcoin.
Betting On Horses Using Bitcoin
Bitcoin is what is known as a cryptocurrency. Basically, it is an online token that holds real-world value and is an excellent tool for the quick and fast transfer of cash around the globe. It is also extremely secure – the algorithm that controls it is self-verifying, and the Bitcoins themselves cannot be hacked. For this reason, many sportsbooks and racebooks accept and offer Bitcoin, as it is a functionally universal currency. When you want to use Bitcoin to bet on horses, remember to make sure if there are any crypto-specific promotions.
Biggest Horse Betting Events In The USA
Gambling sites for horse racing see their most action on the three Triple Crown races every year, with the Kentucky Derby, Preakness Stakes, and Belmont Stakes garnering the most eyes and handle every year. In 2023, bettors started cashing in on March 6th, when Mage won the Kentucky Derby as a 15-1 longshot.
Kentucky Derby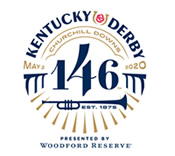 The start of the Triple Crown season, the Kentucky Derby is the single most popular horse racing event to watch and gamble on every year. Online gambling sites for horse racing such as Bovada or BetOnline see tons of action from both new and seasoned horse bettors every year. The 2023 Kentucky Derby was won by Mage with 15-1 odds in a time of 2:01.57 while being jockeyed by first-time Derby winner Javier Castellano. Outside of Mage's victory, the 2023 Kentucky Derby will be remembered for all of the horses that were scratched from the race. Favorites such as Forte, Practical Move, and Lord Miles were all pulled from the track in the week leading up to the Derby, which both hurt and helped many bettors at online Kentucky Derby gambling sites.
Preakness Stakes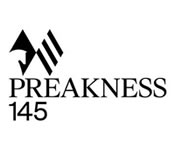 Taking place at the Pimlico Race Course every year, the Run for the Black-Eyed Susan is the second leg of the vaunted Triple Crown. Historically the Preakness takes place two weeks after the Kentucky Derby, and that trend continues in 2023 with the race taking place on May 20th. A recent development to watch at the Preakness is that Rich Strike sat out of the race in 2022, as did Country Horse in 2019, meaning two of the past five Kentucky Derby winners have not participated at Pimlico. National Treasure won the Preakness in 2023 with +250 odds.
Belmont Stakes
The final leg of the Triple Crown, Secretariat was the last horse to win the Belmont Stakes and take home the coveted title. Players betting on a Triple Crown in 2023 are hoping to still be in the running on June 11th, as that is when the Belmont Stakes takes place. Mo Donegal won the Belmont Stakes in 2022 with +275 odds, representing the least value on any winning horse in the Triple Crown races in 2022. The Belmont Stakes is always held at Belmont Park in New York.
Breeders' Cup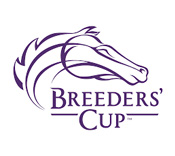 The Triple Crown may only be three legs, but amongst horse race bettors there might as well be four legs when considering the Breeders' Cup Classic. The Breeders' Cup Classic took place on November 5th, 2022 at the Keeneland Race Course. Flightline took home the win in 2022 with a solid (2/5) victory.
Worldwide Horse Betting Events
The Triple Crown isn't the only big name in horse racing and horse race betting. There are several other events that are large focal points for the horse racing community. The below list does contain the Triple Crown, as we would be remiss not to include them, but also highlights some international and worldwide events as well.
Kentucky Derby - Kentucky, USA
The Preakness Stakes - Baltimore, Maryland
Belmont Stakes - Elmont, New York
Pegasus World Cup, Gulfstream Park, Florida
Breeders' Cup World Championships – 13 races across USA
Nakayama Grand Jump -  Funabashi, Japan
Epsom Derby - Surrey, UK
Japan Cup – Tokyo, Japan
Prix de l'Arc de Triomphe - Paris, France
Grand National - Liverpool, UK
Dubai World Cup - Dubai, United Arab Emirates
Melbourne Cup – Melbourne, Australia
Most Popular Horse Racetracks In The World
Below are 10 of the most popular racetracks around the globe, from the United States of America to Dubai and Japan – horse racing is a worldwide sport. In parenthesis, we have included the race that they are most known for.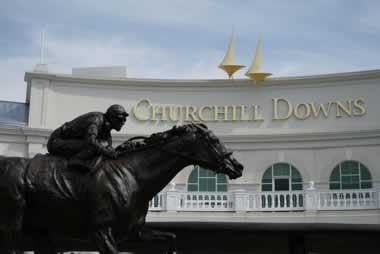 Churchill Downs, Kentucky (Kentucky Derby)
Pimlico Racecourse (Preakness Stakes)
Belmont Park (Belmont Stakes)
Aintree Racecourse, United Kingdom (Grand National)
Santa Anita Racecourse, California (Santa Anita Derby)
Ascot Racecourse, United Kingdom (The Gold Cup)
Longchamp Racecourse, France (Prix de l'Arc de Triomphe)
Epsom Downs, United Kingdom (Epsom Derby)
Meydan Racecourse, Dubai (Dubai World Cup)
Tokyo Racecourse (Japan Cup)
History Of Horse Betting In The USA
The first horse racing course in the United States was established before the United States was even the United States. In 1665, the Newmarket racecourse was built in Salisbury, New York, in what is now Nassau County. This is the first record we have of horse racing as a sport in what would become American society as we know it today.
The next year you need to know is 1894, which is when the American Jockey Club was formed. The formation of the Jockey Club in England marks the beginning of organized horse racing in England, and, similarly, the 1894 formation of the American version of the club marks the beginning of organized horse racing in the United States.
In 1870, Pimlico Racecourse, home of the Preakness Stakes, was constructed. Five years later, Churchill Downs, home of the Kentucky Derby, was built. Belmont Park is the largest dirt Thoroughbred horse racing course in the world and was opened in May of 1905.  These racetracks have formed the foundation of the Triple Crown. Only 13 horses have ever won the Triple Crown:
Sir Barton (1919)
Gallant Fox (1930)
Omaha (1935)
War Admiral (1937)
Whirlaway (1941)
Count Fleet (1943)
Assault (1946)
Citation (1948)
Secretariat (1973)
Seattle Slew (1977)
Affirmed (1978)
American Pharoah (2015)
Justify (2018)
Future Of Horse Betting In The United States
The future of horse betting in the United States seems bright. There have been two Triple Crown winners in the last five years, and that's no small feat – the last time that happened was the 1970s. Horse racing remains an obsession of a certain class and type of millionaire, and as long as people are investing the amount of money into it that they are, the future of horse racing is almost airtight. As a betting experience, it's very rewarding and fun and rich with both tradition and enjoyment, and widely accessible at horse betting sites.