Major MMA Promotions To Gamble On
Unlike many other major sports, which have a quasi-official national league in America, there are several major MMA promotions. The biggest by far, and the closest to world domination, is the Ultimate Fighting Championship. If you've heard of any fighters, they're probably in the UFC - Nate Diaz, Conor McGregor and Jon Jones are the most notable stars in the promotion. The UFC is generally regarded as the gold standard for fighter quality, although some hardcore fans are not major backers of the UFC.
Many MMA fans will bemoan the decline and collapse of Pride FC, as that was the last time there was a true challenger to the UFC's dominance, but there are plenty of other promotions to watch and wager on if you're interested. Bellator is the major competitor to the UFC in terms of fighter quality in the United States, although the competitor is perhaps a bit generous. We have seen several fighters come out of Bellator to the UFC and succeed, most recently Michael Chandler, although this is not particularly common. There are also promotions like RIZIN and One FC that are offering fairly decent fight action, and you can find odds on their events on sportsbooks as well.
Upcoming UFC Betting Odds
Aspen Ladd has stepped in for Holly Holm after missing weight herself in a previous week, and she'll take on Norma Dumont in a bid to keep active in the UFC. Dumont is an up-and-comer who could be moving up on the division with a victory over Ladd, while Ladd's hype train has been derailed by many missed fights - so this opportunity is hard to come by. Ladd enters the matchup as a favorite, despite not training to prepare for Dumont - she's only a week removed from her training camp, however, so this could be fine for her. MMA betting fans can wager on this matchup at the online sportsbooks!
Aspen Ladd Vs. Norma Dumont Odds
Aspen Ladd -155
Norma Dumont +130
On October 23rd, there is a fantastic UFC fight for bettors to wager on between the 13-1 Paulo Costa and the 17-4 Marvin Vettori. Interestingly, both fighters lost to Israel Adesanya in their last fights; still, Vettori is a slim favorite, holding (-125) moneyline odds. Costa currently holds (+105) moneyline odds.
Marvin Vettori Vs. Paula Costa Betting Odds
Moneyline Odds
Marvin Vettori -125
Paulo Costa +105
Where To Bet On MMA:
Mixed Martial Arts has a lot of appeal across the world, which means that sportsbooks everywhere will have odds on the contests involved. However, these sportsbooks may seem similar at first glance, which is why we have some of our favorite sportsbook recommendations below. We'll take a look at how their websites work, what kind of odds they offer, and what kind of bonuses they can give first-time players. Let's take a look at three of our favorite websites - Bovada, BetOnline and MyBookie.
Clean And Easy To Use
Bovada's online sportsbook is a great choice for any MMA bettor. If you're looking to bet on the upcoming UFC PPV, UFC Fight Night, or another promotion, Bovada will have odds on every fight on the card, from the prelims to the main event. For some of these fights, the odds will include not only a basic moneyline, but specific finish odds, bets on when the fight will end, and more. Bovada's website is very easy to use, and they have a clean aesthetic that is much appreciated in the glaring and garish world of online sportsbooks. They offer very solid signup bonuses - not the best in the business, not the worst - and they have reasonable playthrough requirements on those bonuses. Overall, Bovada is a solid sportsbook with a lot of options for the discerning MMA bettor, and if you want to wager on various MMA promotions, from the UFC on down, it could be a good option for you.
Amazing MMA Line Shopping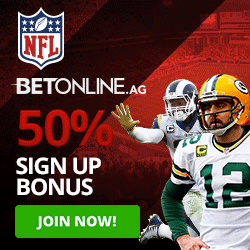 BetOnline is a great sportsbook for MMA betting. Occasionally on USAOnlineGambling, we take a look at the odds for upcoming fights, and compare them across sportsbooks to find which sportsbook is the best to wager at. This is known as shopping lines. When we do this, BetOnline tends to come out ahead every time. It's not always the best odds, but it's usually pretty close, and more often than not, the best odds will be found at BetOnline compared to the other major sportsbooks. This is obviously a huge plus when wagering on the UFC. Shaving a couple of points off of a moneyline is a move with very solid marginal utility, and the kind of thing that a UFC bettor should get used to doing. Their website is pretty decent - not particularly clean, but very functional. They have good bonuses, with fairly reasonable playthrough requirements, and you can get a lot out of your money with BetOnline. If you're a fan of the UFC and want to wager on upcoming events, you should check them out.
Excellent MMA Odds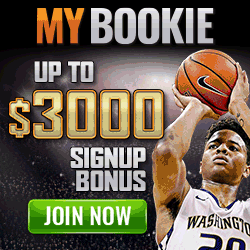 MyBookie is an online sportsbook that specializes in fun, off-the-wall wagers. When it comes to MMA, however, there's a limit on how off the wall you can be. MMA betting is fairly straightforward, and that means you have to offer the typical odds - moneyline, specific finish, and whether or not the fight goes the distance. MyBookie's flair does show through in their odds sometimes, however. They're the sportsbook that tends to be the most different from the other major sportsbooks in terms of odds. This isn't a huge difference - 10 or so point on a spread - and it doesn't happen all the time, but it makes MyBookie a very viable line shopping option. Their solid bonuses make them an even more viable line shopping option, although they do have playthrough requirements that will demand something of a longer term commitment.
MMA Mobile Gambling Apps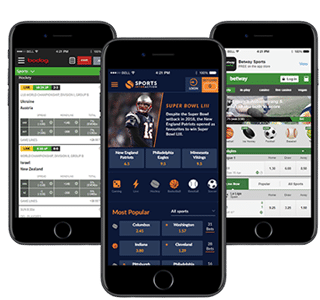 Now that America is opening back up in the wake of COVID-19, people might find themselves out to dinner at the time a UFC fight is happening. One option, in this case, is to place your bets beforehand, but what if inspiration strikes while your mother-in-law is figuring out what entree to order? Well, that's what mobile betting is for. Several states have regulated online sports betting apps, and these apps are available on a state-by-state basis. For those that do not have these apps, mobile websites are available from the online sportsbooks such as Bovada, MyBookie and BetOnline. These are what we here at USAOnlineGambling tend to use, as they're reliable and usable across the United States, with very few state-by-state limitations. All you have to do is visit your sportsbook of choice in your phone's mobile browser, and you should be good to go as it shows you the mobile version of the website.
MMA Live Betting
MMA fights tend to last a certain number of rounds. In the UFC, it's 3 for non-title, non-main-event fights, and five for title and main event fights. This means that there is a lot of time to wager on the fights as they happen. You can find live UFC odds on the online sportsbooks. This can provide bettors with solid opportunities to double down on wagers made before the fight, hedge against bad outcomes, and use their MMA knowledge to gauge how a fight is going and how it will end up looking. In other words, this is a way for smart fans to get a bit of an edge on the field. Make sure to check out MMA live betting the next time you engage in MMA sports betting.