Major MMA Promotions To Gamble On
Unlike many other major sports, which have a quasi-official national league in America, there are several major MMA promotions. The biggest by far, and the closest to world domination, is the Ultimate Fighting Championship. If you've heard of any fighters, they're probably in the UFC - Nate Diaz, Conor McGregor and Jon Jones are the most notable stars in the promotion. The UFC is generally regarded as the gold standard for fighter quality, although some hardcore fans are not major backers of the UFC.
There are plenty of other MMA promotions to watch and wager on if you're interested. Bellator is the major competitor to the UFC in terms of fighter quality in the United States, although the competitor is perhaps a bit generous. We have seen several fighters come out of Bellator to the UFC and succeed, like when Michael Chandler made the transition in 2020, although this is not particularly common. There are also promotions like RIZIN and One FC that are offering fairly decent fight action, and you can find odds on their events on sportsbooks as well.
Upcoming UFC Betting Odds
UFC 276 kicks off on July 2nd, with the headline fight og Adesanya verses Canonier. This matchup will be the fight for the middleweight championship, with Adesanya being the heavy favorite going into the ring.
Israel Adesanya -425
Jared Cannonier +310
Where To Bet On MMA:
Mixed Martial Arts has a lot of appeal across the world, which means that sportsbooks everywhere will have odds on the contests involved. However, these sportsbooks may seem similar at first glance, which is why we have some of our favorite sportsbook recommendations below. We'll take a look at how their websites work, what kind of odds they offer, and what kind of bonuses they can give first-time players. Let's take a look at three of our favorite websites - Bovada, BetOnline and MyBookie.
Sportsbook Bonuses For Betting On MMA
Many sportsbooks offer promotions and bonuses to acquire customers, and using these bonuses smartly can help you become a better gambler. Remember to keep an eye on rollover requirements when you use these bonuses. Rollover requirements are when the sportsbook requires you to bet a certain amount before you can withdraw your bonus cash.
Top Sportsbook Bonuses For MMA
DraftKings – Bet $5, Get $200
DraftKings – 20% Matching Up To $1,000
BetMGM – $1,000 Risk Free Bet
FanDuel – Bet $5, Get $150
BetRivers – 100% Match Up To $250
MMA Mobile Gambling Apps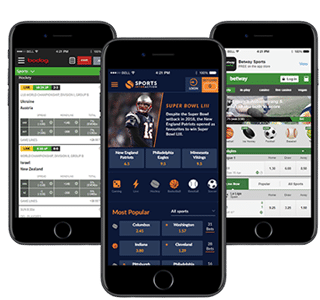 Several states have regulated online sports betting apps, and these apps are available on a state-by-state basis. For those that do not have these apps, mobile websites are available from the online sportsbooks such as Bovada, MyBookie and BetOnline. These online sportsbooks have proven to be extremely reliable and are available across the United States, with very few state-by-state limitations. All online gamblers need to do is visit the online book of choice on any phone's mobile browser, start viewing the featured live bets, or search for a specific event.
MMA Live Betting
MMA fights tend to last a certain number of rounds. In the UFC, it's 3 for non-title, non-main-event fights, and five for title and main event fights. This means that there is a lot of time to wager on the fights as they happen. You can find live UFC odds on the online sportsbooks. This can provide bettors with solid opportunities to double down on wagers made before the fight, hedge against bad outcomes, and use their MMA knowledge to gauge how a fight is going and how it will end up looking. In other words, this is a way for smart fans to get a bit of an edge on the field. Make sure to check out MMA live betting the next time you engage in MMA sports betting.