Best Mobile Gambling Sites And Apps For USA Players 2023
When talking about USA online gambling in 2023, it's important to understand how mobile gambling works. The best mobile gambling sites and apps are the ones who host multiple ways to play. Whether that be a bevy of casino games like slots, roulettes, table games, and jackpots or sports betting with odds and betting lines, the best sites and apps bring the users a slew of options. The sites represented here are just that, filled with seemingly endless games and chances to win real money. Gamblers from all over the country are able to play casino games at their fingertips with these mobile gambling sites and apps.
Best Mobile Online Gambling Gambling Sites
How We Find The Best Mobile Gambling Sites
When looking for the best mobile gambling sites, gamblers should first research and ensure that the site they are using is safe and secure. Look for sites with a large player base as that will show that multiple mobile gamblers trust and use the site regularly, indicating the site's reliability. Mobile gamblers should also see if their mobile devices are compatible with the site they wish to use. Most popular online casinos have an HTML5 that is compatible with most mobile devices. Another thing to look for is sites with multiple casino games. The best sites are and apps offer a stream of ways to win big, whether than be online slots, table games or sports betting. Variety is key to finding a great mobile casino.
One more important thing to look into while deciding on a mobile online gambling site is the payment and withdrawal methods. Always look for the kind of payment options that are available at each site, as well as how long it will take for each method. Knowing how long it will take you to collect your winnings as well as finding a site or app that hosts payment methods that are comfortable to you is very important.
Site Security
Reliability
Easy Deposit and Withdrawal Methods
Large Player Base
Variety of Casino Games
Bonuses/Promotions
Contests
Device Compatibility
How To Sign Up At Mobile Gambling Sites
Signing up for a mobile betting site is simple. Once you pick your site, if necessary, download the app attached. When you first enter there will be a sign-up option available. Clicking on that option will then prompt you to create an account. Gambling sites will ask for your first and last name, date of birth, phone number, email, to create a password, and then finally your currency of choice. One registered, you will be prompted to include a deposit method. This method is either debit card, cryptocurrency, prepaid gift cards, and many other options. You will also be able to use promo codes to benefit from welcome bonuses. Once all this information is included, you are well on your way to play to win big.
Benefits Of Mobile Gambling Vs Non-Mobile
The benefits of mobile gambling sites allow the practice to stand out amongst other gambling methods. For starters, mobile gambling sites are convenient, allowing for the same level of chance play you will find without the need for travel. Mobile gambling also offers more deposit methods, making for more options to gamblers. Mobile gamblers will also be going head to head with players around the globe, making skill-based games far more intense. The thing land-based gambling has over mobile gambling sites is the atmosphere. The setting of being in a casino can not be duplicated through mobile gambling sites, as well as the social element of interacting with others you meet. The food and drinks offered at land-based operators are also a big draw for patrons. There are benefits to both forms of gambling, but the options available make this one of the best times to be a casino gambler.
Mobile Gambling
Convenient
Deposit Options
More Players
Non-Mobile Gambling
Atmosphere
Social Settings
Food and Drinks
Different Types Of Mobile Gambling
Mobile gambling in the US is a broad umbrella, with many different subcategories. There are popular types of mobile gambling sites and apps like casinos, sportsbooks, and racebooks, as well as more niche categories such as mobile lottery and bingo gaming. With all of those different types of mobile gambling types available in the US, the best provider for each will be slightly different. The best mobile gambling platforms in the US for all of those categories are described below.
Mobile Gambling Bonuses And Promo Codes
Most mobile gambling sites and apps offer promo codes and bonuses to patrons. These bonuses usually give a certain match percentage on deposits. These deposit matches give real money to your gambling account that can be then used to increase your wagers or to play longer. For example, some sites offer a welcome bonus. This bonus is usually applied upon a user's first deposit. If it is a 100% welcome bonus, and you deposit $100, the gambling site will give the user another $100 for free, giving the user a $200 gambling wallet to play with. Some of these match bonuses can be valued up to $1,000. Taking advantage of these bonuses is one of the best ways to maximize your gambling experience.
Free Mobile Gambling Apps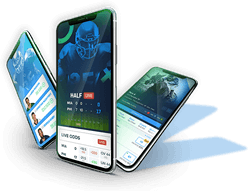 With mobile gambling sites, there is also a wide array of free online gambling apps available. These apps require no deposit and allow you to play for free. With free mobile gambling sites, you will be able to download and play these games without the risk of losing any real money.
These free to play games tend to reward players with in-game currencies or points that they can then use on other aspects of the game. This is a great way for people to enjoy playing casino games without it becoming an expensive hobby.
Real Money Gambling Apps
There are many real money gambling sites and apps that allow gamblers to bet from their mobile devices. These sites work the same way as a land-based casino, making the risk-reward experience just as intense. You can bet and play to win real money but this also leads to the risk of real money losses. Just like a land-based casino operator, it is possible to lose all the money you are gambling, so approach the mobile apps with the same caution that would be given at a walk-in casino. Real money mobile casino games are a great way for gamblers to get the same casino experience without having to travel, making it one of the most convenient ways to win big.
Types Of Devices Used For Mobile Gambling
Mobile gambling apps work on most mobile devices. You can download and use gambling apps on your cellphone or tablet and be well on your way to winning big in a virtual casino. With the variety of applicable devices at your disposal, there has not been an easier way to get in on mobile gambling action. Mobile gambling allows for betting on the go or from the comfort of your home. Mobile online casinos offer the same thrills and winning opportunities you could find at a land-based operation.
iPhone/iPad: There is a bevy of mobile gambling apps for your iPhone or iPad. You can find these apps in the app store or from a link in the web browser. Simply download the app of your choice and you will be set for mobile gambling.
Android: Like iOS devices, Android devices host a large number of mobile betting operators for their users. Entering the Google Play store, patrons will find a wide array of mobile casino games available for download, both free and real money games. Android users can also participate in mobile gambling at virtual casinos HTML5 platforms that are compatible with all smartphones and tablets.
Blackberry: Blackberry devices may not boast the same popularity as Android and iOS phones and tablets, but hey still provide a great gambling experience for mobile gamblers. Blackberry users will find no shortage of virtual casinos at their disposal. As the most popular mobile casinos don't focus simply on apps but instead offer HTML5 operators that are functional on every smartphone, blackberry users will have the same options available to them as Android and iOS.
Where Is Mobile Gambling Legal?
Mobile gambling is legal in all 50 states. There are mobile gambling sites and apps that are based outside of the US, meaning they are not restricted by American regulations and can be used no matter which state you are in. With these apps, mobile gamblers will be able to find the same betting action at these virtual casinos that they would see in a land-based operation. These offshore sites also host bonuses and contests throughout the year, making there no shortage of ways to win big no matter what state you are in. The ability to get the same casino experience regardless o where you are in the country is what makes mobile gambling such a beneficial thing. We have a complete list of states with legal online gambling.
Some states, however, do have specific regulations in terms of online and mobile gambling sites. States like New Jersey, Pennsylvania, West Virginia, and Nevada all have mobile casino gambling and sports betting through there in-state betting gambling operators. For these gambling sites, you make an account and that gambling account is connected to a land-based casino operator. some states, like Rhode Island, for example, have online sports betting but do not offer an in-state mobile casino site. Other states with similar regulations include Oregon, Iowa, Indiana, and New Hampshire.
States With Regulated Mobile Sports Betting
Regulated Mobile Casinos States (Slots, Poker, Keno & More)
Nevada – Launched in 2013
Delaware – Launched in 2013
New Jersey – Launched in 2013
Michigan – Launched in 2021
Pennsylvania – Launched in 2019
Connecticut – Launched in 2021
West Virginia – Launched in 2020
The Future Of Mobile Gambling In The USA
Mobile gambling sites take most of the online gambling action in the US, as it is the most efficient and convenient method. With over 20 states that have a regulated online gambling market for sports betting, the US mobile gambling market is expected to continue to grow. This is not just based on mobile sports gambling regulations, as according to market studies about mobile gambling, all sectors are contributing to growth. Regulated online casinos have also launched in a few US states, which is a market that is expected to grow as well. States that do not have regulated online gambling have legal online gambling available from the web browser of any smartphone device through internationally licensed sportsbooks.
Mobile Betting And Cryptocurrency
As cryptocurrency has become a popular and secure method of payment in the US, there are mobile gambling sites that have embraced the currency for quick transactions. When betting with Bitcoin or other cryptocurrencies, the online sportsbooks that accept the currency charge no fees for any transactions. Crypto allows same-day payouts with lightning-fast technology from the Bitcoin or the Ethereum blockchain. These online gambling sites that accept crypto are licensed internationally, as state-regulated sportsbooks are yet to accept the trusted currency. Crypto can be used for deposits, and withdrawals and to place wagers on mobile devices for legal gambling sites that offer the method.
Cryptos Accepted At Mobile Gambling Sites
Bitcoin (BTC)
Ethereum (ETC)
Litecoin (LTC)
Tether (USDT)
Stellar (XLM)
Solana (SOL)
Ripple (XRP)
Avalanche (AVAX)
Binance Coin (BNB)
Cardano (ADA)
Polygon (MATIC)
Chainlink (LINK)
Tron (TRX)
Dogecoin (DOGE)
ApeCoin (APE)