Wyoming Online Gambling Sites 2023
Legal gambling in Wyoming is a welcomed pastime by residents. There are a total of 25 tribal casinos or pari-mutuel establishments in the state in 11 different cities. As for Wyoming online gambling sites, that's a different story. While there are a handful of sites for off-track betting with the Cowboy State and Daily Fantasy Sports being accepted, as well as recently launched online sports betting, other forms of internet betting are not sanctioned by the state. Wyoming does have their own lottery, the Cowboy Draw, along with allowing residents to participate in nationwide draw games like Lucky for Life, Powerball, and Mega Millions.
Our team at USAOnlineGambling.com will provide pertinent information regarding all aspects of Wyoming online gambling sites including some of the best operators in the business. For convenient casino gaming options, Wyoming residents have access to a number of legal Wyoming online gambling sites to play all of their favorite casino games. These websites are online casinos that are legal for the people of Wyoming as well as for all of those across the nation to use. These sites are 100% legal because they are licensed and regulated to do business in their home countries which allows them to offer their gaming services legally to people around the globe.
Largest Gambling CitiesRiverton, Ethete
Number Of Land Based Casinos4
Gambling Revenue$14.4 Million
State Licensed Sports BettingYes
Mobile Betting OptionsDFS, Sports Betting
Best Wyoming Gambling Sites
Online gambling sites in Wyoming are available through both state-regulated and internationally-based gambling organizations. These sites will offer many different types of online gambling in Wyoming, with highlights including online sportsbooks, casinos, and poker rooms. Each Wyoming gambling site will have various strengths and weaknesses, making different sites better for some types of gambling than others. Each of those types of gambling is elaborated below, with complete 2023 gambling site reviews also available for players that want to learn more about each specific gambling website in Wyoming.
Best Online Poker Sites That Accept US Players
How We Pick The Best Wyoming Gambling Sites
Having multiple gaming options available to keep players engaged.
Being licensed and regulated in the country where they are based in order to do legal business in the U.S.
Having a number of withdraw and deposit methods to choose from.
A stellar reputation as a terrific internet casino gaming operator.
Bonuses and promotions given to loyal customers and a few ways to contact customer service if needed.
Is It Legal To Use Bovada In Wyoming?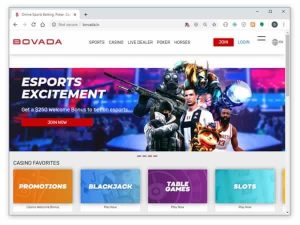 Bovada is one of the premier online sportsbooks and casinos on the internet, and it is often used in states that are not offering fully functional online casino gaming to their populace. This is, in some sense, a bit of a shame - if the states offered it, there wouldn't really be a need for websites like Bovada, and those tax dollars could be put to good use by the state governments. However, in Wyoming, the laws are generally targeted at the providers of online gambling, and not the users thereof, and that means that it is generally pretty much fine to use a website like Bovada when you are in the state of Wyoming. We know of nobody that has been arrested for using it. As always, if you are worried, or would like further information, please consult a lawyer.
Mobile Gambling In Wyoming
Mobile gambling in Wyoming is available through the state with DFS and off track betting. All other types of gambling, be it casino games or sports betting can be done through international Wyoming online gambling websites. These websites are completely legal for the people in Wyoming to use. Everything can be accessed with the use of a mobile phone that has an internet browser. Whatever is available through the computer website can be found on the mobile gambling sites in the US as well. No matter what you have to do, whether it's playing the games or making changes to your account information, everything can be done through your mobile phone. This is why mobile gambling is the most popular form of gambling out there. It's all about convenience and what's more convenient than having your casino with you wherever you go?
Mobile Sports Betting Apps
Mobile sports betting apps in Wyoming provide the full-service sportsbook, all in a compact easy to use app that can be accessed on smartphones and tablets. Wyoming legislators passed both retail and mobile betting into law in 2021 with House Bill 0133. Players now can download betting apps and bet on their favorite teams from anywhere in the state. There is no need to wait until the official launch, however, as online licensed Wyoming sportsbooks already offer mobile betting to Wyoming bettors. These sites can be accessed without the need to download an app, simply by visiting them in your mobile phone internet browser.
Mobile Casinos Apps
For the people in Wyoming that wish to gamble with their mobile devices, they simply need to have an account with an international Wyoming casino website. From their cell phone they will be able to access their account using the internet. Everything that can be done on the computer is available to be done through a cell phone. Nothing is missing. All games can be played, deposits can be made, withdrawals can be requested and anything else that needs to be done can be. Gamblers in Wyoming will have the convenience of their computer casino account right in the palm of their hand, no apps required.
Real Money Online Gambling Sites In Wyoming
There are a number of real money gambling sites in Wyoming that are all located offshore. Members of these sites have plenty of casino games to choose from including slots, roulette, blackjack, and a ton of table games. Because there are so many gaming options available it makes sense to have a variety of payment methods available as well. Each of the best real money gambling sites in the US allows for multiple methods when it comes to deposits and withdrawals. All sites will accept debit and credit cards and cryptocurrency like Bitcoin. These are the most common and most popular forms of payment which is why all sites accept them.
Other methods of funding are available but differ by the platform you have chosen to be a member of. Using the most popular forms like cryptocurrency or debit and credit cards allows players to fund their accounts quickly. After there is money in a member's account, gambling on any game can begin immediately. Making deposits and receiving payouts is made simple with these offshore casino websites because of the fast options that members have available to them.
Free Online Gambling In Wyoming
There are a number of free online gambling options for players in Wyoming. Free gambling websites allow people to take part in casino gaming with "fake money" so that they can enjoy all the fun of the casino games without risking any of their hard earned money. On many real money gambling websites there will be a free play option. Some sites are fully free with no real money games available to be played. Free online gambling typically results in high stakes games because gamblers are playing with monopoly money and everyone is trying to own Ocean Avenue. Free money US gambling sites are a great way to practice the game and have some fun before participating in real gambling for money.
Is Online Gambling Legal In Wyoming?
Online gambling in the state of Wyoming is a legal pastime. Although this does not mean that the websites have any affiliation to the state itself. While gamblers have limited access to DFS and off track betting through the Cowboy State, they have 100% access to 100% legal offshore casino gambling websites. These sites offer a plethora of casino games for gamblers in Wyoming to bet on including slots, poker, roulette, blackjack, and a wide array of table games and tournaments to choose from. These sites are licensed and regulated to do business in countries like Costa Rica and Curacao. This makes them legitimate operators that raise the number of states with legal online gambling to fifty, despite not every state passing gambling legislation.
The one snafu that members from the USA of these sites may encounter is when trying to fund their accounts or withdraw money. Due to an old federal law known as the UIGEA, credit card companies and banks connected to debit cards may decline transactions. There is no problem with the card of having the money in your bank account, this has to do with the location of the business and the transaction being flagged as suspicious. Most of the time, this is not an issue. But it does happen sometimes and can be resolved with a quick phone call to your bank or credit card company. But there are also other payment methods available should you not want to risk running into this problem.
Online Gambling Laws In Wyoming
There are very few online gambling laws for Wyoming. The state allows DFS, sports betting and off-track betting through internet platforms but all other gambling is not available through state-sanctioned outlets. Yet there are no laws against the use of offshore online gambling websites. This is the consensus throughout the country as these gambling sites are legal to use across the nation. As long as these operators are licensed and regulated to do business in their home countries, they are allowed to do business with customers from Wyoming. This is the only way for people in the Cowboy State to gamble on the internet legally with a variety of games at their fingertips.
Legal Gambling Age In Wyoming
The legal gambling age in Wyoming is 18. For almost everything that can be gambled on, the age to join a platform for betting and playing casino games is 18. The only gaming age that requires players to be 21 is Daily Fantasy Sports (DFS). All other types of internet gambling are set by offshore gambling sites that based their age requirements on the standard 18 years old
legal gambling age in the US
. Below you will find the different ages for the different types of online gambling in the state.
Lottery:

18

Parimutuel:

18

Casinos:

18

Bingo:

18

Online Poker:

18

DFS:

21

Sports Betting:

18
Where Are Wyoming Gambling Sites Regulated?
Gambling websites are regulated for the state of Wyoming in the areas offshore where the companies are based. More often than not, these operators are in Costa Rica, Curacao, the UK, and Canada. They each have to be licensed and regulated to be able to allow their services to not only the people in their countries but to everyone worldwide as more operations are done on a global scale. Since these websites are licensed to do business, they are legal for residents of the United States to use. There are no laws that prohibit the use of these gaming operations in the nation.
Wyoming does not currently have any of their own internet casinos to offer the people in the state, leaving international Wyoming gambling sites as the sole providers of such gaming platforms. The reason that more online casino companies are based outside of the United States is because the red tape that they have to go through is much easier than that of the U.S. to open up a gambling business. However, this doesn't make their businesses any less legal to use, they just got a more lenient way of opening up shop because gambling is seen differently in other parts of the world than it is in the U.S. where some areas still think the topic itself is taboo.
Who Can Play At Wyoming Online Gambling Sites?
Anyone that is over the age of 18 can use offshore internet gambling sites in Wyoming. Because there are no state-affiliated sites, and the legal gambling age for both the state lottery and offshore operators is 18, this allows residents to be able to join offshore casinos as long as they are of legal age. There are a number of websites to choose from when wanting to gamble online. This network will offer a variety of the best platforms to join for the avid Wyoming bettor. These gambling sites come highly recommended and will offer a number of casino games to wager on. Once a resident of the Cowboy State finds an application that they like, they can join immediately and begin playing the games that are available for money. Sign up processes are simple and once a first deposit is made, gambling can begin. Offshore internet casinos are 100% legal for any person in the state of Wyoming that is 18 or over.
Taxes On Gambling Winnings In Wyoming
Taxes on gambling winnings in Wyoming are set at a federal flat rate of 25%. Any winnings over $600 must be reported to the IRS. Most offshore casino websites will send members that have won over $600 documentation for tax purposes. However, if this does not occur, it is up to the gambler to include all the money they've earned from gambling on their tax returns. Failure to do so could result in problems with the IRS in the future which could lead to a large sum of money being taken from a player of one of these sites. This all can be avoided with the inclusion of gambling winnings on an individual's tax returns that will be taxed at the 25% flat rate.
 Gambling Revenue In Wyoming
Wyoming's sportsbooks opened in September, but it's unclear what their revenue will look like as of yet. Projections are bullish, but they're just projections at the moment. For now, analysts will have to wait to judge Wyoming's online sportsbooks. One factor working in their favor is they opened just before the NFL and college football seasons began, which should help them have a good first few months. Time will tell how they manage to deal with the summer betting doldrums, but they've managed to delay them as long as possible.
Future Of Wyoming Online Gambling
The future of online gambling in Wyoming is brighter than it used to be. Online sportsbooks are already online, after all. However, Wyoming gambling sites do not seem to be in the plans of the state. Regardless of when the state finally decides to allow online gambling locally, offshore sites will always be available to residents. In many ways, these internet casino operations are far better in terms of what is offered to players than that of any brick and mortar establishments or state-run online applications.