North Dakota Online Gambling Sites 2023
North Dakota online gambling sites allow everyone in the Flickertail State access to gambling from anywhere. There are online gambling sites in the USA for all gambling needs whether it be betting on sports or high roller poker. These gambling operators have been hosting odds for ND players for years and continue to provide some of the best options for online gambling. The iGaming options available to North Dakotans are the same that would be found at a physical casino. From slots to table games and even online bingo, North Dakota online gambling sites offer the best gambling experiences to all Roughriders.
Largest Gambling CitiesFargo, Bismarck
Number Of Land Based Casinos28
Gambling Revenue$200 Million
State Licensed Sports BettingNo
Mobile Betting OptionsDaily Fantasy
Best North Dakota Gambling Sites
There are a host of online gambling sites available to North Dakota players and the best North Dakota online gambling sites can be found here. These sites provide some of the most variety and gaming options that you can find. They can go toe to toe with any land-based casino or sportsbook In terms of options available to players. To top it off, the bonuses found at these online gambling sites are far and beyond better than anything found at a land-based casino.
Online gambling sites provide many benefits to players. Beyond the fact that you do not need to travel to a land-based casino in order to get in on the action, you can also play from anywhere since the best sites are available on almost any mobile device. Some sites provide apps and others are easily accessible from a web browser. This means if you have a smartphone or tablet, you can partake in gambling anytime anywhere. For more on the benefits of online gambling in North Dakota, it may be best to read through complete reviews for online gambling sites in the US.
Best Online Poker Sites That Accept US Players
How We Pick The Best North Dakota Gambling Sites
Bonuses and promotions
Variety of deposit and withdrawal types
Many different gaming options
The popularity of the site
Safety and security
Is It Legal To Use Bovada In North Dakota?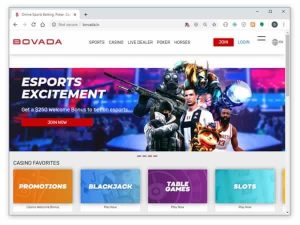 North Dakota is home to many great casinos, but as far as North Dakota online gambling sites go, it's hard to top Bovada, which is something of an industry leader as far as online casinos are concerned. One question we get a lot is regarding the specific legality of using a website like Bovada, so here's how that works. Basically, the laws in many states are targeted towards the people providing online gambling, not towards the people using online gambling websites. They want to catch Tony Soprano, not Average Joe. This means that in a lot of states it's actually not illegal to use websites like Bovada, only to operate them. In other words, if you're looking for mobile sports betting in North Dakota, you can use Bovada.
Mobile Gambling In North Dakota
One of the best aspects of online gambling is the availability of mobile support. These operators utilize apps and HTML to bring the action to the player's smartphones and tablets. A full-blown casino and sportsbook in the palm of your hands are one of the best benefits to online gambling. You won't have to travel to a tribal casino to play slots, and you won't have to wait to get home and find a computer either. US mobile gambling sites allow for anytime anywhere on the go gambling, keeping players in the action all day long.
Mobile Sports Betting Apps
North Dakota online gambling sites use HTML, allowing them to be compatible with most mobile devices. These sites provide the best odds and betting lines you can find. With the mobile capabilities, you can bet on your favorite teams from anywhere in the state. These online sportsbooks have betting lines for every major sporting event, and as long as you have a smartphone or tablet, you have access to them all.
Mobile Casinos Apps
Many online casinos offer apps. These apps host the full-fledged casino in them through gaming software. With mobile apps, players are able to play slots or craps on the go no matter where they are. These apps are fully realized and are compatible with most smartphones and tablets. There are sites that may not provide apps but they are still compatible with mobile devices. These North Dakota online gambling sites use HTML making them just as accessible as an app. There are plenty of gaming apps available for both real money and free casino games.
Real Money Online Gambling Sites In North Dakota
North Dakota gamblers log on every day and partake in real money games online. These sites provide a variety of options to play to win big. On top of that, there are many different ways for you to deposit and withdraw your gambling funds ensuring you can find a financial method that is comfortable for you. There are games for all budgets as well. You can high roller blackjack or penny slots, however much you wish to wager you can. There is always a risk of losing, however, so when playing for real money be sure to note that there is no such thing as a sure bet.
Free Online Gambling In North Dakota
For players looking to enjoy online poker or slots without the risk of losing money, there are free gambling sites in the US available. These sites do not require real money for you to participate in casino games. Instead, they use an in-game currency that players will use for both placing bets and collecting winnings. You can't win real money at free online sites, so these games are strictly for fun. This is a great way to play for no stakes fun or for practicing before a tournament.
Is Online Gambling Legal In North Dakota?
Yes. There is nothing in North Dakota law that outright bans residents from participating in online gambling. Online gambling sites are located outside of US territory are not restricted by US gambling legislation, meaning North Dakota is part of the list of states with legal online gambling. Therefore, all US players are legally able to partake in legal online gambling, including North Dakotans, regardless of their state's legislation. No player has ever been prosecuted for gambling at these online sites in North Dakota so any concern should be lifted. It is incredibly safe and secure to gamble online in the Flickertail State.
North Dakota residents and tourists alike log on every day and play to win big. There is a bevy of options available and there is no shortage of ways to win. It is very much legal to gamble online in North Dakota. There are no restrictions that will prevent you from accessing the slew of online gambling sites available.
Online Gambling Laws In North Dakota
There is no regulated online gambling available in North Dakota. But North Dakota law does not prohibit online gambling. Therefore, international online gambling operators are able to legally provide casino gambling and sports betting to all North Dakota residents with no risk of persecution. North Dakota is very strict on gambling so it does not seem that they will host any in-state online casinos anytime soon, but online sites located outside of US jurisdiction are fair game.
Legal Gambling Age In North Dakota
Understanding the different legal gambling ages in North Dakota may seem like a daunting task, so we are here to hopefully make things simpler for you. It is important to know the different
legal gambling ages in the US
as it pertains to North Dakota. The thing to note is that different gambling types sometimes have different age requirements. For example, in order to partake in legal online poker, you must be 18 years old, but if you wish to bet on sports, you have to at least be 21 years old. Gambling sites will not even allow you to make an account if you are underage, therefore knowing the different age requirements by North Dakota law is the best way to save time.
Lottery:

n/a

Parimutuel:

18

Casinos:

21

Bingo:

any

Online Poker:

18

DFS:

21

Sports Betting:

21
Where Are North Dakota Gambling Sites Regulated?
North Dakota does not currently have any regulated online gambling at this time. The Flickertail State only regulates gambling to their tribal casinos, therefore all forms of online and mobile gambling in North Dakota are through international online sites. Luckily for North Dakota players, is that these sites provide anything they may need in online gambling from variety and accessibility. And these sites are able to be played no matter where you are in the state. Until North Dakota decides to regulate online gambling in their law books, online sites will continue to be the go-to for North Dakota gamblers.
Who Can Play At North Dakota Online Gambling Sites?
Anyone in North Dakota, whether they are a resident or tourists, can partake in online gambling in the Flickertail State. Online sites will not prevent any residents from playing so long as they are of the legal gambling age required by North Dakota. International online casinos and sportsbooks provide legal gambling to everyone in North Dakota no matter where they are in the state. There are no legal restrictions or jurisdiction problems with online gambling operators.
Taxes On Gambling Winnings In North Dakota
According to the IRS, gambling winnings are considered taxable income. When you are filing your taxes, you will have to fill out all the money you made from gambling whether it is online are at one of North Dakota's tribal casinos or racetracks. Most online sites will provide players with a 1099 tax form that they can use to fill out the gambling winnings section on their taxes. It is also important to keep a self-record of all wins and losses to ensure you have an accurate account when its tax time.
Gambling Revenue In North Dakota
North Dakota only allows casino gambling at tribal casinos therefore the bulk of the gambling revenue comes from there, and a significant portion of the proceeds there go to the tribes. Horse race betting is also regulated in North Dakota, so revenue from race tracks add to the state's overall betting handle. Unfortunately, since North Dakota has no regulated online gambling available, they get no revenue from online casinos and sportsbooks. Players gamble at international online sites, and these sites are not affected by North Dakota legislation. Until North Dakota approves legal online gambling in their gambling laws, they will continue to miss out on the potential revenue.
Future Of North Dakota Online Gambling
North Dakota has given no reason to believe they will soften on their strict gambling laws. Currently, any form of casino gambling must come from a tribal casino, there are no sports betting in the law books, and only horse and dog race betting is allowed outside of tribal locations. For the foreseeable future, the gambling laws will remain the same. Luckily, North Dakota online gambling sites will continue to provide North Dakota players with a legal alternative.
Online sites are available and will continue to be available to provide all forms of gambling. And as technology improves over the years, so will the gambling software used. Online gambling sites will get better and host more variety, and new sites will pop up to provide even more ways to play. Online gambling in North Dakota will continue to be a staple in the coming years, but it won't be in the form of state-regulated casinos, rather in the form of online sites located outside of the state.