Where To Bet On Soccer:
Soccer gambling can take many forms depending on the soccer gambling site you choose to use. The best sportsbooks offer futures bets, individual game odds such as spreads and moneylines, and player props. Most soccer bettors tend to choose whatever appeals to them at the moment (just like VAR, eh?), which means they can benefit significantly from sportsbooks that offer odds on all aspects of the game. The sportsbooks below are our favorites, judged on criteria ranging from odds quality to ease of use to bonus quality.
What Popular Soccer Leagues And Events You Can Bet On:
FIFA World Cup
UEFA Champions League
CONCACAF Gold Cup
Serie A
Eredivisie
Premier League
Ligue 1
Major League Soccer (MLS)
La Liga
Liga MX
Brasilierao Serie A
Copa Libertadores
Community Shield
Veikkausliiga
Superligaen
Copa Sudamericana
Soccer Betting Bonuses
You can use soccer gambling site bonuses to make your soccer betting experience slightly more forgiving on your wallet, although you should be aware of rollover requirements on bonuses when you apply them to your account. Sportsbook bonuses on offshore books tend to come in the form of deposit matching, while bonuses on state-regulated books are mostly free bets. Deposit matching bonuses get you more actual money, and thus are more highly recommended.
Top Three Soccer Sportsbook Deposit Bonuses
Bovada - 50% Bitcoin Match Bonus
BetOnline - 100% First Time Crypto Bonus
MyBookie - 50% Sports Welcome Bonus
Soccer Betting Types
There are many different ways to wager on soccer at soccer gambling sites, and each of them has different odds that you should learn how to read, and how to understand.
Soccer Moneylines - A moneyline is simply when you pick winners at handicapped odds. If Manchester City has -210 odds to win the game, and you want to bet on them at those odds, you would take them on the moneyline.
Soccer Spreads - Spreads are bets that are handicapped by goal differential rather than odds. If Arsenal is a -1.5 goal favorite, and you bet on them, they need to win by more than 1.5 goals for you to cash out.
Asian Odds - Asian Odds are a half-and-half handicap which is settled similarly to spreads. For spreads of 0.5, 1.0 and so on it is the same as a spread, but it introduces quarter spreads such as 0.25 and 0.75. These are the half measures. Below, you can see examples of what happens when you bet with those unique Asian odds on specific outcomes.
.25: If you bet on a team to win with .25 odds, you can cash out if they win, but if there's a draw, the bet is split. Half goes to you as a winner payout, the other half is called a draw. This allows you to hedge half of your wager.
.75: If you bet a team to win at .75 odds, you will win the bet if the team wins the match, or if they draw. In addition, if they lose by only one goal, the loss is split, with half being a full loss and the other half being a draw. This is a way of hedging on an underdog who you think has a chance to be competitive.
-.25: When you bet on a team with -.25 odds, you're putting yourself in a position where a win means that you cash out normally, but a draw means you only lose half your money. This is what you do when you think you're betting a favorite, but not a huge one.
-.75: At -.75, you're hedging on goal differential. You cash out fully if the team you bet on wins by more than one goal. If they win by one goal, you get the Asian split, where half your wager is a win, and half is a draw.
The same applies to wagers of 1.25, 1.75, -1.25 and -1.75, and so on. These "quarter wagers" allow you to create situations where half of your wager can be a draw if it's a close outcome.
Soccer Mobile Gambling Apps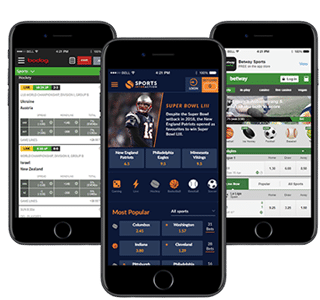 In the United States, mobile gambling apps are hard to come by, and they vary in availability depending on what state you are in. What does not vary is the usefulness of soccer gambling sites located outside the US, which are totally usable in any state. These sportsbooks offer mobile betting via mobile websites, which means you can access your favorite online soccer sportsbook with no need to download anything. This is a great way to get involved with soccer betting because you can bet on the go, using an iPhone or Android device. Mobile gambling on soccer is a booming industry, and you can see why at the online sportsbooks.
Live Betting On Soccer
Live betting on soccer games allows you to place wagers on the game while the action is ongoing. This also unlocks special wagers on the events currently happening in the game, such as who will score the next goal. In addition, you can bet live lines at soccer gambling sites if one team is dominating possession but is unable to convert against a stout defense.
Top Eight Live Soccer Wagers
Next Goalscorer
Next Team To Score
Next Assister
Who Will Win The Second Half?
Live Moneylines
Live Spreads
Live O/Us On Total Goals
Will Any More Goals Be Scored?
2023 Soccer Betting Odds
England Premier League 2022/23 Gambling Odds
Manchester City -400
Arsenal +800
Liverpool +1000
Chelsea +3300
Tottenham Hotspur +3300
Manchester United +5000
Brighton & Hove Albion +20000
Newcastle United +25000
Aston Villa +50000
Crystal Palace +50000
Fulham +50000
Leeds United +50000
West Ham United +50000
Brentford +75000
Leicester City +75000
Southampton +75000
Everton +100000
Wolverhampton Wanderers +100000
Nottingham Forest +150000
Bournemouth +200000
Manchester City is expected to dominate the Premier League, and is in fact an outright favorite in the eyes of the online sportsbooks. With a team composed of the most dominant players in the world, and an eye to acquiring more talent, expect the boys in blue to win the PL in the 2022/2023 season.
Spain La Liga 2022/23 Gambling Odds
Real Madrid +330
FC Barcelona +350
Atlético Madrid +600
Sevilla +900
Villarreal +1400
Real Sociedad +1600
Real Betis +2000
Athletic Bilbao +2500
Valencia +2500
Celta De Vigo +3300
Espanyol +3300
Getafe +3300
Almería +5000
Osasuna +5000
Real Valladolid +5000
Rayo Vallecano +6600
Cádiz +8000
Elche +8000
Mallorca +8000
Alavés +10000
Barcelona struggled in 2021/22, with Real Madrid ascendant, as Madrid dominated both the league and the Champions League behind the incredible play of Karim Benzema. Madrid is once again favored to win the league, with Barcelona close behind.
German Bundesliga 2022/23 Gambling Odds
Bayern Munich -500
Borussia Dortmund +800
RB Leipzig +1000
Bayer Leverkusen +2000
Borussia Mönchengladbach +10000
Eintracht Frankfurt +10000
Wolfsburg +10000
Hertha BSC +25000
Hoffenheim +25000
FC Köln +50000
Freiburg +50000
Mainz +50000
Schalke 04 +50000
Union Berlin +50000
VfB Stuttgart +50000
Werder Bremen +50000
Augsburg +100000
Bochum +100000
Bayern Munich are expected to walk to a league title in the Bundesliga, and they've done this basically every year for a decade. They're the sole truly elite team in the league, and it has shown over the last 10 years. They deserve the odds they've been given entering the season, but perhaps the potential loss of Robert Lewandowski will hamper them.
France Ligue 1 2022/2023 Gambling Odds
Paris Saint-Germain -800
Lyon +1400
Marseille +1400
Monaco +1400
Rennes +3300
Nice +4000
Lille +6600
Strasbourg +12500
Lens +15000
Montpellier +25000
Nantes +50000
Reims +75000
Angers +100000
Brest +100000
AC Ajaccio +150000
AJ Auxerre +150000
Clermont Foot +150000
Lorient +150000
Toulouse +150000
Troyes +150000
Paris Saint-Germain is once again the favorite to win Ligue 1. Just like in 2021, they're -800 favorites to win Ligue 1 in 2022-23. They're as good as the league gets, although the elusive Champions League is still their major goal.
Italy Serie A 2022/2023 Gambling Odds
AC Milan +225
Napoli +225
Inter Milan +500
Atalanta +700
AS Roma +900
Juventus +900
Lazio +2500
Udinese +5000
Fiorentina +25000
Torino +25000
Sassuolo +75000
Hellas Verona +100000
Bologna +150000
Empoli +250000
Monza +250000
Sampdoria +250000
Spezia +250000
Lecce +350000
Salernitana +350000
Cremonese +450000
The multi-time champion, Juventus has been a dominant contender in Serie A for decades, and despite brief respites from their time at the top, the last few years have seen them be the sole truly elite representative of their country - with the exception of an underdog AC Milan team in 2022. An ascendant Inter Milan team is ready to threaten them, however, and the two are tied at the top of the odds boards, while the reigning champion is just behind.
UEFA Champions League 2022/2023 Gambling Odds
Manchester City +175
Bayern Munich +600
Paris Saint-Germain +600
Liverpool +800
Real Madrid +1000
FC Barcelona +1400
Chelsea +2000
Napoli +2500
Tottenham +2500
AC Milan +6600
Borussia Dortmund +6600
Inter Milan +6600
Atlético Madrid +8000
Benfica +8000
Juventus +10000
Ajax +20000
Club Brugge +20000
Sporting CP +20000
Bayer Leverkusen +25000
Eintracht Frankfurt +25000
The Champions League sees Manchester City favored at soccer gambling sites, with Liverpool - who lost in the final to Real Madrid - in second. Paris Saint-Germain is next, in the second year of Lionel Messi's tenure, while German dynasty Bayern Munich and reigning champions Real Madrid are after that.