Stanley Cup Gambling
The Stanley Cup is the famous NHL championship trophy, and celebrations involving it have been the stuff of legend for decades. In 2021, the Tampa Bay Lightning won the Stanley Cup for the second time in a row, and yet they are not the preseason favorites to win it in 2022. The Colorado Avalanche have taken that honor, although it's worth noting that the Avs were preseason favorites in 2021 as well, and were unable to deliver. The Vegas Golden Knights join the Avs, Maple Leafs and the Lightning as the only teams with odds under +1000, and the four of them make up the elite of the league. After that, there are teams like the Toronto Maple Leafs, and Carolina Hurricanes.
Odds To Win The 2022 Stanley Cup
Colorado Avalanche +550
Florida Panthers +700
Tampa Bay Lightning +700
Toronto Maple Leafs +700
Vegas Golden Knights +800
Carolina Hurricanes +1200
Pittsburgh Penguins +1500
Washington Capitals +1600
Minnesota Wild +1900
Boston Bruins +2200
St. Louis Blues +2200
Where To Bet On The NHL:
Betting on the NHL is a pastime that happens all over North America, and indeed all over the world. When it comes to NHL betting, there are plenty of options, but they tend to vary depending on where you are located. Some states in America will offer brick and mortar sportsbooks, some states will have online sportsbooks, and some states will not offer sportsbooks at all. Given this context, the sportsbooks we recommend are located outside of the United States, but are usable by people across the country. This is because they are not regulated by the US or state governments, but are instead regulated where they are located. Here are some of our favorites - the sportsbooks we use for NHL betting.
Outstanding NFL Odds
Bovada's online sportsbook is a great way to wager on the NHL. They have a clean and easy to use website that comes complete with a very solid bet building tool. It's easy to find the wagers you want to place, and you can even go in-depth on major games, wagering on various player props, doubles, parlays and requested wagers. Bovada's website is a major draw of using it - many online sportsbooks feel muddled and clunky, while Bovada does not - it's just easy to use, and easy on the eyes to boot.
In terms of deposits and withdrawals, Bovada is a fairly typical online sportsbook. It accepts methods of payment such as debit cards, credit cards and bitcoin, and pays out in bitcoin, checks and wire transfers. Usually, most people can find a method of deposit and withdrawal that works for them at Bovada. They have solid bonuses - not the best in the business, but very solid - so make sure to check those out if you plan on staying long enough that the playthrough requirements are not onerous. Overall, Bovada is a sportsbook that can be useful for every type of sports bettor.
Best Mobile Sportsbook Around!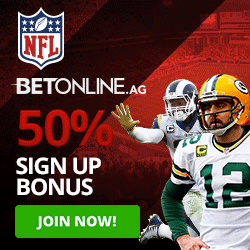 BetOnline is a sportsbook built around offering the highest volume of odds in the shortest amount of time. Their normal website looks like a bookie sheet - it's nothing but numbers, wagers and props. They recently redesigned their website so you can use the beta version of their redesign as well, which looks a bit more modern, and is a bit easier to navigate for those who are not familiar with online sports betting. Around the office, opinion is mixed - some prefer the new website, while others are bigger fans of the all-odds-all-the-time style of the older one. Still, the fact that you can switch between them is a solid bonus - you can pick the one that's right for you.
BetOnline offers good bonuses for those who wish to wager on the NHL, but it's important to make sure that you're comfortable with the playthrough requirements of the bonuses before applying them to your account. You can check out all of their bonuses on their website, but the best ones will be reserved for new signups, so make sure you use them if you're signing up to the website for the first time. When it comes to deposit and withdrawal methods, BetOnline offers bitcoin, credit card and debit card deposits, and lets you withdraw via wire transfers, checks and cryptocurrency. Overall, BetOnline's offerings are great for anyone wagering on the NHL.
Great NHL Deposit Options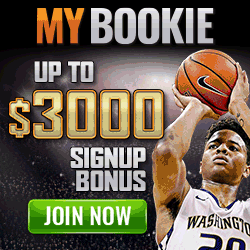 MyBookie is a sportsbook aimed at the modern casual bettor - someone who isn't up all night studying advanced statistics, but is just looking to bet for fun. Betting for fun is a great hobby to have, and MyBookie caters to that - the idea of betting as a hobby. When you use MyBookie, stay on the lookout for fun prop bets that you can wager on, as it is something they are generally known for. Right now, for example, you can wager on how many games each remaining NHL playoff series will take to finish.
MyBookie has solid wager availability, a good website, and accepts all sorts of payment options while offering great withdrawal methods as well. You can deposit using all the most common credit and debit cards, as well as often-used cryptocurrency. Withdrawals tend to be processed using either cryptocurrency, checks or wire transfers, so there's usually something to appeal to each kind of sports bettor. Overall, MyBookie is a great sportsbook to use if you just want to have some fun and place some wagers on the NHL.
NHL Mobile Betting Apps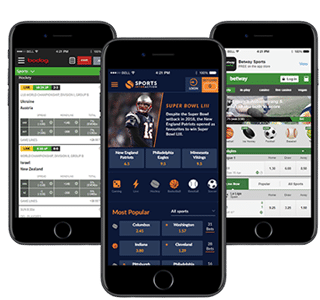 Mobile betting is an advantage that has been gained by sports bettors only recently. With the advent of smartphones, sportsbooks have been incentivized to develop ways for bets to be placed at any time, from anywhere. These results have borne fruit - there are plenty of sports betting apps in states where sports betting is regulated, and in states where it is not, the online sportsbooks tend to offer mobile websites. What this adds up to, then, is that no matter where you are in the United States, you can find a way to place whatever wager you want, whenever you want, using whatever platform you want.
Mobile website based sports betting is available on both iPhones and Androids, as it does not require any downloads from either the App Store or the Google Play Store. Instead, all betting on mobile requires at online sportsbooks is that you visit the website you wish to wager on in your phone's internet browser. From there, you'll be shown the mobile website, which will be optimized for your phone. Placing bets using mobile sportsbooks is easy, and it's definitely something any NHL bettor should take advantage of. After all, you never know where inspiration for your next NHL bet will strike.
NHL Live Betting
Live betting on the NHL is a very useful tool for anyone with even a cursory interest in hockey wagering. Basically, live betting lets you place wagers on the game as it's in progress, which can be a good thing for anyone who knows what they're looking at when they watch hockey. If you see a team consistently able to abuse a certain tactic, resulting in good shots that haven't paid off yet, you can wager on them on the live line, and hopefully get ahead of others who noticed the same thing.
Live lines can also be useful to those who placed wagers before the game. For example, if you bet on the underdog before the game, and they go down early, you might consider doubling down on your wager, as you'll have better odds on them after they're already behind. If you thought they would win before the game, and still think they will win, the wager makes sense. Some state-based sportsbooks regulate and limit live betting lines, so the best place to wager on live lines is the online sportsbooks located outside of the US.