Tennis Grand Slam Gambling
The fixtures of the tennis calendar are the Grand Slam tournaments, so named because there are four of them. Tennis is split up into men's and women's tours. The men's tour is the ATP, and the women's tour is the WTA. This means that each of the tournaments will feature both a men's side and a women's side, with odds for each varying with the level of the competitors involved. While Challengers and ITFs also exist, the Grand Slams are a part of the ATP and WTA field.
Where To Bet On Tennis:
Betting on tennis requires sportsbooks to do so at, and we here at USAOnlineGambling are big fans of using online sportsbooks. These sportsbooks are usable throughout the world, including in most US states, due to their offshore locations. They're all regulated and managed by reputable agencies, but they exist in the places where they're allowed to offer the most odds and lines on tennis matches that they can. This makes them optimal choices for sports gambling fans who wish to wager on tennis.
Types Of Tennis Betting Odds
Most people wager on tennis either in futures odds or game line odds. Game lines are similar to many other sports, in that there are both moneylines, which are handicapped primarily via odds, and spreads, which are handicapped by margin of victory. Additionally, tennis betting props are available, with some bettors preferring to wager via those options.
Top Six Tennis Bets
Moneylines - Moneylines involve you picking a winner, and wagering on them with whatever odds the sportsbook deems fit.
Spreads - Spreads are when you not only pick a winner, but pick how much they're going to win by.
Futures - Futures are bets on events far off, such as who will win a tournament that starts a month from now.
Set Spreads - Set spreads are the same as spreads, but on individual sets rather than matches.
Over/Unders - Tennis O/Us are on how many total games are played in a match, as a measure of dominance.
Props - Prop wagers on tennis are available at many offshore sportsbooks, and take many different forms.
Current Tennis Betting Odds
With four grand slam tournaments held every year for men's and women's tennis, there are always future odds available at online gambling sites. For future wagers, tennis tournaments have odds for the outright winner but also offer hundreds of props for each match as each tournament begins. Carlos Alcaraz won the 2022 men's US Open with +500 pre-tournament odds, showing the value of betting on the underdog at online gambling sites.
Men's Australian Open 2023 Odds
Novak Djokovic +165
Daniil Medvedev +275
Carlos Alcaraz Garfia +325
Nick Kyrgios +800
Rafael Nadal +800
Jannik Sinner +1000
Alexander Zverev +1400
Stefanos Tsitsipas +1400
Casper Ruud +2000
Dominic Thiem +2000
Taylor Fritz +2500
Andrey Rublev +3300
Women's Australian Open 2023 Odds
Iga Swiatek +225
Caroline Garcia +800
Naomi Osaka +800
Simona Halep +900
Aryna Sabalenka +1000
Cori Gauff +1200
Ons Jabeur +1200
Elena Rybakina +1600
Maria Sakkari +1600
Paula Badosa +1600
Jessica Pegula +2000
Anett Kontaveit +2200
Deposit and Withdrawal Options For Tennis Online Gambling Sites
For betting on tennis at online gambling sites, there are different payment methods offered for quick deposits and withdrawals. When using internationally operated sportsbooks, cryptocurrency is the most efficient and secure transactional method and does not charge any fees. This currency is not available for state-regulated online betting sites. No matter which type of deposit bonus that is chosen for either type of betting site, there are bonuses that are available for every deposit transaction for online tennis gambling in the US.
Online Gambling Deposits Limits
| Payment Type: | Maximum Deposit: | Minimum Deposit: |
| --- | --- | --- |
| Bitcoin | $10 | $100,000 |
| Ethereum | $50 | $100,000 |
| VISA | $25 | $5,000 |
Online Gambling Payout Limits
| Payment Type: | Minimum Payout: | Maximum Payout: |
| --- | --- | --- |
| Bitcoin | $50 | $100,000 |
| Ethereum | $50 | $100,000 |
| Wire Transfer | $500 | $25,000 |
What Makes A Tennis Betting Site Good?
With so many tennis betting sites, it's important to find the qualities that you value the most when you look to compare between sportsbooks. Note, however, that using multiple sportsbooks is a net good, as it allows you to apply multiple bonuses as well as search the sportsbooks in question for the best lines on any given tennis match, in addition to opening up arbitrage opportunities.
Qualities Of A Top Tennis Sportsbook
Trust And Regulation
Live And Mobile Betting Odds
Odds On More Than Just Grand Slams
Reliable Deposits And Withdrawals
Fair Bonuses With Minimal Rollover
Top Tennis Betting Bonuses
With so many online sportsbooks out there, it's hard to find the best bonuses around. Bonuses will also vary depending on what kind of sportsbook you are using, with the many state-regulated sportsbooks offering mostly free bets, while the offshore sportsbooks offer matching deposit bonuses. When you accept a bonus, make sure you keep an eye on the rollover requirements for withdrawing it.
Best Tennis Sportsbook Deposit Bonuses
Bovada - $750 Bitcoin Welcome Bonus - BTCSWB750 - 5x Rollover
BetOnline - 50% Sports Welcome Bonus - BOL1000 - 10x Rollover
MyBookie - 50% Sports Welcome Bonus - MYB50 - 10x Rollover
States With Tennis Betting:
All of the states in America can access tennis odds via offshore sportsbooks! Many states have limited betting at state-based sportsbooks, or do not have state based sportsbooks at all. In the casinos, some books only allow for futures bets while some don't offer live betting either. While some regulated sportsbooks do the job, the best place to bet on tennis remains offshore sportsbooks, which give bettors every option needed. Still, a list of the states with regulated sports betting can help those looking who are nearby.
States With State-Regulated Online Tennis Betting
Arizona
Arkansas
Colorado
Connecticut
Illinois
Indiana
Iowa
Kansas
Louisiana
Michigan
Mississippi
Montana
Nevada
New Hampshire
New Jersey
New York
Oregon
Pennsylvania
Rhode Island
Tennessee
Virginia
Washington
Washington DC
West Virginia
Wyoming
Tennis Mobile Betting Apps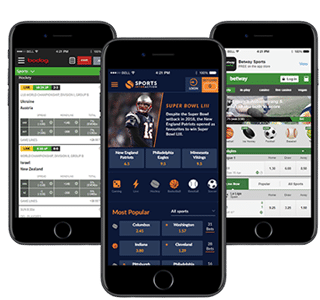 When it comes to mobile betting, sportsbooks around the world offer great options for tennis bettors. You can bet on your phone by using apps in states that have regulated them, and mobile websites for the offshore sportsbooks. These mobile websites tend to require less effort - they don't require a download, and work easily and quickly when it comes to placing bets online. Mobile gambling allows you to place wagers in the middle of sets, or from wherever you happen to be, with no problems of finding a computer to place those wagers on.
Tennis Live Gambling
Live betting on tennis is a great way to make some extra money and put your knowledge of the game to good use. A good way to live bet on tennis is to take positions before the match, and use live gambling to lock in profit or double down on winning plays. For example, you can bet on Player X to win the match, knowing that they'll come out hot, and then hedge against that bet on the live lines by betting on Player Y once they fall behind, and have longer odds.
Live gambling is offered at most of the sportsbooks around the globe, although some state-based sportsbooks in the US do have restrictions on the types of live betting that you can access. This means that you may want to use an online sportsbook not based in the US, as they'll never restrict your access to wagers based on the decisions of a regulatory body.
Top Five Tennis Live Bets
Live Moneylines
Live Spreads
Who Will Win The Next Point?
Who Will Win The Next Set?
Will The Next Serve Be An Ace?