South Dakota Online Gambling Sites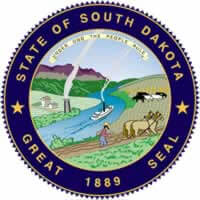 Welcome to the best place to find South Dakota online gambling sites and legal information regarding online gambling in the state. Legal South Dakota gambling is an extensive topic, and we've curated an extensive page on the subject for this reason. The hobbies tend to take the form of online gambling using websites located outside of the borders of the state. In so doing, bettors can access some of the best South Dakota online gambling sites on the internet. All forms of online gambling can be played  in South Dakota including online casinos, sportsbooks, online poker, and even online slots.
This is an important subject to understand, so we set up this page to explain how USA online gambling in the state tends to work, what websites are good to use for legal betting in the state, and what the legal restrictions on betting in South Dakota actually are. From the age requirements to understanding the games, this guide will cover South Dakota online gambling sites in its fullest.
Largest Gambling CitiesDeadwood
Number Of Land Based Casinos31
Gambling Revenue$110 Million
State Licensed Sports BettingNo
Mobile Betting OptionsDaily Fantasy
Best South Dakota Gambling Sites
One of the most important things that you can look for in a legal gambling website is whether or not the website is regulated. In fact, this is the very first thing that we look for when we are trying to make recommendations of online gambling websites to you. This is such an important qualification because regulations mean trust, and more importantly, they mean oversight. If you are going to give your hard earned money to a website, and trust them with it, you want to use one that is trustworthy.
On a similar note, we also look at the reputations that many online gambling websites have created for themselves. We believe in the wisdom of crowds, and we believe that reputation is an excellent way for crowds to make their voices heard. This is a long way of saying we only recommend the most reputable online gambling websites, the ones that are widely used and/or widely praised, and we trust that people know what they are doing. We're gamblers as well, and we use these websites too.
How We Pick The Best South Dakota Gambling Sites
We do our research on every option
We make sure that the website is licensed
We find you the best deposit bonuses
We make sure they have a lot of deposit and withdrawal options
We read the terms and conditions for you
Different Types Of Online Gambling In South Dakota
There are a lot of different types of online gambling available to players in the great state of South Dakota. The major types that tend to dominate coverage, as well as the imaginations of players worldwide, are casinos, poker, and sports betting. However, outside of what we like to call "The Big Three", there are actually a lot of options for online gambling in the state of South Dakota.
For example, a South Dakota bettor could play online bingo, and use the auto-resolve tools available during online bingo play to play multiple cards simultaneously. You could play online slot machines, and customize the machine you use by changing the cost per spin. You could play daily fantasy sports, or DFS, and compete in sports related contests with thousands of other players around the globe. Basically, the sky is the limit when it comes to legal online gambling in South Dakota.
South Dakota Online Casinos
Online casinos are available to South Dakota residents due to the fact that using them is not criminalized in the state. There are a lot of reasons for this, but the basic thing you need to know is that it is not allowed to run an online casino inside South Dakota, so they don't do that - they run it from outside the US. However, it is allowed to bet at a casino - basically, they criminalized the supply side, but not the demand side, and the online casinos found a way around it.
Benefits of South Dakota Online Casinos:
Signup bonuses can double your money
Membership comes with free loyalty rewards
Wagering limits tend to be high
Can play anything from poker to keno
Available on mobile devices
South Dakota Online Sportsbooks
There is currently regulated sports betting in Deadwood, but that is retail-only sports betting, not online sports betting. This means that for the time being, the best available online sportsbooks are located outside of the United States, but are still accessible within South Dakota. This works the same way as was detailed in the online casino section - you are allowed to bet at them, but they cannot be run from inside the state, so they aren't.
Benefits of South Dakota Sportbooks:
Shopping lines can help you find edges
Find the best odds and bets - no hometown heroes
Lots of unique betting opportunities
Signup and reload bonuses keep you in the black
Easy deposits and withdrawals keep you coming back
South Dakota Online Poker Sites
Poker is one of the classic gambling games, and, in a way, is one of the classic internet based gambling games as well. Some of the most reputable online poker sites really broke ground in terms of online gambling several years ago, and while they have been shuttered, there are many online poker rooms that exist both independently and as part of major online casinos. These poker rooms are reputable and useful, and easy to use to boot!
Benefits of South Dakota Online Poker:
You can play multiple simultaneous games
Live dealers add excitement to online poker
Games are available no matter what
Many different variants of poker available
Play from home or on the go
South Dakota Online DFS
Daily fantasy sports is one of the fastest growing sectors of sports related activity around the world. Many NFL watchers remember the famous ad blitz by DFS providers FanDuel and DraftKings, when you couldn't watch a second of ESPN without seeing constant advertisements for both companies. The industry has come a long way since then, and daily fantasy sports is now a large part of the ecosystem around sports betting. The basic idea is that you draft a fantasy team, and enter that team in a contest. Other people do the same, and the team that scores the most points is the winner. Contests are generally pretty large, and that means that prize pools are large as well.
Benefits of South Dakota Online DFS:
Adds excitement to watching sports
Play DFS with sports from football to baseball
Low entry costs
Set lineups easily
Payouts tend to be very high
South Dakota Online Bingo
Bingo is one of those games that a lot of people don't think of as gambling - after all, it's the game that the elderly play in retirement homes, right? Well, yes, but it's also the very definition of a game of chance. Online bingo can be much the same game, or very different. If you'd like, you can play online bingo at a normal pace, and treat it like a normal game of bingo. The other side of that coin is that you can play multiple cards of bingo, at a much faster pace, using online bingo providers. This can make it feel a lot more like playing scratch offs, which is certainly a thing many bettors are into. There are a lot of options, so make sure you find one that fits you.
Benefits of South Dakota Online Bingo:
Signup and reload bonuses help keep you going
Can get free cards via email to stay in the game
Bingo tournaments add competition to the game
You can play a lot of bingo very quickly
Bingo is an inexpensive type of gambling
South Dakota Online Lottery
As of right now, the state of South Dakota does not sell lottery tickets online, and instead requires lottery gamers to visit their local licensed lottery retailer in order to get lottery tickets. They similarly do not have any third party apps wherein you can pay someone else to get lottery tickets for you. If you want lottery tickets, you have to go to the corner store. However, many online casinos offer games like Keno, which, while not replicating the big draw games, can replicate the experience of playing the smaller level of lottery gaming. There are a lot of options for Keno online, and most of the major online casinos will offer it.
South Dakota Online Horse Racing
Online horse racing is one of the premier ways for gamblers to enjoy themselves in the state of South Dakota. Horse racing is one of the oldest types of gambling around, and has been happening for centuries across the world. There are a lot of different ways to bet on horses, but when it comes to online betting, there are several that stand out above the rest. On this page you can find reviews of each of these racebooks, and we encourage you to take a look at all of them to find one that is right for you.
Benefits of South Dakota Online Horse Racing:
Good signup bonuses keep you playing
Horse betting is a prestigious type of betting
Racebooks broadcast live horse races
Win big money betting on horses
Easy to understand how to bet on horses
Is It Legal To Use Bovada In South Dakota?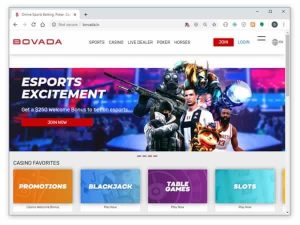 Bovada is one of the best gaming sites on the internet, and many South Dakotans turn to it for their gambling needs. South Dakota generally has fairly permissive laws, although there is an explicit statement that those in the gambling business are not allowed to gamble online. Basically, as long as there are no specific laws criminalizing the practice of online gambling, we believe that it is safe to do so. There have been no citizens prosecuted for online gambling in South Dakota, to our knowledge. If you need more specific legal information on South Dakota's gambling laws, we recommend you contact a lawyer.
South Dakota Online Slots
Online slot machines are one of the cornerstones of online betting, but there are some things that are worth discussing about the practice. Online slots are incredibly similar to normal, brick and mortar slot machines. In fact, the real life slot machines have gradually become more and more similar to the online slots. There are a lot of ways to play online slot machines, and there are a lot of different websites to play them on, so make sure you find a website that fits you as well as you can.
Benefits of South Dakota Online Slots:
You can play slots in tournaments
Games are available whenever
Flexible spin cost to customize your winnings
Easiest type of gambling to just pick up and play
Significant jackpots compared to time investment
Mobile Gambling In South Dakota
Mobile gambling in South Dakota is a bit of a complex topic. Let's start with the basics. The online sportsbooks and casinos tend to not use apps to do their online mobile gambling, but they do still offer online gambling via mobile devices. They prefer to do this via mobile optimized websites, which we'll talk about further in the section below. These mobile optimized websites retain the full functionality of the browser version, but add the ability to work on whatever phone, and do not have to be downloaded the way that an app does. This arrangement works better for the users and better for the online casinos as well.
Mobile Sports Betting Apps
There are not a lot of mobile sports betting apps, and there are even fewer that are reputable mobile sports betting apps. In the state of South Dakota, much of the gambling takes place via websites that are not based in the US. These websites tend to have some trouble dealing with US based companies like the ones that administer the App Store and the Google Play Store, as, while they are legal to use, there are some contravening laws regarding online gambling that prevent them from going through these methods. The solution they arrived at was mobile websites. When you visit the website of one of the major online sportsbooks on a mobile device, you see a mobile version of the website. This is a version of the website optimized for mobile use, and one that is set up so that it still allows you to make all the bets you need to make.
Mobile Casinos Apps
Mobile casinos tend to work the same way as the mobile sportsbooks - they're just the mobile website version of the major online casinos. When you visit one of the online casinos using your mobile device browser, you will be shown a mobile version of their website. This mobile website will have an app-like interface, and be built for touchscreen devices. These websites retain full functionality - they are the same website, after all - but have a much more user friendly interface, so you can place all the wagers you want from the comfort of your mobile gambling device of choice.
Real Money Online Gambling Sites In South Dakota
One question a lot of people tend to have for us is whether or not these websites use real money. When it comes to real money gambling in South Dakota, all we can say is that it's widely available. Of course these websites use real money! We spent a lot of time on this page, and we spend a lot of time gambling as well. We know as well as anyone that a lot of the thrill of online gambling comes from having real money on the line, and from seeing that money grow and change. We wouldn't be writing about these websites, or this topic, if you couldn't win real money and lose real money at these websites.
Free Online Gambling In South Dakota
You can play some games for free in South Dakota. However, this can be relatively rare. There are two ways in which you can play for free. First, you can get free plays as a bonus for signing up at many of the online gambling websites. Second, some websites offer free play with no rewards, purely for practice. These games will not pay out the way that a game you pay to play will, but they are excellent for learning games like blackjack and poker.
Is Online Gambling Legal In South Dakota?
Online gambling in South Dakota exists in an interesting gray area. The basic idea is that establishments that provide online gambling are not allowed within South Dakota, but that you can use them, should they exist. Effectively, they criminalized the ability to open a sportsbook or online casino, but not the ability to use one. The online sportsbooks and casinos are located outside of the United States, and in so doing, are not subject to the state laws of South Dakota, but bettors within the state can still use them.
Online Gambling Laws In South Dakota
South Dakota has relatively average online gambling laws. While they have extensive brick and mortar gambling in the form of many casinos and racetracks, their online gambling infrastructure is underdeveloped. They have similar laws in place to many other states - it is not allowed to run a sportsbook or casino within the state, but entities that are located outside of the state can run websites that are reachable by bettors within the state.
Legal Gambling Age In South Dakota
No matter what kind of gambling you have to do, there are some laws that you must comprehend and understand. The most major of these is the
legal gambling age
. Do not break this law - it can be a serious penalty if you do. This is a big deal, please take it seriously. Below you can find a list of the types of gambling discussed on this page, and the legal age in South Dakota to take part in each of them.
Lottery:

21

Parimutuel:

21

Casinos:

21

Bingo:

18

Online Poker:

21

DFS:

21

Sports Betting:

21
Where Are South Dakota Gambling Sites Regulated?
Most of the websites that are accessible to South Dakotans are located and regulated offshore, as they are looking to provide a service that can be prohibited from within the state. This means that they tend to be located in places like Panama, Costa Rica, and Canada. These are sovereign nations with their own betting laws, and all types of enforcement and regulations are applied to the online gambling websites.
Who Can Play At South Dakota Online Gambling Sites?
Given their offshore locations, there are actually a lot of people who can play at the same offshore sites that South Dakotans can play at. This is generally a good thing - local sportsbooks tend to have unfavorable lines on local teams, so using a sportsbook that is used by many other people will help make the odds more accurate and more representative of what is actually happening in the game.
Taxes On Gambling Winnings In South Dakota
One other very important rule to remember in the context of South Dakota gambling is that it is incredibly important to remember to pay your taxes. Gambling income is counted as taxable income that you have to report in South Dakota, and that means you need to pay your taxes. The last thing anyone needs is the IRS at their door, and that goes for people who make their income based on gambling most of all.
Gambling Revenue In South Dakota
South Dakota brings in around $500 million a year in gambling revenues simply from their brick and mortar sportsbooks as well as the South Dakota lottery. Gambling revenues in the state go to supplement state budgets. There are nine tribal casinos in the state, and ten commercial casinos. The South Dakota lottery is the 30th largest lottery in the country.
Future Of South Dakota Online Gambling
Online gambling in South Dakota has never been larger, but even with that said it is likely to continue improving. The user interface for online gambling sites continues to progress, as do the various payout options for each site. With other states frequently legalizing gambling, it is likely that South Dakota will in the future as well and only improve their outlook on online gambling.