Kansas Online Gambling Sites 2023
Kansas gambling sites have greatly increased in number since September 1st, 2022 when online sports betting was officially launched via Senate Bill 84. The bill brought online sportsbooks to Kansas, joining other state-regulated sectors such as Daily Fantasy Sports (DFS), bingo, and lotteries. Inconveniently left out of that list are online poker, casino, and horse racing sites, which continue to be omitted by Kansas lawmakers. Despite that omission, online gamblers in Kansas have some of the top gambling websites in the entire country.
USA online gambling sites in Kansas provide a legal gambling option for all online gambling sectors, including online poker, online casinos, and online racebooks. The offerings for those internationally regulated sites and the Kansas-based online gambling sites because they are less restricted, but it is still a good idea to learn about the state-regulated sites as well. Information regarding both the international and state-regulated gambling sites in Kansas can be found throughout this page.
Largest Gambling CitiesWichita, Overland Park
Number Of Land Based Casinos11
Gambling Revenue$390 Million
State Licensed Sports BettingYes
Mobile Betting OptionsDaily Fantasy Sports, Sports Betting
Best Kansas Gambling Sites
The easiest way to enjoy gambling in today's day and age is through legal online gambling sites. As far as the best Kansas gambling websites go, there are a few big things to look out for when looking for an online gambling site. One of the biggest is whether or not that website is a licensed gambling provider. When a gambling site is licensed, that means the website has oversight and is subject to legal regulation and inspection. The site is controlled and monitored to make sure that you get a trustworthy experience and that your money is safe. After that, it comes down to individual reputation between websites, and then user preference. Click the link for in-depth online gambling site reviews.
Best Apple Pay Sportsbooks
Top Casinos For USA Gambling
Best Online Poker Sites That Accept US Players
Is It Legal To Use Bovada In Kansas?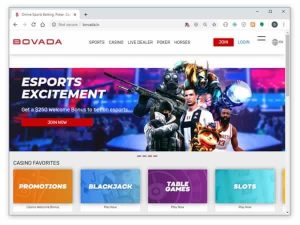 Kansas Jayhawks bettors are some of the most fanatical in the country, and so a question we hear a lot is whether or not using Bovada is legal in Kansas. This is a pretty logical question - Bovada is one of the biggest online sportsbooks, and people want to feel safe using it. Here's the basic way it breaks down. Many states across the US have a similar approach to enforcing their gambling laws. Basically what they do is they make it illegal to operate a gambling establishment within their borders, but they do not make it illegal to use said establishment unless you are under the legal gambling age. Bovada takes advantage of this loophole and operates from outside the states, and thereby allows people to use its services and not be punished.
Online Sports Betting Sites In Kansas
Online sportsbooks in Kansas are required to partner with a state-owned casino as of 2023. Each of those four state-owned casinos may line up a partnership with a maximum of three online sportsbook operators. Each online sportsbook and its operator can be found below, as can the date it was launched.
Online Sportsbooks In Kansas And Their Operators
Barstool Sportsbook - Hollywood Casino at Kansas Speedway (9/1/22)
BetMGM - Kansas Crossing Casino (9/1/22)
Caesars Sportsbook - Kansas Crossing Casino (9/1/22)
DraftKings - Boot Hill Casino (9/1/22)
FanDuel - Kansas Star Casino (9/1/22)
PointsBet - Kansas Crossing Casino (9/1/22)
Bally Bet - Boot Hill Casino (TBD)
Fox Bet - Hollywood Casino at Kansas Speedway (TBD)
Golden Nugget Sportsbook - Boot Hill Casino (TBD)
Mobile Gambling In Kansas
Mobile gambling in Kansas is becoming more and more readily accessible as each day passes in 2023. It is so easy to start gambling on your phone and mobile device once you learn how the platforms work. In Kansas, there won't be a specific app that you download. Instead, you will simply use your mobile devices internet browser to navigate to any of the online mobile gambling sites that take players from Kansas. These US mobile gambling sites have mobile versions that will allow using their full functionality right on your device.
Mobile Sports Betting Apps
Since Kansas has yet to fully regulate and manage state-sponsored sports betting, mobile apps dedicated to sports wagering are currently unavailable. Most sports betting online websites however have mobile versions of their sites that can be accessed from any mobile device with an internet browser. This effectively provides the same service that any app would, without the need to download anything. You can use these sports betting websites on an Iphone or Android device with no worries.
Mobile Casinos Apps
Mobile casino apps in Kansas are in the same place as the other apps in that they are currently not available in their own software format. They can, again, be accessed via mobile browsers and provide users with the full competitive service they would get from any app. Just visit your favorite online casino from your mobile browser and you will instantly be presented with the mobile gambling version of their site.
Real Money Online Gambling Sites In Kansas
Those looking to gamble are looking to win real money. While there are free games available, playing for real money is the reason why gambling is so popular. All the websites we've discussed and recommended here are real money betting sites where you can win real cash. Depositing and withdrawing money is easy, and usually is offered in a variety of formats such as credit/debit cards, cryptocurrency and more.
Free Online Gambling In Kansas
As mentioned above, there are free online gambling sites available for those just looking to play casino games without actually risking any money. There are obviously no rewards or benefits from playing these games other than pure enjoyment. All you need to do to play these games is head to the free play section on your online casino website.
Is Online Gambling Legal In Kansas?
There have always been legal options for legal gambling in Kansas, but sports betting has officially been regulated in Kansas to add more online betting options. There are still online gambling sites that can be used legally in Kansas because the sites are licensed internationally. No matter which option Kansas residents choose, online gambling is legal and secure for the Sunflower State.
Online Gambling Laws In Kansas
Online sports betting in Kansas was officially legalized in July of 2022, with legislators quickly establishing all rules and regulations in time for a September 1st, 2022 launch. That launch date was not accidental, as lawmakers and gamblers alike wanted to bring state-regulated online gambling options to the Jayhawks state in time for football season. With online and retail sports betting legalized by Senate Bill 84, online gamblers now have access to world-class sportsbooks that are regulated at the international and state level.
Legal Gambling Age In Kansas
Kansas has its own specific
legal gambling age
requirements depends on which type of gambling game you are participating in. Check our chart below to make sure you are in accordance with the law before you gamble.
Lottery:

18

Parimutuel:

21

Casinos:

21

Bingo:

18

Online Poker:

18

DFS:

21

Sports Betting:

21

Raffle:

18
Where Are Kansas Gambling Sites Regulated?
Since US law prohibits online gambling platforms, all of the websites listed here are based, operated, monitored, and regulated offshore. While states are becoming keener to allowing things like online sports betting, this has become a state by state basis and is not guaranteed to become a national trend. This means that these websites looking to offer their services to American customers simply base their headquarters in countries where they are not subject to the same US restrictions.
Who Can Play At Kansas Online Gambling Sites?
These gambling websites recommended to Kansas residents are accessible to all users from across the country, and around the world. These sites are global platforms intended to be used by anyone who can access them.
Taxes On Gambling Winnings In Kansas
When it comes to taxation on gambling winnings, it is incredibly important that you declare any winnings as income on your tax report. In Kansas, the tax is 5% on any gambling profits. Nobody wants a visit from the IRS, so make sure you go through all avenues necessary when reporting your gambling winnings.
Gambling Revenue In Kansas
In Kansas, gambling proceeds from things like the state-sponsored lottery are directly injected back into the local community. Since the Kansas Lottery began in 1987, it has raised roughly $1.8 Billion for the state, including $74.7 million in 2018. With any expansion of sports betting or online casino gaming, the industry could see this market increase massively.
Future Of Kansas Online Gambling
Online sportsbooks have been regulated in Kansas since the summer of 2022, with gamblers in the state now just waiting on online casino, poker, and racebook sites to be regulated. Until then, online gamblers have a full selection of options when using the internationally based Kansas gambling sites that have been around for decades.