Kansas Online Gambling Sites
Kansas online gambling sites offer many types of gambling, from DFS and bingo to sports betting and lotteries. While the state may have not regulated the activity, legal options still exist for Kansas residents to gamble online using Kansas online gambling sites. When you hear about gambling, people are quick to jump to images of back alleys, trench coats, and empty saving accounts. While that might draw people in on TV, it couldn't be further from the truth. Gambling today is a fun, easy activity that can be enjoyed by all completely legally, even in Kansas.
When gambling in Kansas, it is important to understand the rules and regulations for USA online gambling. Kansas sets age requirements for each activity, taxes the industry in many forms, and looks to modify their gaming options yearly. While many Kansas online gambling sites are not regulated by the state, online betting sites offer the best and safest option for gamblers to go about their way. On this page, the entire contents of legal Kansas online gambling will be uncovered so that no information is spared.
Largest Gambling CitiesWichita, Overland Park
Number Of Land Based Casinos11
Gambling Revenue$390 Million
State Licensed Sports BettingNo
Mobile Betting OptionsDaily Fantasy
Best Kansas Gambling Sites
The easiest way to enjoy gambling in today's day and age is through legal online gambling sites. As far as the best Kansas gambling websites go, there are a few big things to look out for when looking for an online gambling site. One of the biggest is whether or not that website is a licensed gambling provider. When a gambling site is licensed, that means the website has oversight and is subject to legal regulation and inspection. The site is controlled and monitored to make sure that you get a trustworthy experience and that your money is safe. After that, it comes down to individual reputation between websites, and then user preference.
Best Kansas Gambling Sites
Is It Legal To Use Bovada In Kansas?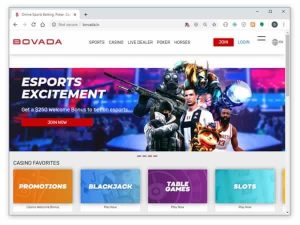 Kansas Jayhawks bettors are some of the most fanatical in the country, and so a question we hear a lot is whether or not using Bovada is legal in Kansas. This is a pretty logical question - Bovada is one of the biggest online sportsbooks, and people want to feel safe using it. Here's the basic way it breaks down. Many states across the US have a similar approach to enforcing their gambling laws. Basically what they do is they make it illegal to operate a gambling establishment within their borders, but they do not make it illegal to use said establishment unless you are under the legal gambling age. Bovada takes advantage of this loophole and operates from outside the states, and thereby allows people to use its services and not be punished.
Kansas Online Slots
Those who love slot machines in Kansas can get their fix by accessing any of the available online slot machine platforms. These websites allow players to play hundreds of different slot machine games from the comfort of home. The websites are heavily regulated and monitored and can guarantee that each virtual slot machine game has fair and true odds. You will have the same opportunity to win at online slots, just as if you were pulling the handle at your local casino.
Benefits of Kansas Online Slots:
Play from wherever you want, with every option available online.
Never wait for your favorite machine, just choose which ever you want to play and begin.
Flexible spin cost meaning you can risk however much you desire.
Easy to learn and play just like real slots.
Huge jackpots that exceed real life machines.
Mobile Gambling In Kansas
Mobile gambling in Kansas is becoming more and more readily accessible by the day. It is so easy to start gambling on your phone and mobile device once you learn how the platforms work. In Kansas, there won't be a specific app that you download. Instead, you will simply use your mobile devices internet browser to navigate to any of the online casinos or sportsbooks. These sites have mobile versions that will allow using their full functionality right on your device.
Mobile Sports Betting Apps
Since Kansas has yet to fully regulate and manage state-sponsored sports betting, mobile apps dedicated to sports wagering are currently unavailable. Most sports betting online websites however have mobile versions of their sites that can be accessed from any mobile device with an internet browser. This effectively provides the same service that any app would, without the need to download anything. You can use these sports betting websites on an Iphone or Android device with no worries.
Mobile Casinos Apps
Mobile casino apps are in the same place as the other apps in that they are currently not available in their own software format. They can, again, be accessed via mobile browsers and provide users with the full competitive service they would get from any app. Just visit your favorite online casino from your mobile browser and you will instantly be presented with the mobile gambling version of their site.
Real Money Online Gambling Sites In Kansas
Those looking to gamble are looking to win real money. While there are free games available, playing for real money is the reason why gambling is so popular. All the websites we've discussed and recommended here are real money betting sites where you can win real cash. Depositing and withdrawing money is easy, and usually is offered in a variety of formats such as credit/debit cards, cryptocurrency and more.
Free Online Gambling In Kansas
As mentioned above, there are free online gambling sites available for those just looking to play casino games without actually risking any money. There are obviously no rewards or benefits from playing these games other than pure enjoyment. All you need to do to play these games is head to the free play section on your online casino website.
Is Online Gambling Legal In Kansas?
While state-regulated online gambling is currently outlawed in Kansas, that doesn't mean all forms of online gambling have rules against them. In fact, all of the online gambling websites on this page are legal to use by Kansas residents. This is due to the websites being based in countries where online gambling is legal, and therefore is legal to operate outside of United States jurisdiction. This does not mean it is against the law to use these sites inside the USA, only that the sites could not be based here. It is fully legal to access and use these sites under current Kansas and US law.
Online Gambling Laws In Kansas
Kansas is not one of the states with legal online gambling and has not yet expanded its gambling laws to allow online gambling that is regulated. Currently, the only land based gambling available in Kansas is at brick-and-mortar casinos on Native American Reservations. These casinos do not currently offer online options, so the best way to bet online in Kansas is through the use of Kansas gambling sites on this page.
Legal Gambling Age In Kansas
Kansas has its own specific
legal gambling age
requirements depends on which type of gambling game you are participating in. Check our chart below to make sure you are in accordance with the law before you gamble.
Lottery:

18

Parimutuel:

21

Casinos:

21

Bingo:

18

Online Poker:

18

DFS:

21

Sports Betting:

21

Raffle:

18
Where Are Kansas Gambling Sites Regulated?
Since US law prohibits online gambling platforms, all of the websites listed here are based, operated, monitored, and regulated offshore. While states are becoming keener to allowing things like online sports betting, this has become a state by state basis and is not guaranteed to become a national trend. This means that these websites looking to offer their services to American customers simply base their headquarters in countries where they are not subject to the same US restrictions.
Who Can Play At Kansas Online Gambling Sites?
These gambling websites recommended to Kansas residents are accessible to all users from across the country, and around the world. These sites are global platforms intended to be used by anyone who can access them.
Taxes On Gambling Winnings In Kansas
When it comes to taxation on gambling winnings, it is incredibly important that you declare any winnings as income on your tax report. In Kansas, the tax is 5% on any gambling profits. Nobody wants a visit from the IRS, so make sure you go through all avenues necessary when reporting your gambling winnings.
Gambling Revenue In Kansas
In Kansas, gambling proceeds from things like the state-sponsored lottery are directly injected back into the local community. Since the Kansas Lottery began in 1987, it has raised roughly $1.8 Billion for the state, including $74.7 million in 2018. With any expansion of sports betting or online casino gaming, the industry could see this market increase massively.
Future Of Kansas Online Gambling
While Kansas remains one of the more conservative states in the nation regarding gambling legislation, there is hope for the future of bettors. Around the country, sports betting is becoming more accessible due to the repeal of PAPSA in 2018. This is opening doors and beginning conversations for all types of gambling to be expanded upon in the future.
In the end it all depends on if the Kansas state government can justify the means to regulate and manage certain forms of online gambling. Until then, we will continue to provide the best alternatives to online gambling and any news updates regarding potential sportsbook or casino regulation in Kansas.