Pro Wrestling Sportsbooks
Various online sportsbooks offer odds on WWE, and their main competitor, All Elite Wrestling. Most of them only offer odds in the futures sense - you can bet on who is going to win a match, with moneylines handicapped by the sportsbooks, which have experts and insiders who are able to help set those lines. There's no real method of spread betting for wrestling, as there are no points scored, just wins and losses.
It's important to understand that only a few major professional wrestling gambling sites will have wrestling betting odds, usually just WWE and AEW, as they are the companies with national TV deals. WWE airs on FOX and USA, AEW airs on TNT and TBS. Additionally, they each have large events that take precedence over their weekly shows, often on PPV. These big events are the ones that will often have odds on the online sportsbooks.
2023 Pro Wrestling Betting Odds
Roman Reigns has been running roughshod over the WWE roster for years now, and the Tribal Chief now faces his toughest test in the form of Cody Rhodes. Cody Rhodes, a scion of the Rhodes wrestling dynasty, is fighting to win the championship his father Dusty never had - and to do it, he had to help the Bloodline break apart, encouraging Sami Zayn and Kevin Owens to take on the Usos, and fighting through Solo Sikoa himself. Now, he's heavily favored against the dominant Tribal Chief.
Roman Reigns vs Cody Rhodes - WrestleMania
Roman Reigns +300
Cody Rhodes -550
Deposits And Withdrawals At Pro Wrestling Sportsbooks
With renewed interest in professional wrestling gambling sites – exemplified by DraftKings' deal with All Elite Wrestling – there are many ways to deposit into an online sportsbook to bet on wrestling. The most popular way to do so is via credit and debit cards, which allow you to get your money into the sportsbook, but you cannot use them as a method of withdrawal. For a method that can be used for both deposit and withdrawal, check out Wire Transfers and Money Orders.
Wrestling Sportsbook Deposit Methods
| Method: | Maximum : | Likely Fees: | Likely Time: |
| --- | --- | --- | --- |
| Debit Card | $5,000 | 7.50% | Within Minutes |
| Credit Card | $5,000 | 7.50% | Within Minutes |
| Player Transfer | $15,000 | None | Up to 15 minutes |
| Money Order | $9,000 | 8.50% | 3-5 Days |
| Wire Transfer | $10,000 | 8.50% | 3-7 Days |
| Person to Person | $600 | None | Next Business Day |
Wrestling Sportsbook Withdrawal Methods
| Method: | Max Deposit: | Average Time: | Average Fees: |
| --- | --- | --- | --- |
| Wire Transfer | $25,000.00 | Up to 15 Business Days | $45 or 3% |
| Money Order | $4,500.00 | Up to 7 Business Days | $80 |
| Check | $2,500.00 | Up to 7 Business Days | $50 or 3% |
Where To Bet On Professional Wrestling:
Betting on professional wrestling is something that exists on the fringes of betting culture, so the best place to find pro wrestling odds is at USA online gambling sites such as Bovada, BetOnline and MyBookie, which offer odds on basically anything. DraftKings recently announced a partnership with AEW, which mostly revolves around picking winners and other outcomes. Online sportsbooks can be a bit spotty with when those odds get posted, however, and they tend to focus on the largest events - you can be sure to find odds for Wrestlemania, for example, but perhaps a bit less likely to find them for Halloween Havoc.
Pro Wrestling Betting Bonuses
While some may argue that Wrestling does not count as a sport, the professional wrestling gambling sites certainly seem to think that it does. They offer deposit bonuses for their sportsbooks, which include wrestling odds. The best of these bonuses have low rollover and high reward bonuses.
Best Pro Wrestling Deposit Bonuses
Bovada - 50% Bitcoin Match Bonus - 5x Rollover - BVSBITCOIN50
BetOnline - 100% Crypto Bonus - 14x Rollover - CRYPTO100
MyBookie - 50% Sports  Bonus - 10x Rollover - MYB50
Professional Wrestling Mobile Betting Apps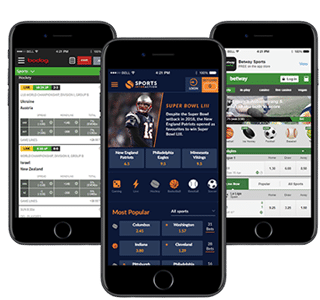 With so much of professional wrestling betting being done via offshore sportsbooks like Bovada, MyBookie and BetOnline, apps are few and far between, because in order to get on the App Store or the Google Play Store, the companies would have to be regulated in America, which they are not, as they're regulated in the countries they are located in.
Because of this, they are focused on providing a mobile betting experience in a different way - mobile betting websites, as opposed to apps. To you, the difference is basically nothing. All you have to do is visit the website on your phone and it'll pop up in an app-like interface and you can place all the bets you want. To them, this is the best way for their sportsbook to reach as many people as possible.
Pro Wrestling Betting Types
Pro Wrestling betting is almost entirely done via futures betting. This can take the form of simply picking the winners of one on one matches on PPV, or in multi-man matches, there will be odds on the entire field. This is especially notable during the WWE Royal Rumble and in other Battle Royal type scenarios. Live odds also exist, but are much rarer. Some DFS companies like DraftKings and FanDuel run WWE and AEW pools so you can compete against others in a series of pick 'ems composed of matchups and prop bets.
Professional Wrestling Live Betting
Live betting tends to not be a part of pro wrestling oddsmaking, as since it is predetermined - a performance, in effect - there's not much to read into how something is going. In an MMA fight, if someone wins the first round, they have a concrete advantage going to a decision. In pro wrestling, not only are there no rounds, the story that is being told often involves the good guy losing up until they stage a miraculous comeback. This makes live betting a tough sell for those who are betting on pro wrestling, so it tends to not be a part of what sportsbooks offer.
Do Sportsbooks Know Wrestling Results In Advance?
It seems unlikely that they don't have some inkling. They're not right 100% of the time, but they're right a fair amount. Then again, it's their job to be right about this kind of stuff. It's important to remember that sportsbooks are attempting to get as much money on both sides of a bet as possible, so they have to gauge public opinion about how a match is going to go. It is notable that there are commonly last-minute swings in WWE odds as rumors fly, especially as last-minute returns are proposed internally.
What Is The Difference Between WWE And AEW?
They are two different professional wrestling promotions. WWE is the biggest one, airing on FOX and USA, while AEW is smaller, and was started more recently. AEW airs on TBS and TNT. There is some overlap in terms of the talent - Cody Rhodes has performed for both WWE and AEW, as have wrestlers like CM Punk and Chris Jericho.
Why Is Most Wrestling Betting Offshore?
American sportsbooks have strict regulations governing what you are and are not allowed to wager on. These regulations are written such that WWE is not eligible to be wagered upon in most states. The things that sportsbooks offer odds on in the US mostly have to be actual sporting events, so no entertainment betting or politics. This has started to change in recent years, as DraftKings partnered with AEW. However, they partnered with AEW mostly in a DFS context - you're entering pools to pick results, rather than betting straight up. This means that most professional wrestling gambling sites are offshore.