Rhode Island Online Gambling Sites 2023
Rhode Island's gambling industry, like many northeastern states, features laxer rules than much of the country, but its online gambling offerings still leave much to be desired. Full online casino gambling is still unregulated by the state, and there doesn't appear to be much likelihood of that changing in the near future. Rhode Island has made limited progress in regulating certain types of Rhode Island online gambling sites, but they are unfortunate half measures in the face of demand for full regulation of all popular forms of gambling.
While Rhode Island lacks the broad gambling freedoms of New Jersey or Pennsylvania, its residents can still legally enjoy convenient, powerful platforms for online gambling. The key is that the legal Rhode Island gambling sites are operated internationally, rather than within the state. While state regulations might prohibit certain types of online gambling, these state regulations do not have jurisdiction over websites operating in other countries. Because of this, Rhode Island residents can enjoy legal online poker, slots, blackjack, and all other types of casino gaming through international gambling websites.
Betting On 2023 March Madness Odds In Rhode Island
In Rhode Island, you have plenty of March Madness odds to choose from other than betting on moneyline, spread, and game total odds for a single game. You have tons of options on player and game props, futures odds, and more. These Rhode Island gambling sites also make it easy for you to bet on March Madness from anywhere in the state and with cryptocurrency as well. Betting with cryptos like Bitcoin, Solana, Cardano, and Ethereum can only be done at these online sportsbooks.
Largest Gambling CitiesProvidence
Number Of Land Based Casinos2
Gambling Revenue$9.4 Million
State Licensed Sports BettingYes
Mobile Betting OptionsSports Betting, Daily Fantasy
Best Rhode Island Gambling Sites
At USAOnlineGambling, we review dozens of different Rhode Island gambling sites looking for the best possible playing experiences for our players. It is important to cast a wide net with our reviews, as there are dozens of different sites claiming to be the best, but only a small handful that are actually worth visiting. We test each site thoroughly to ensure that they live up to important quality standards. To earn a USAOnlineGambling recommendation, a site must offer both a high-quality experience and a trustworthy one, as we stake our reputation on these recommendations.
After universal quality standards have been assured, the next step is differentiating between multiple sites of high quality. This is trickier than it sounds, and there's no foolproof way of making a concrete recommendation when every site has its own distinct advantages and drawbacks. Every player has their own preferences in a gambling site, so the best gambling site for one might not be the best for another. For example, if one Rhode Island resident only plays online poker, the best website for them will be different than one who only plays slots.
How We Pick The Best Rhode Island Gambling Sites
All our online gambling sites must have extensive, 24-hour customer service.
Payout rates must be at or above industry average.
Our sites must have extensive and reliable technological infrastructure.
These sites must have an extensive array of betting types.
Banking must be easy and accessible for all players.
Is It Legal To Use Bovada In Rhode Island?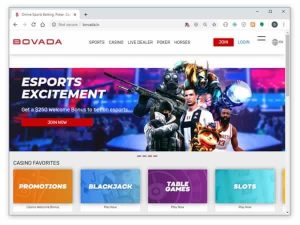 Rhode Island only has two major casinos, and that means that a lot of gamblers are left without easy access to a casino. Bovada is an industry leader in online casino services, but is it legal for Rhode Island residents to use? The general rule is yes, but there are some things to note. First, Bovada is only legal to use - if it were located in the United States, it would not be allowed to continue operation. However, it is located outside of the United States, and is thus able to continue operation. This gray area allows bettors to continue to use it without worry.
Rhode Island Online Slots
Online slots have proven to be just as popular as their physical counterparts. Rhode Island does not offer any licensed Rhode Island gambling sites, meaning that there aren't any in-state operators offering online slots, but international online casinos have hundreds of different slots on offer. Online slots do not require expensive machinery or large amounts of physical space, meaning that they are much more cost-efficient than slots at brick-and-mortar casinos. As a result, payout rates for online slots are generally much better. Additionally, most online slots allow players to set their own wager level so that players can bet what they are comfortable with.
Benefits of Rhode Island Online Slots:
One website can host hundreds of different slots
Payout rates are better because the slots are inexpensive to run
Multiple people can use the same slot concurrently
Adjustable wager levels
Cash out your winnings immediately
Mobile Gambling In Rhode Island
Mobile gambling is available and legal in Rhode Island. The only form of state-licensed mobile gambling (with real money at least) is through Rhode Island's two licensed online sportsbooks. Neither the Twin Rivers nor Tiverton casino offer a mobile sports betting app, however. The only available real money gambling apps are those for daily fantasy providers like DraftKings and FanDuel. The best way to bet on a mobile device, whether its sports betting, casino gaming, etc. is to do so at an international online gambling site. These sites feature well-optimized mobile sites for phone and tablet users.
Mobile Sports Betting Apps
Mobile sports betting is available through all Rhode Island online sportsbook websites, but the best websites to use are those that invest in developing mobile sites with interfaces optimized to work with a touch screen. International online sportsbooks like Bovada and BetOnline cannot offer downloadable apps in American app stores, but they have done an excellent job developing mobile sites that look and function just like apps without requiring a download.
Mobile Casinos Apps
The only dedicated casino apps available in Rhode Island are shallow free play apps that emulate traditional casino games without offering a risk-reward element. International online casinos, just like global sportsbooks, maintain fully featured mobile sites. Players are automatically redirected to these Rhode Island mobile gambling sites after entering the desktop site from a mobile device. Through the mobile site, players can access all available forms of casino gaming, including roulette, craps, poker, slots, and more. Mobile players also have access to all the same benefits as desktop users—benefits like large deposit bonuses, great payout rates, and thorough security.
Real Money Online Gambling Sites In Rhode Island
You can legally gamble with real money in Rhode Island, and there are even a few real money online gambling options available. Gambling websites generally accept traditional payment methods like credit/debit cards and e-wallets for deposits, but withdrawals are a bit trickier because of quirks in federal banking laws. As a rule of thumb, cryptocurrencies like Bitcoin are the simplest and most rewarding way to bet. Real money online gambling is both more convenient and more lucrative than gambling at physical retail casinos.
Free Online Gambling In Rhode Island
The two most popular forms of free online gambling in Rhode Island are downloadable casino games apps with a simulated bankroll and daily fantasy sports contests. The downloadable apps are good for a few minutes of entertainment, but the DFS games offer a layered strategy. Some DFS sites even offer free entry tournaments with real money prizes, meaning that you can win money without risking any. Outside of these two options, the best way to gamble online for free is to play free versions of casino games at real money gambling sites like XBet. By practicing with a simulated bankroll, you can gain a better understanding of both the payout rates for each game and the systems behind the game.
Is Online Gambling Legal In Rhode Island?
Yes, online gambling is legal in Rhode Island. Daily fantasy sports were the first form of online gambling officially approved by the state in 2016. DFS legalization did not require a new piece of legislation; Rhode Island Attorney General Peter Kilmartin found that DFS was legal under pre-existing Rhode Island laws. Two years after that landmark case, the state legislature passed RI S.B. 37, which authorized both retail and online sports betting.
Additional forms of online gambling are also legal in Rhode Island via internationally regulated gambling websites. While there are state laws in place against online casino gaming, these international websites are not subject to either state or federal anti-gambling laws. As a result, they are completely legal and accessible to all Rhode Island players. The only restrictions are a requirement that players have proof of ID and be at least 18 years old. If you are still concerned that gambling with these sites is not explicitly legal under Rhode Island law, know that no state in the country has ever prosecuted an individual simply for gambling online. Anti-gambling laws are in place to impede operators, not players.
Online Gambling Laws In Rhode Island
Like most northeastern states, gambling has always existed in Rhode Island. The first few decades of operation were under-the-table and operated by the wealthy and by organized crime syndicates. Pari-mutuel wagering was regulated in 1934, and Rhode Island's two horse racing tracks would go on to become two of the most popular and profitable tracks in the country before being shut down in the 1970s. Rhode Island introduced a state lottery in 1973 that proved hugely successful. Casino table gaming was regulated in 2012, and daily fantasy sports and online sports betting were regulated in 2016 and 2018, respectively. The recent flurry of activity could be a positive development toward fully legal online casino gambling in the next several years.
Legal Gambling Age In Rhode Island
Rhode Island is one of the most forgiving states in the country in terms of its gambling age laws. All forms of legal gambling within the state are available to all residents 18 or older, with the exception of daily fantasy sports. It is unclear why DFS players must be 21 years old. The
legal gambling age
for international online gambling is also 18 years old. For both in-state and international gambling sites, players will be required to show proof of a government-issued ID before they are authorized to collect their winnings.
Lottery:

18

Parimutuel:

18

Casinos:

18

Bingo:

18

Online Poker:

18

DFS:

21

Sports Betting:

18
Where Are Rhode Island Gambling Sites Regulated?
Rhode Island gambling sites are regulated by whichever jurisdiction they operate out of. Operators based in Rhode Island are regulated by the Rhode Island Department of Business Regulation, which oversees all gambling business operations in the state. International gambling sites are regulated by their country of origin. While online gambling laws are generally laxer in these countries, that shouldn't be interpreted to mean that they are lawless. Regulatory agencies in other countries still closely monitor payout rates and consumer data security to ensure that companies are not taking advantage of their players.
Who Can Play At Rhode Island Online Gambling Sites?
The availability of Rhode Island gambling sites beyond the state itself depends on the nature of the operator behind the site. Domestic operators in the United States can only offer online gambling to people located within their state, but international gambling sites are available to players all over the United States. In other words, the residents of Delaware, Massachusetts, Maine, and all of Rhode Island's other neighboring states can legally gamble at most of the same sites as Rhode Island players.
Taxes On Gambling Winnings In Rhode Island
Gambling winnings tax in Rhode Island: 25% (federal) + 3.75-5.99% (state)
In addition to the flat federal gambling winnings tax rate of 25%, Rhode Island taxes all gambling winnings as income. In other words, the tax rate will depend on your total amount of reported income during the year. The highest personal income tax rate in Rhode Island is 5.99%, meaning that the maximum overall gambling tax rate is 30.99%. This applies whether you win your money with a Rhode Island gambling operator or an international one. You should always report gambling winnings on your taxes, as a failure to do so constitutes felony tax evasion and can and will be prosecuted if discovered.
Gambling Revenue In Rhode Island
In fiscal year 2019, the Rhode Island Lottery reported a total of $1.08 billion in gambling revenues between lottery ticket sales, sports betting, and casino gaming. Revenues have increased steadily year-over-year in every year since 2012 and have seen an overall 53% increase since 2010. Tax rates on gambling operators are very high in Rhode Island and generated hundreds of millions of dollars for the state's General Fund, as well as specific commissions. Lowered tax rates could potentially encourage more operators to set up shop in Rhode Island, which could increase overall gross and tax revenues. While 2020 saw a dip in revenues due to COVID-19, 2021 featured many good months for the state in terms of sports betting, including a new monthly sports betting revenue record set in Nov. 2021 of around 3.5 million dollars.
Future Of Rhode Island Online Gambling
Rhode Island has been unfortunately done a lot to shoot its online gambling industry in the foot, not the least of which has been its excessive taxes and licensing fees for various gambling operators. While the state's ability to capture a large percentage of gambling revenue through taxes isn't necessarily a bad thing, a slightly lower tax rate could stimulate growth and encourage more betting, which could, in turn, lead to more overall tax collections, a la Pennsylvania. After the COVID-19 pandemic, online gambling could be an avenue for Rhode Island to pursue as a way to help the state budget recover, but fully state-regulated Rhode Island gambling sites are still a distant possibility at best.