2023 World Series Gambling
Following dominant regular seasons, the five teams that crossed the 100 wins threshold all entered the 2023 MLB Playoffs as the betting favorites. The odds reflected the Los Angeles Dodgers as the betting favorites (+300), with the Houston Astros coming in second (+400), and then Atlanta Braves and New York Yankees at +500. The New York Mets' odds of +750 reflected their poor end to their season and that they had to play in the Wild Card round and the other favorites did not have to.
Where To Bet On MLB:
There are a plethora of online sportsbooks available to bettors in America. Some states - most of them at this point - are offering sports betting via regulated channels that the state takes a cut from. Other states have not been as quick to regulate sports betting, and as such rely on online sportsbooks that are located offshore. Notably, these offshore sportsbooks are the ones that are available all across the United States. They're some of the best online sportsbooks period, and our favorite sportsbooks tend to be of this type. Let's take a look at three of our favorite MLB betting sportsbooks.
MLB Mobile Betting Apps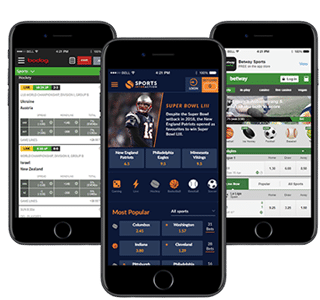 Betting on Major League Baseball is a very fun pastime, but sometimes you're out at a restaurant or a bar, and unable to access your computer to open your sportsbook of choice. These situations can be helped by mobile sportsbooks, which are available all across the United States. Some mobile sportsbooks have state sanctions and will be available on the app store on both iPhones and Android devices. Other sportsbooks are not located in the United States, and thus not regulated by the United States. These sportsbooks prefer to use mobile websites, and such websites are available all across the country. These mobile websites require only that you visit the website on your mobile browser, and as such are very accessible for anyone who wishes to wager on Major League Baseball, no matter where they are.
MLB Live Betting
Live betting is a great way to convert your baseball knowledge into
sports betting cash. For example, if you see a pitcher tiring late in the game, you can wager on the other team to make a comeback. If you know a solid closer is entering the game in the ninth inning, you can wager on the team with the great closer to take the win. These are just some of the ways in which live betting can help you win money when wagering on Major League Baseball. You can access live betting on almost every online sportsbook, although some of the state-regulated sportsbooks do not offer live betting, so it's best to use the ones that are not regulated by the state if you happen to be in a state that restricts live betting.
MLB Gambling History
Given its status as America's pastime, Major League Baseball has some incredible history. That history carries over to gambling, going back to the Black Sox scandals and of course Pete Rose. Outside of those scandals, gambling in the MLB has resulted in some of the largest upsets in all of sports. The largest recorded upsets for awards and pennant races based on their preseason odds are below.
World Series Champions: Miami Marlins (2003) +7500
American League Pennant Champions: Boston Red Sox (1967) +10000
National League Pennant Champions: Atlanta Braves (1991) +7500
AL Most Valuable Player: Josh Hamilton (2010): +10000
AL Cy Young: Rick Porcello (2016) +20000
NL Most Valuable Player: Christian Yelich (2018) +15000
NL Cy Young: Jake Arrieta (2015) +4000
World Series MVP: Steve Pearce (2018) +5500