New Mexico Online Gambling Sites 2023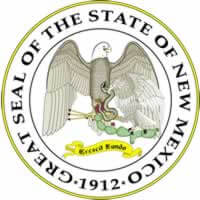 New Mexico is one of the smaller states in the country, but it also boasts a thriving and successful casino gambling industry in 2023, buoyed largely by tribal casinos spread throughout the state as well as New Mexico online gambling sites. As the legal New Mexico gambling industry has not yet expanded to include most forms of USA online gambling, the only state-sanctioned forms of online gambling currently offered in New Mexico are daily fantasy sports and pari-mutuel wagering.
Still, New Mexico residents can still legally participate in nearly all forms of online gambling, but they must do so through websites based in other countries, which are not bound by the same regulations and restrictions as domestic websites. While it is not ideal for all that money to be funneled out of the New Mexico economy, residents don't have much choice. This page will cover all the information you need to know about various types of online gambling, the taxes and laws that apply to online gambling, and the future outlook of online gambling in New Mexico specifically.
Best New Mexico Gambling Sites
Despite a lack of legal in-state online casinos, New Mexico residents can still legally access a wealth of global New Mexico online gambling websites. There are dozens, if not hundreds of these websites, and all of them claim to offer the best gambling experience, bar none. Of course, it isn't possible for every single website to be the best, and many websites are either substandard or downright predatory of their players. At USAOnlineGambling, we use a thorough evaluation process to create accurate online gambling site reviews.
Our reviews prioritize things like customer service, a good quality and variety of betting options, high payout rates, and easy banking—things that all gamblers should expect when they are risking their hard-earned money. The only sites we recommend are those that receive high marks in all these categories. Once these baseline standards have been ascertained, determining the best gambling website becomes more subjective. Every site offers its own unique qualities, so different websites will be best for different players, depending on their gambling priorities.
Best Apple Pay Sportsbooks
Top Casinos For USA Gambling
Best Online Poker Sites That Accept US Players
How We Pick The Best New Mexico Gambling Sites
Every site we recommend has to offer easy and accessible banking.
We only recommend sites with a reliable, extensively developed technological infrastructure.
For whatever types of gambling a website offers, it must have some of the best betting options in the industry.
Payout rates at our website must be better than rates you would find in a casino.
All our sites are completely legal and available to all New Mexico residents over 18 years old.
Mobile Gambling In New Mexico
Players can download apps for the pari-mutuel and DFS companies mentioned above—FanDuel, TVG, etc.—but there are no other state-licensed mobile gambling options in New Mexico. Thankfully, there don't have to be, as licensed gambling websites are completely legal. Major online gambling sites invest heavily in the development of comprehensive mobile gambling websites in the US, so they don't miss out on the huge mobile gaming demographic. These options are legal, intuitive, and simple. Mobile sites are compatible with all major smartphone and tablet brands.
Mobile Betting Devices
iPhone
Android
Samsung Galaxy
Google Pixel
iPad
LG Wing
Galaxy Tab
Microsoft Surface
Mobile Sports Betting Apps
There are no downloadable sports betting apps in New Mexico outside of the aforementioned pari-mutuel and DFS companies. Global New Mexico gambling sites do offer mobile betting, but only through their specially designed mobile sites. They are not allowed to offer downloadable apps on American app stores, unfortunately. But their mobile sites offer access to their entire range of betting features, including live, in-play betting, prop bets, dozens of different leagues and thousands of events, and more. Mobile sports betting is available anywhere with a strong wi-fi or data connection. Major online sportsbooks like MyBookie and Bovada have mobile sites that function nearly identically to a dedicated app.
Mobile Casinos Apps
As with sports betting, companies have invested heavily in ensuring that their mobile players are accounted for. There are no in-state mobile casino apps, but there are optimized mobile sites for international casinos. These mobile sites can access all the same features as a desktop site. One of the best features of international online casinos is there huge deposit match bonuses, which can give you an overall bankroll boost in the thousands of dollars. Mobile players are eligible for these bonuses in addition to desktop players.
Real Money Online Gambling Sites In New Mexico
Gambling online with real money is completely legal in New Mexico, although only a few types of real money gambling are legal with in-state operators. Nearly every real money gambling site in the US accepts deposits using traditional payment methods like credit and debit cards. But the easiest way to handle your finances when gambling online is through cryptocurrency. International gambling sites can't transfer your winnings directly to your bank, so instead they must work through another method. Crypto is their preferred method, and they offer huge promotional bonuses tied to crypto to incentivize players.
Free Online Gambling In New Mexico
There are plenty of free gambling options in New Mexico, but most of them are unappealing mobile games that emulate casino gaming without the risk versus reward element that makes them so enthralling. Some online casinos offer free versions of their real money games. These free gambling sites in the US are a great way to practice and acclimatize yourself to a site's systems before committing real money. There are also some popular poker multiplayer apps, but these are bogged down by unrealistic behavior from other players. Perhaps the best form of free gambling is daily fantasy, which offers deep strategy and even some big cash rewards for tournament play.
Is Online Gambling Legal In New Mexico?
Yes, online gambling is legal in New Mexico, as it is in every state, although most forms of online gambling are only available through international companies. New Mexico law only authorizes pari-mutuel and DFS betting for online play, and all forms of gambling that aren't deemed explicitly legal under New Mexico law are considered illegal, per §60-2E-4 of the Gaming Control Act. While this sounds bad for online gambling enthusiasts, it is not actually a death knell.
International online gambling sites are not subject to the laws and regulations of either the federal government or state governments. And because anti-gambling laws are designed to target gambling companies rather than individual gamblers, the list of states with online gambling includes all fifty states and most importantly New Mexico. Legal domestic online gambling could happen in the future for New Mexico, but for right now, global operators are the only choice for players who don't want to make a lengthy drive out to a casino to play their favorite games. Gambling laws have been changing rapidly in recent years, so this is liable to change in short order.
Online Gambling Laws In New Mexico
Pari-mutuel wagering was regulated in New Mexico back in the 1930s, but it remained the only form of legal gambling in the state all the way up until the 1990s. In 1995, then-Governor Gary Johnson authorized a statewide lottery and signed a gaming compact with several Native American tribes allowing them to open full brick-and-mortar casinos. No law was ever passed to regulate sports betting in New Mexico, but casinos began offering sports wagering anyway, and there have been no legal repercussions. The future of gambling right now appears to be in limbo, although the ongoing economic crisis could push the New Mexico Legislature to expand the casino industry in an attempt to increase tax revenues.
Legal Gambling Age In New Mexico
Technically, anyone in New Mexico can legally participate in gambling through charity bingo games, but those are an exception to the rule. "Soft" forms of gambling like pari-mutuel wagering and the lottery are legal to anyone 18 years old or older, while "harder" forms like casino gaming are limited to people who are at least 21 years old. The
legal gambling age
for international gambling sites is 18 years old, with the only requirement being that the player can provide proof of a valid, government-issued ID.
Lottery:

18

Parimutuel:

18

Casinos:

21

Bingo:

any

Online Poker:

18

DFS:

21

Sports Betting:

21
Where Are New Mexico Gambling Sites Regulated?
The gambling sites that are legal in New Mexico—DFS providers like DraftKings and pari-mutuel wagering sites like TVG—are subject to both federal and New Mexico state law. International online casinos are regulated by their country of operation. While international regulations are generally looser than domestic ones, these global online casinos are still held to strict standards on security, and payout rates to ensure that none are taking advantage of their players. As long as the casino is licensed by its government, it is completely safe to bet with.
Who Can Play At New Mexico Online Gambling Sites?
All the gambling sites available to players in New Mexico are also available to players in other states—both those that border New Mexico and other states across the country. The same regulations that apply to New Mexico players—an 18-year-old age requirement, proof of ID, etc.—apply to players in other states as well. They can access all the same forms of gambling and all the same deposit bonuses as New Mexico players.
Taxes On Gambling Winnings In New Mexico
Gambling tax in New Mexico: 25% (federal) + 6% (state)
New Mexico requires a 6% tax on all gambling winnings. Winnings won't always be automatically withheld, so it is important to understand your likely gambling tax rates and pay the equivalent value of your estimated gambling taxes. The federal government also requires a 25% tax on all gambling revenues. These taxes must be paid whether you win the money with a New Mexico casino or an international gambling website. Failure to report gambling winnings on your taxes constitutes felony tax evasion.
Gambling Revenue In New Mexico
New Mexico's tribal casinos are not required to publicly disclose financial information, but the New Mexico Gaming Control Board publishes general reports about overall revenues on both a monthly and yearly basis. In fiscal year 2019, gambling operators in the state collected a total of $250.5 million in revenue and paid $64.8 million in taxes. Payments from non-profit gambling operators go toward the state's education system, while other gambling taxes are paid into the New Mexico General Fund. Online gambling could likely increase revenues by 20-30%.
Future Of New Mexico Online Gambling
New Mexico has shown little urgency in regulating New Mexico gambling sites, but with the rapid progression of technology and the increasing consumer preference for online alternatives to traditional brick-and-mortar businesses, legal online gambling seems inevitable. The population of New Mexico is spread out widely, and legal online gambling could entice more people to play. This would result in higher revenues for casinos and higher tax revenues for the state government. The COVID-19 crisis could also help lead to expanded gambling in New Mexico as lawmakers look for ways to recover a likely budget shortfall.