Ohio Online Gambling Sites 2023
Online gambling in Ohio is an incredibly popular hobby as well as around the world, and while it is a very rewarding experience, it also comes with some risks for the uninitiated. USAOnlineGambling aims to provide players with all the information they need regarding the various forms of Ohio online gambling sites available to them. For gamblers in Ohio, this page is the luxury of information on everything from slots and casino games to daily fantasy and legal information. While Ohio currently is not one of the newest states that have state-sponsored online gambling, it will soon enough.
Although the state has not regulated it, every person in Ohio can still legally gamble online. They just do so through licensed international Ohio online gambling sites, which are not subject to either state or federal anti-gambling laws. This page will cover the best ways for Ohio residents to gamble online, including the best Ohio online gambling sites to use for various games, how to gamble online using your phone in Ohio, how to take advantage of online casino promotional deals, and more.
Where To Bet On 2023 March Madness Odds In Ohio
You have tons of options of online sportsbooks to choose from when it comes to finding 2023 March Madness odds. Some Ohio online gambling sites in particular that offer March Madness odds in Ohio include Bovada, BetOnline, and MyBookie. Each of them have benefits to betting on March Madness with them with things like bonuses, mobile platforms, crypto compatibility, and just overall quality betting odds. These sites are easy to use as any odds on the NCAA Tournament can be in a matter of seconds.
Largest Gambling CitiesColumbus, Cleveland, Cincinnati
Number Of Land Based Casinos11
Gambling Revenue$1.94 Billion
State Licensed Sports BettingNo
Mobile Betting OptionsDaily Fantasy
Best Ohio Gambling Sites
To find the best sites for Ohio gamblers, we look at dozens of different major Ohio online gambling sites. The online casinos reviewed on this site are the best of the best, as all the unsavory sites have been filtered out. Every one of these
online gambling sites is safe, legal, and well-liked and trusted by its consumers. They also offer fast, reliable payouts, great deposit bonuses, and an even better variety of betting options.
Every gambling site has its own pros and cons, and the 'best' gambling site is more of a subjective term than an objective one. We only aim to provide you with all the information you need to make an educated decision. Still, it is recommended that you try more than one gambling site, if for no other reason than that consumers always benefit from companies competing against each other.
How We Pick The Best Ohio Gambling Sites
We look for sites with a proven track record of player satisfaction.
Sites must provide their players with top-notch security for their personal and financial data.
Customer service must be easily accessible and available through multiple methods.
Banking options for deposits and withdrawals must be thorough and convenient.
Deposit bonuses must meet or exceed industry standards to give players the best possible start.
Is It Legal To Use Bovada In Ohio?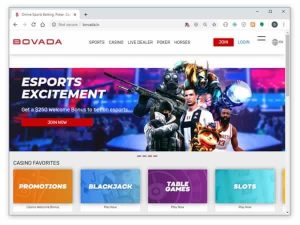 One thing we know about Ohio bettors is that they're crazy about sports, and sports betting is a big deal in Ohio. However, the state does not offer any Ohio online gambling sites for it, which forces players to turn to internationally regulated online sports betting websites like Bovada in order to place a bet on the Buckeyes, Browns or Bengals. These websites are legal to use in that the laws regarding online sports betting are targeted at the providers of online sports betting services, instead of at the people who use those services, so it's usually totally fine to use a website like Bovada to bet on sports in Ohio.
Mobile Gambling In Ohio
Nearly every major international online casino also has a mobile gambling site that is optimized for phones and tablets and allows mobile players access to their full range of gambling options. These function nearly identically to a casino app. There are numerous applications for mobile gambling, including passing time on a long bus ride and betting on sports while you're at a bar with friends. All these mobile sites require is that your device have a strong data or wi-fi connection.
Mobile Sports Betting Apps
There are no mobile sports betting apps in Ohio, but major online Ohio online gambling sites like Bovada and MyBookie offer full mobile compatibility to their players. Mobile bettors can bet on everything that desktop users can. Mobile betting is the best way for sports fans to stay engaged with a game as it is being played, especially with the rise in popularity of live betting. Players can even keep multiple sportsbooks on their phones open on different tabs to shop lines and ensure that they are getting the best possible odds.
Mobile Casino Apps
As with sports betting, there are no state-licensed casino apps in Ohio, but international online casinos offer fully featured mobile sites that function identically to such an app. If an actual app is important to you, there are free casino apps that let you play blackjack, online poker and more without wagering real money, but these are a neutered version of a true casino gaming experience. The best mobile casino sites are probably those of Bovada and BetOnline, which both offer an extensive array of betting options for their players.
Real Money Online Gambling Sites In Ohio
While Ohio lags behind its contemporaries in providing domestic gambling opportunities, players can still freely bet real money with websites based outside of the U.S. These sites offer fast, easy deposits and withdrawals, along with great payouts on bets. The most common deposit methods for online gambling are credit/debit cards and cryptocurrency (like Bitcoin), while most withdrawals are done through cryptocurrency because of a quirk in federal law that prevents banks from directly processing payment from gambling sites. There are other transaction methods available to players as well, but crypto is recommended as it usually doesn't have associated fees and is processed within minutes.
Free Online Gambling In Ohio
Free casino games are very accessible, if not recommended, for Ohio players. XBet, for example, offers players the options to try out many of their casino games using a simulated bankroll to get a feel for the rules of the game and for their gambling software. These free casino games are a fun timewaster, but the lack of stakes severely limits the excitement of playing. The same goes for bingo, slots, poker, etc. The best free gambling option is probably daily fantasy. Major DFS sites often offer free online gambling tournaments with prizes of hundreds or thousands of dollars. Even when playing just for fun, DFS is engaging because it takes skill and foresight to predict the outcomes of sports contests.
Is Online Gambling Legal In Ohio?
Online gambling is not yet legal in Ohio, but that is expected to change by January 1st, 2023, due to the passage of House Bill 29. The bill, passed on March 23rd, 2022, will regulate retail, mobile, and online sportsbooks throughout Ohio. House Bill 29 will impose a 10% tax on Ohio sports betting operators, with 98% of those taxes going toward the Sports Gaming Profits Education Fund and 2% going toward the Problems Sports Gambling Fund. The bill also legalizes charitable organizations to operate a maximum of seven electronic bingo machines as well.
With HB 29 regulating sports betting, people may think that Ohio would regulate all forms of online gambling. That thought would be false, as the state has still shown to desire to regulate any online casino or poker sites. Of course, that is fine for players, as they have been using internationally legal gambling sites for over two decades without any issues. With such an easy solution available for players, the push to fully legalize online gambling in Ohio may not exist.
Retail Gambling In Ohio?
It may be more convenient to bet at an online gambling site, but with the restrictions in place in Ohio, that is not always an option. Luckily, the state legalized casinos back in 2009, meaning players have multiple options to gamble in person. The land-based casinos in Ohio are listed below, as are their sports betting partnerships and when the casino itself was founded.
Retail Casinos In Ohio And Their Sportsbook Partnership
Eldorado Gaming Scioto Downs – Columbus (2012) – Caesars Sportsbook
Hollywood Casino – Columbus (2012) – Barstool Sportsbook
Hollywood Casino – Toledo (2012) – Barstool Sportsbooks
JACK Cleveland Casino – Cleveland (2012) – JACK Entertainment
Hard Rock Casino – Cincinnati (2013) – Hard Rock Sportsbook
JACK Thistledown Racino - North Randall (2013) – JACK Entertainment
MGM Northfield Park – Northfield (2013) – BetMGM Sportsbook
Miami Valley Gaming – Lebanon (2013) – TBD
Belterra Park – Cincinnati (2014) – FanDuel Sportsbook
Hollywood Gaming at Dayton Raceway – Dayton (2014) – Barstool Sportsbook
Online Gambling Laws In Ohio
Ohio has a history of adopting new forms of gambling later than other states. Casino gambling wasn't even legalized in the state until 2009, and the first casinos didn't successfully open until 2012. HB 132 (the DFS bill mentioned earlier on this page) was a significant step in the right direction for Ohio gambling law, but Ohio gambling still lags markedly behind other states. After the 2018 repeal of the Professional and Amateur Sports Protection Act, there was some optimism that a wave of enthusiasm for sports betting across the country could lead to legislative change, but nothing came of it in the end. This stubbornness has driven most Ohio gamblers to online casinos, and denied the state a potentially huge economic boon.
Legal Gambling Age In Ohio
Ohio does not offer legal sports betting of any kind. The statewide
legal gambling age
is 18, but casinos are free to require that patrons be 21 or older in order to maximize the benefit of their liquor license. International online casinos and betting sites are legal for all players who are 18 years old or older.
Lottery:

18

Parimutuel:

18

Casinos:

18-21

Bingo:

18

Online Poker:

N/A

DFS:

18

Sports Betting:

N/A
Where Are Ohio Gambling Sites Regulated?
Ohio gambling sites are regulated by their country of origin. Many different countries host online gambling sites, from Costa Rica to Singapore (yes, we're counting it as a country) to Curacao. Legislation in these countries isn't as strict as in the United States, which makes them more accessible to players. But all major gambling sites are still held to strict standards of quality and monitored closely to ensure that they meet expectations of payout rates and consumer security. This is a happy medium between the draconian restrictions of the American federal government and the anarchy that would come from a total lack of regulation.
Who Can Play At Ohio Online Gambling Sites?
Ohio online gambling sites are not only limited to Ohio residents. People in every state in the U.S. can sign up for international online gambling sites and play from anywhere, as long as they are at least 18 years old. These sites even offer financial incentives for you to recruit other players, including deposit bonuses and straight money transfers into your account. These are a great way to both involve your friends in something you enjoy and boost your overall bankroll.
Taxes On Gambling Winnings In Ohio
Ohio Gambling Tax – 24% (federal) + 4% (state)
Ohio casinos are required to withhold 4% of your winnings and pay the cumulative sum of those winnings to the state in quarterly installments. After this 4% is taken out, you must pay 24% of your gambling winnings in federal income tax. Failing to report gambling income on your taxes is a criminal offense and is highly discouraged. Even if you bet using an international online casino, it is a good idea to report your winnings to the state to avoid getting in hot legal water.
Gambling Revenue In Ohio
Ohio is America's seventh-most populous state, with a population of nearly 12 million people as of 2019. Nationwide gambling handle averages between $600 and $800 per capita annually, depending on the source of the estimate. With Ohio's population, that would amount to potentially 7 to 9 billion dollars wagered annually. At an average hold rate of 7%, that would amount to somewhere between $490 and 655 million. A lack of state-level legal gambling does not deter gamblers, so all of that money right now is being wagered online with international gambling sites, and all losses are leaving the state. With legal gambling, Ohio could keep that money in-state and collect taxes to the tune of tens of millions of dollars annually.
Future Of Ohio Online Gambling
Ohio finally got sports betting regulation passed, which means that the sky is the limit. Their sports betting regulation is comprehensive, too - they have plans for each type of sports betting, from kiosks in bars to big national sports betting apps. If that goes well, anything could happen with regards to Ohio online gambling sites. As national and local attitudes toward gambling become more favorable, there will be more pressure from their constituency for Ohio lawmakers to legalize online gambling, so the long-term outlook is favorable.