Georgia Online Lottery Tickets - Play And Buy Georgia Lottery Tickets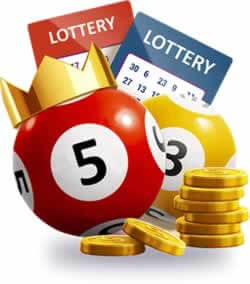 Welcome to our Georgia Lottery page here at USAOnlineGambling.com. As one of the few states that offer it, purchasing Georgia lottery tickets online is perfectly legal. This brings a level of convenience that is unmatched when it comes to playing the lottery. Online lottery purchases allow you to buy tickets for the many mega jackpots without the need to travel to a local store. With the GA lottery, you can possibly win millions off of a small purchase. It is one of the biggest returns of investments in games of chance. Georgia has banned most regulated forms of gambling, so the lottery is the key gambling operation in the Peach State.
It is very simple for residents to partake in the Georgia gambling through lottery tickets purchased online. Whether it's the Powerball or the Mega Millions, everything can be purchased online. GA lottery is played throughout the year by millions of GA citizens in a hope to play to win big in GA.
Who Can Buy Georgia Lottery Tickets Online?
Anyone with a valid Georgia ID and address who are at least 18 years old can purchase lottery tickets online. You have to be a Georgia resident and must be able to prove such before you purchase tickets. Georgia law prohibits residents of other states without a valid Georgia license or address from purchasing a ticket. Although land-based operators will allow you to purchase a ticket, you cannot cash any winnings if you are not a Georgia resident.
How To Buy Georgia Lottery Tickets Online
Buying a Georgia lottery ticket is a simple process. You can either go to the official Georgia Lottery Site and sign up, or you can download the Georgia Lottery mobile app that is compatible with all Apple and Android devices. When you go to sign up you must provide identification that proves you are of legal age as well as are a Georgia resident. You will also be prompted to make an iHOPE account that will ask for a routing and account number. This is how you will pay for the lottery ticket.
Georgia Lottery makes purchasing lottery tickets online extremely simple for residents of the Peach State. From the website and app, you will have access to purchase tickets from the Powerball, Mega Millions, Georgia Jackpot, Fantasy 5, and many other lottery games. There is no shortage of ways to play at Georgia Lottery's website.
How To Deposit Into My Georgia Lottery Account
When you go to the Georgia Lottery website or download the mobile app, you will be prompted to make an iHOPE account. Here you will fill out basic information including a valid Georgia address. From here you can deposit into the account using a valid checking account. They will ask you to fill in the account and routing number. You deposit and collect money through the iHOPE account. It is a very streamlined process to make Georgia lottery very convenient to residents.
What Georgia Lottery Games Can I Play Online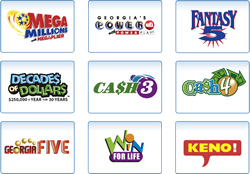 There is a multitude of Georgia lottery games that can be played online. The most popular game in Georgia is the Mega Millions. In Mega Millions, numbers are drawn every Tuesday and Friday. There are five numbers from 01-99. Then there is a sixth number known as the Megaball. If you get all six numbers correct, you win the grand prize jackpot. If you get the five numbers and not the Megaball, the grand prize is $1 million. The price decreases as it goes all the way down to $2 if you only get the Megaball number correct.
The rules are similar for the second most played game in Georgia being the Powerball. Again you choose five numbers and the Powerball and if you get all six correct, you hit the grand prize. These grand prizes go up the longer it takes for someone to win. One Powerball had hit over $1 billion. Other games available online are the Fantasy 5, Keno, Cash pop, Cash 4 life, Jumbo Bucks Lotto, Cash 3, Cash 4, and finally Georgia Five.
Georgia Lottery Draw Games
There are a lot of draw games available online for Georgia residents and they have different rules attached. Here we will try to simplify each for you.
Mega Millions:

The Mega Millions is a game where six numbers are drawn between 01 and 99. The numbers are drawn at random. The first five numbers are drawn after one another and the sixth number, known as the Mega Ball, follows. The numbers increase in value for the first five numbers meaning the fifth number will be the highest in the selection. Then the Mega Ball number will be it's own. If you hit all five numbers including the Mega Ball you will get the grand prize.
Powerball:

The Powerball is a lottery game in which residents chose six numbers. The first five are a set and the sixth is the Powerball. If you get the five numbers but not the Powerball, you would win $1million. If you get all six, you win the grand prize. The prizes decrease the least amount of numbers you get.
Fantasy 5:
Fantasy five is a lottery game where players select five numbers and if you successfully all five correctly, you win the grand prize of $150,000. The draws are done daily and if you get at least 2 numbers correct, you get a free ticket.
Cash Pop:
Cash Pop is a lottery draw game that has drawings five times a day. You select one number with a chance to win. If you get that number you will split the grand prize with all other winners. You can purchase tickets for DriveTime, Prime Time, Night owl, Early Bird, and Matinee.
Keno:
Keno is a lottery game with over 300 drawings a day. There is a virtual wheel that is spun and if your numbers hit, you can win one of many different prizes, including the $100,000 grand prize. Players win every single day with Keno which is why so many GA residents log in every day and play.
Georgia Scratch Off Games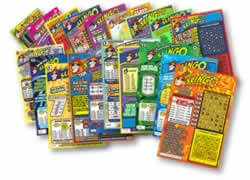 Unfortunately, Georgia does not offer any online scratch-off games. All scratch-off lottery games must be purchased at land-based retailers. This is due to the nature of the games not being integrated into the online lottery as of yet.
Georgia Lottery does offer Diggi Games. These games work similar to scratch-offs and are only available online. The range of these games are from 50 cents to $10. You log on, pay to play and hopefully win big.
The more popular games include Holiday gold, Hammer Strike, and Lucky falls. Players log on every day and play Diggi Games in hopes to win big. There is a wide array of options available Georgia online lottery for these Diggi Games and they are able to substitute the same sensation found from retail scratch-off games.
Diggi Games
Holiday Gold
Hammer Strike
Lucky Falls
50X The Money
Star Match
Silver Stars
VIP Gold
Double Cash Doubler
Spooky Loot Tropical 8's
Wheel Of Fortune Winning Words
Lil' Ladybug Bingo
Glitter & Gold
Cash Cookout
Ghostbusters Spectral Search
Lightning Keno
Super Cash Spectacular
Champion Raceway
Armadillo Trail
Cleopatra
Fort Knox
Bubble Craze Keno
Super Scoop
Mega Crossword
Monkey Drop Mole Madness
Medieval Money Dragon's Loot
Captain Money Beard Pirate Plunder Cove
Spiral Spin
Crossword
Astro Cash
Other Georgia Lottery Instant Win Games
There are a few other instant win games in the Georgia Lottery. These games include the many Georgia Jackpot games as well as other games like Cash Blast and $500 Stacked. There are many ways to play to win big instantly in Georgia. Georgia's lottery is filled with seemingly endless opportunities for residents to cash in big.
$2 Georgia Jackpot
$3 Georgia Jackpot
$5 Georgia Jackpot
$10 Georgia Jackpot
$25 Georgia Jackpot
$500 Stacked
Hit the Jackpot
Big Money Bonus
All Cash Club
Cash Blast
Lottery Bonuses And Promo Codes
There is a lot of bonus money that can be won in the Georgia lottery. For example, Georgia residents who the Powerball can benefit from the Power Play option. With Power Play, you can double your non-jackpot winnings for just two dollars more when purchasing a ticket. Mega Millions also offers a similar bonus with the Mega Multiplier. This is a great way to earn more money if you don't get the jackpot but still got some numbers matched. For example, if you got five numbers correct but not the Powerball, you would get $1 million. With the Power Play, you would collect $2 Million.
There are a lot of similar bonuses at other draw games and games like Fantasy Five offer free tickets if you get two numbers correct. The possibilities are endless with Georgia Lottery games and all these bonuses are also available online.
Georgia Lottery Results
All past winning numbers can be found on the Georgia Lottery website and mobile app. The site will show the past winning numbers from the most recent all the way back to a few weeks. You can find the winnings numbers for the Mega Millions, Powerball, Fantasy 5, Cash Pop, Keno, Cash 4 Life, Jumbo Bucks, and Cash 3 lottery games. Georgia site also has a page that shows past winners to help give confidence to players to know that it is possible to win at playing the lottery.
How To Claim Your Online Lottery Winning In Georgia
There is a lot to go into when discussing collecting your lottery winnings in Georgia. For starters, any prize either $600 or less will be automatically deposited into your iHOPE account that is made when you sign up on the Georgia lottery website or download the mobile app. If the prize is more than $600, you will receive an email instructing you to go to the Georgia Lottery Headquarters in Atlanta. You must provide a valid Georgia address in order to collect any winnings from the lottery. Georgia is also one of the few states that allow winners to remain anonymous.
Online Lottery VS Land Based Lottery Games In Georgia
There are many benefits to purchasing tickets online as opposed to a land-based retailer. For starters, there is no need to travel. You can quickly log on and purchase as many tickets as you want the convenience is unmatched as opposed to land-based operators. Not only can you quickly purchase tickets, but you are able to see all the past winning numbers at your fingertips through the mobile app. There are many reasons why Georgia residents buy lottery tickets online as opposed to traveling to a land-based operator.
The benefit of retail ticket purchase is that you do not need a bank account to buy a ticket. Tickets can be purchased with cash at retailers therefore Georgia residents who do not yet have a bank account are able to purchase as many tickets as they want with the cash option. There is also the benefit of purchasing other lottery games such as scratch-off tickets at retailers that are just not available online. There are benefits to retail ticket purchases as well as online purchases in Georgia.
Future Of Online Lottery Tickets And Games In Georgia
The Georgia Lottery has consistently been popular and will continue to do so. There online and mobile presence will only improve over the years as they continue to supply millions of Georgia residents with ways to win big. As time persists you may even see more lottery gaming options and the streamlined online lottery ticket purchases may even increase. There is no limit to the potential winnings that will come from the Georgia Lottery.
The Georgia Lottery is GA's primary regulated gambling outlet. This is their sole revenue in the gambling space. So Georgia will continue to invest in the lottery as time goes on. The future for the Georgia lottery is a bright one.