Online Golf Gambling
The 2022 PGA season began on September 5, 2021, with the FedEx Cup Playoffs. Golf's online sportsbooks situation varies depending on where you're located. If you're in a state that has regulated online gambling, you'll have access to major regulated sportsbooks like FanDuel and DraftKings, as well as the unregulated online sportsbooks like Bovada and BetOnline. However, in states that do not have regulated online gambling, Bovada and BetOnline are still available, while FanDuel and DraftKings are not. This means that online offshore sportsbooks have better coverage over the United States, due to their willingness to operate outside of it.
2022 Golf Betting Odds
The Valspar Championship 2022 Odds
Justin Thomas +1000
Viktor Hovland +1100
Collin Morikawa +1200
Dustin Johnson +1600
Louis Oosthuizen +2200
Xander Schauffele +2200
Matthew Fitzpatrick +2500
Sam Burns +2500
Shane Lowry +2500
Tyrell Hatton +2500
Where To Bet On Golf
Golf betting comes with the need to find a good outlet. When it comes to gambling on golf, we prefer using online sportsbooks to brick and mortar sportsbooks, because they are easier to use. We generally recommend the offshore sportsbooks over the in-state sportsbooks. The offshore gambling providers offer good odds and are available in more states, but there's nothing wrong with using an in-state option if your state has regulated sports gambling - although you might miss out on some bets, depending on the state.
User Friendly Sportsbook
Bovada's online sportsbook is known for a fairly user-friendly experience. This experience consists of a great website, solid bonuses (but beware of playthrough requirements) and good odds on all your favorite golf events. Whether it's the US Open or the PGA Championship, you can find odds at Bovada. Their futures odds are far-reaching, and their tournament odds update consistently, so you can look for edges when golf tournaments are happening. Bovada's online sportsbook provides excellent golf odds, a great environment for betting, mobile and live gambling odds on golf, and solid bonuses, with a lot of different deposit and withdrawal methods. There's no reason not to give them a try!
Mobile Golf Betting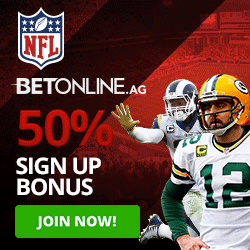 BetOnline is a great website, and it offers excellent online sportsbook gameplay - including golf odds that are tough to beat anywhere else. BetOnline's sportsbook is offered via a mobile website as well, so you can place wagers no matter where you are. They also offer live in-game betting and play-by-play gambling so that you can place wagers on golf during the tournaments, or even after a good or bad hole. BetOnline's website is a bit like looking at a bookie sheet, and it's a very minimalist, stripped down style of sports betting. There aren't many frills at BetOnline - just sports bets.
 All The Odds You Could Want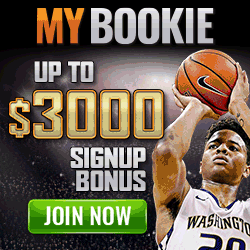 MyBookie is a sportsbook that provides all sorts of wagers for those who enjoy gambling on golf as well as other sports. MyBookie prides itself on having odds on all sorts of bets, and bettors can request odds on specific outcomes, or construct parlay bets on their own using MyBookie's parlay builder. You can bet on anything golf-related at MyBookie, fr om far off futures odds to live odds on the currently happening tournaments. MyBookie is definitely a sportsbook that fans of golf betting should check out - they have great odds and you're likely to find something unique when you bet there.
States With Online Golf Betting - Betting Restrictions
Many states have limited betting at state-based sportsbooks, or do not have state based sportsbooks at all. In addition, several more states have sports betting at land based locations, but not online. If you want to bet online in the United States of America, you can always use the offshore online sportsbooks, which are available across the country. The following states have state-based sports betting partnerships that provide online sports betting as well.
States With Online Sports Betting
Arizona
Colorado
Connecticut
Delaware
Illinois
Indiana
Iowa
Louisiana
Michigan
Mississippi
Montana
Nevada
New Hampshire
New Jersey
Oregon
Pennsylvania
Rhode Island
Tennessee
Virginia
Washington
Washington DC
West Virginia
Wyoming
Golf Mobile Betting Apps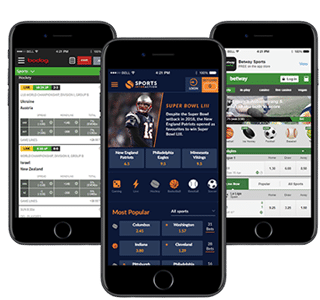 Mobile gambling provides all sorts of options for the aspiring golf bettor, as well as the old-timey golf betting veteran. Simply put, mobile betting connects you with your sportsbook more easily. This allows you to place bets wherever you are. Mobile golf gambling can take place on dedicated apps, which are only available in states that have approved sports betting, or on mobile websites, which are available across the US, but are run by online sportsbooks located outside of the country. The PGA is working with the US sportsbooks to produce games such as a mobile live betting app that will allow bettors to wager on the golf equivalent of play-by-play odds, which should be quite entertaining once it launches. No matter which option you choose, mobile gambling is an essential part of the modern betting experience.
Golf Live Betting
Live gambling is especially important in golf, a sport that takes inordinate amounts of time to conclude. Golf can be a time consuming watch, and is generally a sport that benefits a lot from something to spice it up. Bettors turn to all sorts of wagering options to add that spice, and live betting is perhaps the best of those options. Live gambling lets you place a bet on Bryson DeChambeau when he's about to heat up, or on Collin Morikawa when he gets into one of those states and is just untouchable. You can leverage your knowledge of the players and their talents in order to place better bets, as the tournament happens. Live betting is available across most online sportsbooks, and it's certainly a good idea to check it out if you're an avid golf gambling fanatic.