Kentucky Online Lottery Tickets - Play And Buy Kentucky Lottery Tickets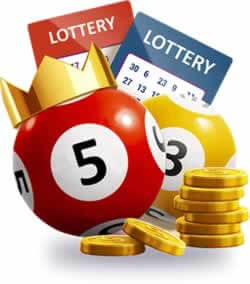 Kentucky is not only the home to some great fried chicken but there is also Kentucky online lottery ticket sales where residents can purchase tickets through the internet. Not every state allows this which sets Kentucky apart from other states in the nation. Residents of the Bluegrass State that can provide proof that they are at least 18 and live within state lines can open an online account and buy lottery tickets as well as play multiple games for money through the site. Accounts to play and buy Kentucky lottery tickets can be accessed with either a computer or their mobile applications.
There are a huge number of choices for gamblers to choose from when looking for games to play. Winnings can be claimed online as well depending on the amount that's been won, but we'll dive more into that later on down the page. Big multi-state draw game tickets like Powerball and Mega Millions are available for purchase on the website making it very convenient for the people of Kentucky to buy tickets from wherever they are rather than having to drive to a retail location in order to play. Having an internet purchasing platform for their lottery thrusts Kentucky into the future of where other states hope to be someday. So, with a drumstick in one hand and gambling with your phone in the other, Kentuckians can truly live the dream. We also have info about other types of online gambling in Kentucky by clicking this link.
Who Can Buy Kentucky Lottery Tickets Online?
Residents of Kentucky can purchase their lottery tickets online. Players must be 18 years old in order to sign up for an online account and do their business on the internet. A valid Kentucky state ID or other pieces of personal information are required in order to participate in the online lottery option. This will be asked of gamblers at the time of sign up. Customers must also be within state lines to access their accounts whether on a computer or via the mobile platform.
How To Buy Kentucky Lottery Tickets Online
In order to make online purchases for the Kentucky Lottery online, residents must first make an account. This is an easy process but it does require some key pieces of personal information. There are two reasons why this is required. The first reason is to ensure that all players are actually in Kentucky and not trying to play from other states. The second is to keep minors from trying to engage in underage USA online gambling.
The information required to open an account is your date of birth, your home address, a working phone number, and the last four digits of your social security number. All of this information will verify that you're a Kentucky resident over the age of 18 and therefore eligible to play games on the website for money. To sign up for an account, simply click on this link.
How To Deposit Into My Kentucky Lottery Account
Depositing money into your Kentucky iWallet account is simple. The methods that are accepted are either by debit or credit card. If players cannot make deposits using these two forms of payment they also have a third option. The third option requires going to a retail location and buying iFunds or iGifts that can be used to put money into your online lottery account.
What Kentucky Lottery Games Can I Play Online?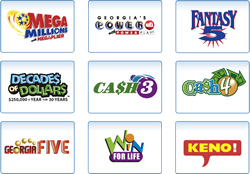 Using your Kentucky Lottery account allows you to play multiple games online. Powerball, Mega Millions, Keno, Lucky For Life, and Cash Ball 225 are draw style games that can be played online. There is no longer a need to go to the store to buy these tickets. Accounts can be accessed by computer or mobile phone to play the various lotteries and games on the website. Aside from these different lottery gaming options, having an internet account entitles players to engage in Instant Play games.
There are numerous different Instant Play game titles to play. In total, there are 50 games to choose from where members can play for money. The minimum payment to play most of these games is $0.50 with a maximum set at $20 per game. Essentially, they are all virtual scratch-off style games where players have to match numbers to win prizes. There is a sidebar to the right-hand side of the site that will show the most recent winners of any given game and how much they've won.
Kentucky Lottery Draw Games
Five different draw games can be purchased online through the Kentucky Lottery website These games are Keno, Powerball, Lucky For Life, Mega Millions, and Cash Ball 225.
Keno:
Keno can be played online every four minutes by members of the site. The top prize is $100,000. You can choose up to ten numbers from 1-80. It's best described as a bingo style type of lottery. Enough matching numbers will equal great payouts.
Powerball:

Powerball is played nationwide. Players must pick five numbers and one special Powerball number. If all the numbers are chosen during the drawing, you win the jackpot. Drawings are twice a week on Wednesdays and Saturdays. The largest recorded Powerball jackpot was $1.586 billion in 2016 that was split between winners in three separate states.
Lucky For Life:
Lucky For Life is a game where the player must choose five numbers and one Lucky Ball number. If all numbers are the same as that of the drawing, the winner will receive $1,000 a day for life. Drawings are every Monday and Thursday each week.
Mega Millions:

Mega Millions is very much like Powerball and is played between multiple states. Players must choose five numbers and a Mega Million ball number and get all the numbers correct to win the entire jackpot. Drawings are twice a week on Tuesdays and Fridays. The largest recorded jackpot in Mega Millions history was $1.6 billion in 2018 won by one person.
Cash Ball 225: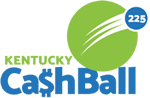 Cash Ball 225 has the potential to make someone $225,000 if they get all the numbers correct. Players must choose four numbers and one Cash Ball number and get them all right in order to win $225,000. Drawings are held every day.
Kentucky Scratch Off Games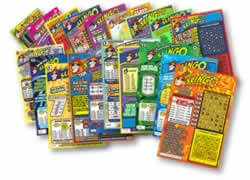 Kentucky has over 50 scratch off games that can be bought at retail locations. Each of their retail scratch off titles can be found on the lottery website along with how much each game will cost you. Online "scratch off" games are the Instant Play style games that can be bought and played with your lottery internet account. There are 50 titles in total for these games to choose from. The gambler can choose how much money to wager on each game with minimums being around .50 cents for most titles and maximums of $20 is the most that can be wagered. Fifty cent games are the cheapest you'll find anywhere as not even retail locations have scratch offs for less a dollar. Online titles for these games include:
Money Strike
Champion Raceway
Celtic Clouds
Star Match
Pink Diamond Crossword
Winter's Wealth
Holiday Gold
Siberian Storm
Wheel of Fortune On The Road
Multiply the Cash
Witches Riches
Spooky Loot
Emoti Collect
Gilded Luck Anniversary
50x The Cash
Lucky 7's
Lil Lady Bingo
Fort Knox
Dual Crossword Craze
Loteria
VIP Gold
Quick Pay
Gong Xi Fa Cai
Gold 'n' Clovers
Silver Stars
Da Vinci Diamonds Tic Tac Toe
Crossword Riches
Mega Cash
Crossword
Bingo International
Bank a Bit Game Show
Supreme Soccer
Double Cash Doubler
Cats 'N' Dogs
Dazzling Diamonds
Tropical 8s
Cleopatra
Glitter & Gold
Color Cubes
Lucky Falls
Lightning Keno
Pixies of the Forest
Monkey Drop
Bubble Craze Keno
Medieval Money
Match 4
Bounty Town
Rainbow Loot
Spiral Spin
Captain MoneyBeard
Lottery Bonuses And Promo Codes
Being an internet lottery member has its perks. And by perks, we mean bonuses and promotions that you cannot find at retail locations. There is an online bonus of a 25% match on all new members' first deposits up to $499. That's almost $500 in free money to gamble on the various lottery games offered on the site. Signing up for the "Fun Club" will entitle customers to various prizes that occur sporadically. Drawings with the names of Fun Club members are done and prizes are $20 a person.
That's $20 to put on any game you want. The last promotion is the Money Strike promotion that allows players to double their winnings up to $50 when playing the Money Strike game online.  Promotions and bonuses are constantly changing so it's always a good idea to check the promotions page to see what's new. All of the current promotions do not require any codes to be redeemed by members.
Kentucky Lottery Results
Kentucky Lottery results can be found online typically an hour or two after each draw game drawing. They also have an up to date board of all winners from their other games as the winning occurs. It lists the game, the amount won, and what city in Kentucky the player is from. To find the latest results on games click here.  To find drawing game results, click here.
How To Claim Your Online Lottery Winnings In Kentucky
Claiming your online lottery winnings in Kentucky will vary based on the amount of money that you've won. Each account holder can hold a maximum of $5,000 in their accounts. If you win $600 or less, it will automatically be credited to your lottery account. However, if that money makes your balance exceed $5000 then a check will be mailed to the address on file and it will take 7-10 business days to receive.
Anywhere from $600 - $49,999 in winnings can be claimed online and be sent via check to your home or be picked up in person at a KLC regional office or the main headquarters. Prizes of $50,000 - $99,999 have to be claimed in person at either a regional office or the main headquarters; this amount cannot be claimed online first and then picked up. All prizes that exceed $100,000 must be claimed in person at the KLC's main headquarters and picked up there after making the claim.
Online Lottery Vs Land Based Lottery Games In Kentucky
The online lottery in Kentucky is not much different than land-based lottery games. For sheer convenience, the internet version outshines retail establishments any day of the week. Making purchases is the same, except you can do it from anywhere rather than having to drive somewhere, walk-in, stand in line, and pay. The internet allows you to do all of this with a few clicks. As for other games, some people may prefer going to a retail location to play.
It's like people that read real books rather than reading from a kindle. Playing scratch off type games is much more fun when you're holding that coin in your hand and scratching the card one by one. That type of feeling cannot be had from scratching off an online option. So when it comes right down to it, it's really about preference. For draw style games, it's internet lottery purchases all day but for scratch offs and other games, retail is where it's at. These options are the most satisfying ways for each type of gaming.
Future Of Online Lottery Tickets And Games In Kentucky
The future of the online lottery and games in the Bluegrass State will continue to thrive. Offerings will grow as time goes on despite a large number of things available on their website to participate in. In accordance with state law, it seems unlikely that people will be able to make purchases in other states using a Kentucky Lottery account, even if that lottery game is a multi-state one like Powerball. Lottery gaming on the internet is not available in every state.
However, many states will look to places like Kentucky to see how well their market is doing because they offer this type of access to their residents. Being able to play various games and make draw ticket purchases through the use of a mobile phone or computer is extremely convenient and highly profitable for Kentucky. More games should be added to the list in the future for account holders to participate in.