Michigan Online Lottery Tickets - Play And Buy Michigan Lottery Tickets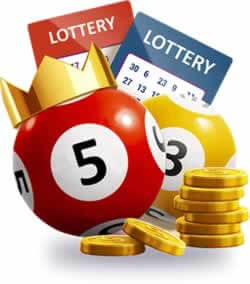 Have you ever wondered how to play and buy Michigan lottery tickets from your home or phone? Many who like USA online gambling love to play the lottery. It's something that has become ingrained in America's culture, across nearly all of the 50 states in the union. Even residents of the states that do not have lotteries sometimes cross state lines to play the lottery when the jackpots get big enough. Michigan, like many other states, allows you to play the lottery online, and this can come with some major upsides and also some major things to get used to. We set up this page so that Michigan residents would have an all encompassing resource to answer any questions they might have about the Michigan online lottery system. You can learn more about other types of online gambling in Michigan here.
Who Can Buy Michigan Lottery Tickets Online?
If you want to play the Michigan lottery from the comfort of your home, you have to be a resident of the state of Michigan. This is not like going from another state across the border to buy tickets - you can do that in person, but not online. The system that Michigan has set up in order to run their online lottery games has a lot of intricacies with regards to how it is set up and how it works.
How To Buy Michigan Lottery Tickets Online
Well, that depends on what game you want to be playing, but the basic thing you have to do is sign up at the Michigan online lottery website, and find what kind of game you want to play. If you want to play the major retail games, like Powerball and Mega Millions, you can buy those tickets online by clicking the "in-store" option at the top of the page. If you want to play a variety of online lottery games, you can play those by clicking on the "online" option at the top of the page. You can also search for the specific game you want to play, and filter all of the games by ticket cost as well. It's a surprisingly easy to use website, and there's a lot to be gained by using it, obviously.
How To Deposit Into My Michigan Lottery Account
When you want to deposit into your Michigan online lottery account, you can do that in a number of different ways. Most of these ways are familiar to you, and the big thing that makes this easy is that they accept most major credit and debit cards, so putting money into your account should be easy as pie. They also accept some other options. Here is a list of the ways you can deposit into your Michigan online lottery account.
Debit Card
Credit Card
Bank Transfer
PayPal
Online Game Card
Neteller
What Michigan Lottery Games Can I Play Online?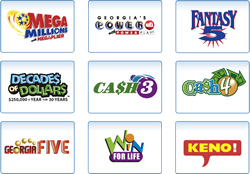 There are a large number of Michigan lottery games available for online play and consumption. The biggest draws are probably, no pun intended, the draw games like Powerball and Mega Millions, that are available for online play at the Michigan Lottery website. In addition, there are a large number of instant lottery games that can serve as an excellent time spender and a good way to get a lot of lottery play in a short amount of time.
Michigan Lottery Draw Games
The Michigan lottery offers four separate online draw games. These draw games are Fantasy 5, Lotto 47, Powerball, and Mega Millions. Each of them has a different level of jackpot, and slightly different ways to win. Though they are all slightly different, they come from a similar concept and are easy to understand. Jackpots and the odds change with each game, so do your research of the online lottery games in Michigan to ensure you are playing the best one for you.
Fantasy 5:
Fantasy 5 has a $100,000 estimated jackpot, and to play costs you only one dollar. It is one of the major online lottery tickets, and the odds are relatively in line with the odds of winning and the cost to play.
Lotto 47: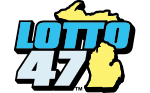 Lotto 47 is where the jackpots start to ramp up. Lotto 47 has an estimated jackpot of $3.2 million, and a dollar's price to enter. Of the one dollar draw games available online, it is the one with the highest jackpot.
Powerball:

Powerball is next, one of the most famous draw games in all of the states with lotteries. In Michigan, it has an estimated jackpot of $22 million at the moment, and the price of a ticket for Powerball is two dollars.
Mega Millions:

Mega Millions tops the Michigan online lottery jackpot list, with a current estimated jackpot of $159 million. The cost of a Mega Millions online ticket in Michigan is two dollars, same as the cost of a Powerball ticket.
Michigan Scratch Off Games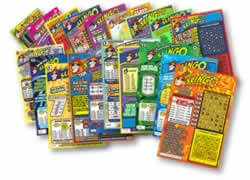 Scratch off games are some of the most fun ways to spend some time, and one of the major reasons people visit the corner store. In light of this, Michigan does not offer scratch-off games via their online retailer - you have to visit an authorized brick and mortar lottery retailer in order to play them. They do, on the other hand, offer a lot of instant lottery games online. Check out all the other online casino games offered if your still feeling lucky.
Other Michigan Lottery Instant Win Games
The vast majority of the games available to Michigan's online lottery players are instant lottery games, which range from keno to second chance to pure instant lottery. There are around 89 different games that fall into this category on the Michigan lottery's website, all available at a moment's notice to any Michigan based lottery players.
Lottery Bonuses And Promo Codes
The Michigan lottery offers a lot of online promo codes and bonuses. These can range from free plays to monthly rewards to signup bonuses. On a daily basis, for example, you can play the spin to win game, which rewards you with free plays at no cost if you win. As a signup bonus, they offer 50% matching funds on your first deposit, up to $100. Basically, if you sign up and put $200 into your account, you will get an additional $100 free, courtesy of the Michigan lottery.
Michigan Lottery Results
The Michigan lottery has paid out big in recent times. In 2019, 34 people won at least $1 million from the Michigan lottery. In the same time, 206 people won at least $100,000. If you want to check on Michigan lottery results, you can visit the Michigan Lottery big winner page to search up anything you need to find.
How To Claim Your Online Lottery Winning In Michigan
Claiming prizes works differently for different amounts of prizes. For amounts of prizes that are less than $600, you get credited automatically. If you win $500 on an online instant lotto game, you get that automatically into your account. However, for larger prizes, you will be required to submit a claim and verification that it was in fact you who won the prize. For seriously big prizes, you'll need to show up in person. In addition, if you owe outstanding debt, the prize could be garnished for purposes of paying that debt. Make sure you check out the Michigan Lottery's prizing and payouts page for more information.
Online Lottery Vs Land Based Lottery Games In Michigan
One might think that there is not much of a difference between the online lottery games and the games that are available for players at retail areas. That is a matter of perspective, to be honest. The online lottery focuses a lot on instant lotto games, while the brick and mortar lottery retailers maintain a relative monopoly on scratch-off games. There are a few areas of overlap, and many of the games are very similar, but by and large, those are the major differences. There are several draw games that are only available at brick and mortar retailers as well. For a more exhaustive list of the online draw games available, you can check out the section on this page called Michigan Lottery Draw Games.
Future Of Online Lottery Tickets And Games In Michigan
Michigan already has a relatively robust online lottery system, one that is a little more advanced and customer friendly than many other states' online lottery systems. The future, for this reason, is bright. Michigan is already ahead of the curve, and looks to be a big beneficiary of the advancements in technology that will allow them to offer more and better lottery games online. Basically, the online lottery already has a foot in the door, and there's nowhere to go from here but up.