New Hampshire Online Lottery Tickets - Play And Buy New Hampshire Lottery Tickets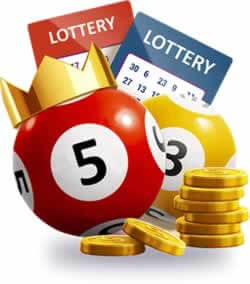 Our team here at USAOnlineGambling.com has this article to help you learn how to buy New Hampshire  lottery tickets online. Marked as one of the few, New Hampshire residents can play and buy New Hampshire Lottery tickets online in a few simple steps. Players in the state can buy both e-Instant play style games and actual drawing tickets through this internet platform. Once a resident has an account, it can be accessed through their mobile device or on their computer. There are bonuses and promotions that are given to users of the site which is something that doesn't happen from buying your tickets at a retail location.
That's definitely a reason to sign up for an account if the convenience alone doesn't do it for you. There are a variety of games to choose from on the website in addition to the Mega Millions and Powerball ticket games. Payment methods are easy and claiming your prize winnings is even easier as they are instantly credited to your account. If you're at least 18 years old and live in New Hampshire, there is no reason not to have an iLottery account with the New Hampshire Lottery.
Who Can Buy New Hampshire Lottery Tickets Online?
To be able to buy tickets and play other lottery games with the New Hampshire Lottery website, you need to meet two requirements. The first being that you have to reside in New Hampshire and be within state lines to use your account. The second is that you must be at least 18 years old as that is the legal age to participate in lottery activities in the state. If both of these requirements are met then a person can sign up for an account and begin making all of their purchases for the New Hampshire Lottery tickets online with the use of a computer or mobile phone.
How To Buy New Hampshire Lottery Tickets Online
To make purchases using the New Hampshire Lottery website, you first must have an account. Signing up with the site is fairly quick with a few pieces of personal information to verify that you're a resident in the state of New Hampshire and that you're at least 18 years old. To register, you will first need to put in a valid email address and password which will serve as your login information. Next, you will need to enter your date of birth, home address, phone number, and the last four digits of your social security number. After all of this information has been entered, your account will officially be active. To register, click on this link where you will find the registration tab in the upper right hand corner of your screen.
How To Deposit Into My New Hampshire Lottery Account
There are three different methods to make deposits to your New Hampshire Lottery account. Each method is extremely easy as they all require a simple click. Once you've chosen a form of payment, it will be your continued method unless you change it within your account at another time. Your account menu will have a tab that reads "Make Deposit". Simply click on that tab and choose your funding method. The three options for payment are debit/credit card, PayPal, or ACH bank wire transfer. Now that is as easy as USA online gambling can get.
What New Hampshire Lottery Games Can I Play Online?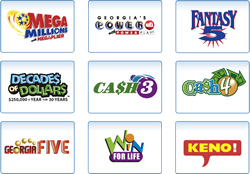 There are all kinds of games to be played online with the New Hampshire iLottery. Players can play the Powerball drawing or Mega Millions drawing games. Outside of playing these two games, there are 29 other games that can be played for money on the website. The games are always different and the amount of money that can be gambled with each will vary. Going to the games page, users will be able to find all the different titles they have to choose from.
These games are either scratch off style or match games. Results are instant so it's basically like buying a virtual scratch ticket only faster because it's much quicker to click to "scratch" than it is to actually scratch away with a coin to a real scratch card. The amount of prize money is different with each game but some have very high payouts if a player gets that "golden ticket"  of a jackpot win.
New Hampshire Lottery Draw Games
There are exactly two draw games available for purchase in New Hampshire. Powerball and Mega Millions. Each of these games are multi-state games and therefore have gigantic jackpots. Drawings for these two games are bi-weekly.
Powerball:

Powerball is a multi-state game played across the country. Players choose five numbers and one Powerball number or use the Quick Pick option where the computer chooses for you. Prizes vary based on how many numbers match. An all number match is the jackpot winner. Drawings take place on Wednesdays and Saturdays. The biggest Powerball jackpot was $1.586 billion in 2016 and had to be split with winners from three separate states.
Mega Millions:

Mega Millions is a similar draw game to Powerball and is also a multi-state draw game. Players pick five numbers and one Mega Million ball number. Getting all six numbers right means you've won the entire jackpot, however, getting a few numbers gets you some winnings too. Drawings are held every Tuesday and Friday. The biggest recorded jackpot in Mega Millions history was in 2018 with one winner taking home $1.6 billion.
New Hampshire Scratch Off Games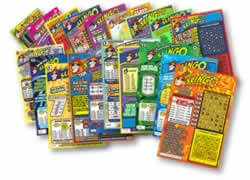 New Hampshire has multiple games on their site. In total they have 29 different games to choose from. These are all either scratch off games or match games but to find out which is which you must click on the demo to see for yourself. Either way, all scratch off games can be dubbed match games as you're trying to match your symbols with the ones that were given to you. One cent games are the cheapest you'll find with $10 maximums on some games being the highest amount of any of their offerings. The titles for these games include:
Treasure Bay
VIP Gold
Stars and Stripes
Roll The Dice
Queen of Diamonds
Triple Gems
Blackjack Doubler
Jackpot Cash
Tax Free
Golden Island
Hit Series
Wild Win Doubler
Amazon Adventures
Pure Gold
Multiplier Max Out
VIP Black
Diamond Payout
Wizard of All
Blazing Red 7's
10X The Cash
Pot O Gold
Other New Hampshire Lottery e-Instant Win Games
All of the e-Instant Win games offered by the New Hampshire Lottery are listed above. There are 29 games in all that are either match or scratch games. Each title needs to be clicked on to find out what type of game each is. They are not categorized which makes it difficult to know what's what. However, they are all instant wins which means right after purchasing the game, you'll know instantly whether you've won any money. All it takes is a few clicks for your results so you might as well be called Dorothy but instead of saying "there's no place like home" you can say click your mouse or phone instead of your heels and say "there's no feeling like winning." It just might work.
Lottery Bonuses And Promo Codes
When registering for an account, be sure to click on the "e-mail communications" before officially creating your account. Opting in for this feature will allow the New Hampshire Lottery to not only send you news but offers for bonuses. These bonuses can be free plays or bonus bucks for games on the website. If you already have an account and forgot to click that checkbox you can always opt in afterward by going into your account preferences and clicking to allow communications. This will get you bonuses whenever the lottery feels like sending out promotions to loyal customers.  When you log into your account there will be a tab for "New Bonus Offers" that will alert you when there are new bonuses for you to use if you've missed email alerts.
New Hampshire Lottery Results
The New Hampshire Lottery results page will show the results of the iLottery available draw games as well as have the listings for the various games and how much can be won from playing those games. Unlike other internet lottery websites, no feature will show players how much other players have won when playing certain games. They simply show the results from the two draw games available which are Powerball and Mega Millions. To see a list of games and the results from the bi-weekly drawings, click here.
How To Claim Your Online Lottery Winning In New Hampshire
Prizes that are $600 or less when it comes to the iLottery with New Hampshire will automatically be credited to your account without needing to do anything on your end. Prizes over $600 and up to $9,999 can be claimed on the iLottery portal portion of your account page. After following the instructions, funds will be put into your account within 3-5 business days. Claims for winnings of $10,000 or more will either need to be mailed into the headquarters or can be done in person. It's best to set an appointment with the headquarters when going in person to expedite the process of claiming your winnings.
Online Lottery Vs Land Based Lottery Games In New Hampshire
There are only a few disadvantages when playing the lottery online rather than making your purchases at a retail location. Those disadvantages lie in the draw game offerings. More draw games can be played in the state when going to a land based location and buying your tickets in person. There are only two draw games offered online, those being Powerball and Mega Millions.
However, these are also the two biggest draw games there are and are the most popular among gamblers nationwide so it may not be disadvantageous at all. The advantages for playing online can be put into one word: convenience. You can make your purchases for all of the games offered from the iLottery using your phone or a computer. Either way, that gives you 24/7 access to play whenever you want from wherever you are. There is no need to go to the store and wait in line to buy the tickets you want.
Future Of Online Lottery Tickets And Games In New Hampshire
The future of the online lottery in New Hampshire will be by way of expansion. Be it them allowing for more draw games or adding other scratch off and match games to their site. The iLottery is very popular in the state so adding more options to it can only help add to the overall revenue in New Hampshire. Outside of adding more features to their website, there isn't much else to be gained in the future for the New Hampshire Lottery except popularity and more revenue as residents continue signing up for accounts.