Numbers show the Buffalo Bills receivers getting open and Josh Allen connecting well with them.
The same is said for Jared Goff and the Detroit Lions, but his passes are much closer to the line of scrimmage.
Buffalo's stout defense should help the under hit in a game with the highest over-under (54.5 points) on the Week 12 slate.
DETROIT - The Detroit Lions are 10-point underdogs on Thanksgiving to the Buffalo Bills. With an over-under set at 54.5 points, fans generally bet the over in hopes to see a high scoring match.
But, the advanced NFL stats could be the edge on gambling sites showing an inflated over-under.
Josh Allen's NextGen Numbers
Josh Allen is one of the least aggressive quarterbacks (12.8%) but has the third highest average completed air yards (7.3). This means that Allen is completing passes well beyond the line of scrimmage and his receivers are simply getting open.
Aggressiveness measures if a QB makes a throw when a defender is 1 yard or less away from the receiver. If roughly seven of every eight passes are to an open target that is at least seven yards past the LOS, it equates to a very successful NFL offense.
With the fifth most touchdowns in the league, there is no surprise there. But the Lions are fourth, so it should be a shootout, right?
Breaking Down Goff's NextGen Stats
In a similar manner, Jared Goff is slightly less aggressive than Allen (12.5%) but it doesn't equate.
Goff's numbers are right about average in a few categories
| NextGen Stat: | League Average: | Goff's Rating: |
| --- | --- | --- |
| Time To Throw | 2.76 seconds | 2.75 seconds |
| Completed Air Yard Avg | 5.75 yards | 5.3 yards |
| Air Yards To The Sticks | -0.96 yards | -1 yards |
While causation does not equal correlation, this data is showing us that Goff may hitting the open receiver as often as Allen. But, it also shows us that Goff is relying on safer throws and letting his receivers do the hard work to get extra yards.
This is seen best by comparing the NextGen Stat charts between Allen and Goff.
Josh Allen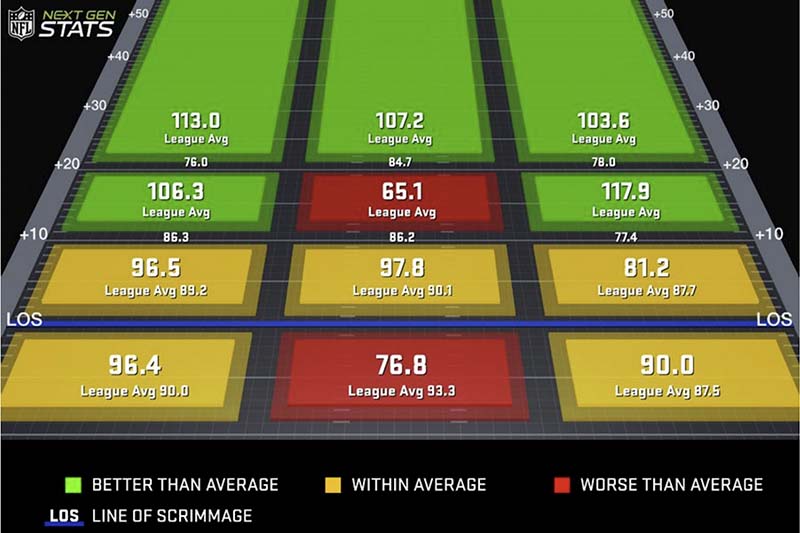 Jerad Goff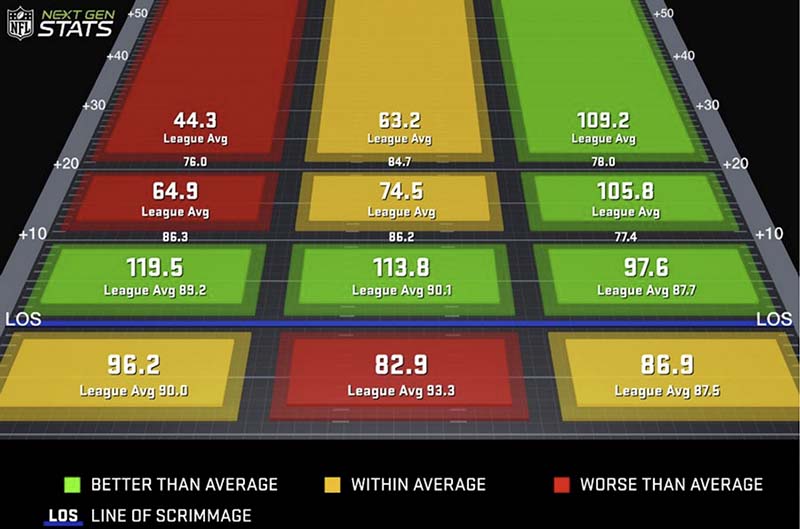 This may not bode well for Goff as the Bills consistently see their pass rushers closer to quarterbacks than the league average. In addition, the Bills are one of three teams with most interceptions than passing touchdowns allowed.
Add in the tough Bills defense against the run, and scoring may be a one-sided affair in this early game.
At the end of the day, the over-under is 54.5 points - the highest over-under for the Bills in 25 games and the highest over-under for the Lions in 29 games. Despite the high scoring nature of these teams, gambling sites like Bovada may be inflating this number.
Bet the under on the highest O/U of the week?